by Melissa Keith
His was a racing career of firsts. First foal of royally-bred Worldly Treasure, from the first crop of Somebeachsomewhere, Captaintreacherous commanded a $250,000 final bid in the 2011 Lexington Select Yearling Sale. Over three years on the track, he recorded 23 firsts from 33 races, and stands first among his late sire's offspring by lifetime mark (p, 3, 1:47.1m) and earnings ($3.14 million).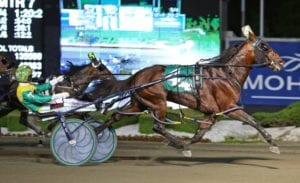 Purchased by Brittany Farms manager Myron Bell and later syndicated, the colt was bred by White Birch Farm, NJ. Captaintreacherous debuted in a Meadowlands baby race, on June 23, 2012. Trained by Tony Alagna and driven by Tim Tetrick throughout his entire career, he was a 1:55.4m winner at first asking. Although second by a neck in his initial pari-mutuel start, July 20 at The Meadowlands, a hard-closing Captaintreacherous and winner Odds On Equuleus both stopped the teletimer in 1:52 flat. The following week, Tetrick had his charge out and moving early, posting a maiden-breaking front-end victory in 1:52.2m.
The 2012 Woodrow Wilson final was a showcase for the precocious Captaintreacherous, who strode away by a final margin of 10 and a quarter lengths, setting a stake and divisional track record of 1:49.3m. He was now The Meadowlands' first-ever sub-1:50 2-year-old.
August 18, Tetrick and "The Captain" edged Vegas Vacation to take the Nassagaweya Stake at Mohawk Racetrack in 1:51.3s. A week later, Captaintreacherous won his Metro Pace elimination with ease, turning in his second sub-1:50 performance (1:49.3s). The Metro final would prove tougher, but so would the colt: three-wide and sixth at the ¾, there was serious work ahead. Subduing Apprentice Hanover on the way to the wire, Captaintreacherous then outdueled Odds On Equuleus to a 1:49.2s stake-record finish, scoring by a neck and becoming the first two-year-old to post three sub-1:50 miles.
Next came victories in the Bluegrass and International Stallion Stakes at Red Mile, followed by a 1:50s romp in his Breeders Crown elim at Woodbine Racetrack. Although third in the Breeders Crown final, Captaintreacherous earned $918,253 (US) over 8 wins in 10 starts, never finishing off the board. He was voted 2012 Dan Patch Pacer of the Year — the first freshman since Jennas Beach Boy (1995)— and also divisional O'Brien Award champion.
The fan favorite was available for 24-hour viewing via a "Captain-cam" live-streaming from his stall, through The Meadowlands website. Alagna was interviewed about high expectations awaiting Captaintreacherous as his three-year-old season began; he attributed his trainee's athleticism to a "form-to-function type of body… the conformation to carry his speed when he does get into that next gear."
"The Captain" reeled off three winning qualifiers at The Meadowlands, then overtook Pennsylvania Sire Stake rivals at Pocono May 19, opening up by three-plus lengths to win in 1:49.4f. Primed for his North America Cup elim, Captaintreacherous rapidly took charge, laying down progressively-faster quarters all the way to the wire and holding off Captive Audience in the 1:48.4s mile.
In the Cup final, Tetrick changed tactics: Opting for an off-the-pace trip, the 7-5 favourite followed Vegas Vacation second over, from fifth. Things looked ominous as the ¾ pole loomed: Captaintreacherous gapped slightly in fourth, as Vegas Vacation confronted pacesetting Fool Me Once and pocket-sitting Captive Audience. Announcer Ken Middleton gave voice to what spectators feared: "Captaintreacherous can't even keep up with the cover in front of him tonight!"
The roar of the Mohawk crowd rose alongside the ferocious stretch drive; Terick's colt shifted into high gear. Open racetrack finally ahead, Captaintreacherous accelerated past the three inside horses, hitting the wire alone in 1:48.3s.
He followed the effort with back-to-back neck-margin victories over Vegas Vacation in Pocono's Max Hempt Memorial elim and final. The Meadowlands Pace saw Captaintreacherous lay down quarters of :27, :27.1, :26.4, and :27.1, never headed after he grabbed the early lead from Rockin Amadeus and took a fresh 1:48.1m mark.
Captaintreacherous' greatest performance may have been the Battle of the Brandywine on Aug. 17 at Pocono. Sunshine Beach had no sooner settled onto the lead, when a fired-up Captaintreacherous moved first over from fourth. Matching strides to the ¾, he battled gamely against the leader, gaining on Sunshine Beach right to the 1:47.4f photo finish. Sunshine Beach nosed out Captaintreacherous in the World Record-equalling mile.
Like Somebeachsomewhere after his Meadowlands Pace defeat, Captaintreacherous swiftly avenged the hard-fought Battle of the Brandywine loss. He returned with six consecutive victories over four different tracks, pacing his 1:47.1m lifetime best in the Bluegrass Stake on Sept. 28.
In the 2013 Breeders Crown at Pocono, Captaintreacherous took his elimination in 1:49.2f, a clocking he duplicated over a sloppy surface Oct. 19. Turning the tables on Sunshine Beach in the final, Tetrick left little to chance, making front and never giving ground. Captaintreacherous prevailed by a neck.
Next came a narrow loss to Dedis Dragon in Hoosier Park's Monument Circle. Rebounding with a 1:49m American-National win at Balmoral Park, "The Captain" then qualified at The Meadowlands, where he would conclude his year finishing sixth in the TVG Free-For-All Pace. Voted Dan Patch Pacer of the Year again, he joined an elite group of back-to-back champions: Albatross, Niatross, Cam Fella, Matts Scooter, and Jennas Beach Boy.
Legacy secure, Captaintreacherous made his 4-year-old purse debut a winning one, fending off Odds On Equuleus in the Meadowlands Maturity, timed in 1:49.2m. His final start was a 1:50.1s victory in the Aug. 16 Mohawk preferred. On Oct. 2, 2014 at Red Mile, the horse Sam McKee dubbed "one of the most dynamic pacers in recent memory" appeared in the winner's circle one last time, for official retirement. Summing up Captaintreacherous' racing career, McKee put it best: "When you think of him, you think of heart."
While early to assess his achievements as a sire, the Hanover Shoe Farms stallion currently leads North American sires of 3-year-old pacers by earnings ($2,324,488), his first crop led by 2019 North America Cup champion Captain Crunch. Captaintreacherous was top sire of 2-year-old pacers by earnings in 2018, that inaugural crop collectively winning $3,308,045).