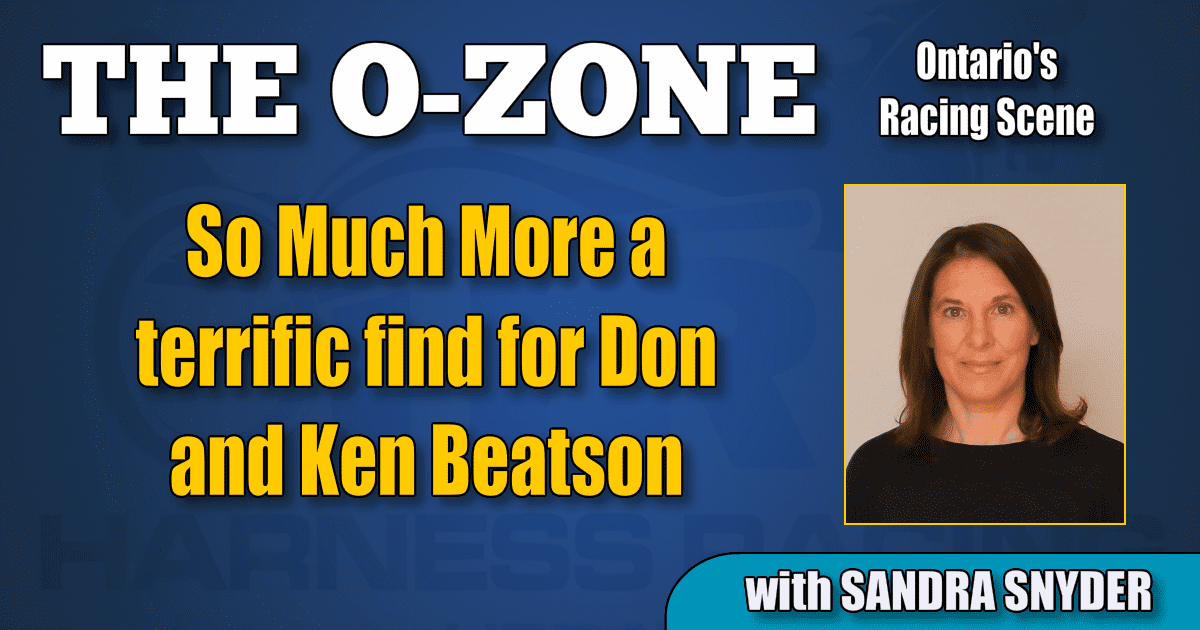 So Much More a terrific find for Don and Ken Beatson
The sophomore pacing filly is undefeated in four starts since arriving in Ontario from PEI and will be the likely favorite in Sunday's $64,900 Kin Pace final at Clinton Raceway
by Sandra Snyder | Sponsored by Ontario Racing
As they have done for the last 15-odd years, Don and Ken Beatson were perusing the Standardbred Canada horses for sale board this spring, looking for a horse that would fit the non-winners classes at The Raceway at Western Fair District, Clinton Raceway and Grand River Raceway.
As they have in many of those years, the Beatsons found a young horse racing on Prince Edward Island that matched their criteria and a few days later 3-year-old pacing filly So Much More was on her way from New Haven, PEI to Granton, ON.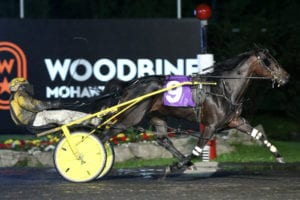 The filly, a daughter of Big Jim and Ladysai, had made nine starts at two, recording four wins and four seconds for earnings of $16,983 and a mark of 1:57.1 over the Red Shores Racetrack half-mile in Charlottetown, PEI. In three sophomore starts she had recorded three wins, the fastest a 1:57.4 clocking at Red Shores on May 4.
It took So Much More a few days to settle into her new home so the Beatsons had modest expectations for her first local start, the May 31 3-year-old pacing filly Grassroots season opener at The Raceway at Western Fair District. However, starting from Post 2 with Tyler Borth in the race bike, the filly went straight to the front and never looked back, cruising home a three-length winner in 1:54.4.
"She raced great, she raced awesome," said Ken Beatson after the race. "We were hoping that this one would be good enough to maybe make a stake filly as well, and it looks like she is."
Since her debut, So Much More has made three more starts for the Beatson family — trainer Don, his son Ken, and grandson Cole England — all of them victories, including a second Grassroots division at Woodbine Mohawk Park on June 20, where she was a six-length winner in 1:52.2, and her June 30 elimination for the Kin Pace at Clinton Raceway.
"No, no," said Don Beatson with a chuckle when asked if all of his East coast imports have been as successful as So Much More. "Some of them were pretty good. Monster In Law was good. A few others that were nice, but not all."
Monster In Law was one of the early East coast horses to join the Beatson stable and the pacer's success may be the reason the family continues to look beyond Ontario's borders for racehorses. Acquired mid-way through his sophomore season in 2008, Monster In Law won a Grassroots division and qualified for the Grassroots Championship at 3 and then developed into a regular in the preferred classes at both The Raceway at Western Fair District and Woodbine Mohawk Park.
Now 14, the son of Northern Luck and Family Effort boasts a record of 378 starts, 54 wins, 53 seconds and 38 thirds for earnings of $515,976 and a record of 1:50.3 over the Mohawk Park oval during his six-year-old season.
"Monster In Law was one of the first ones," said Don Beatson. "And quite a bit of his history, we've got it pretty much in our memory there. He's been good, and lasted for a long time."
Beatson says the pacer will enjoy the retirement that is his due when his racing career comes to an end in December, lording it over the other three horses currently in residence at the Granton farm.
In addition to So Much More and Monster In Law, Beatson currently trains East coast import Old Buck, a 6-year-old son of Ameripan Gigolo and Whitesand Hanover, and New Billionaire, a 4-year-old daughter of Camluck and Made Of Money. Father, son and grandson own So Much More and Old Buck, while Don and Ken share ownership of Monster In Law and New Billionaire with Ralph and Sandra Pitt of Cargill, ON.
Don Beatson got hooked on standardbreds as a youngster, when he would go to the races at The Raceway at Western Fair District and he took the leap into ownership in 1970. Training racehorses eventually became his full-time job and over the decades he has amassed a record of 876 wins and earnings of $3,470,065, racing primarily at the Southwestern Ontario racetracks.
"At one time we went to Windsor and Woodbine quite a bit, not so much now," said the septuagenarian. "It's all I have done for a lot of years. Usually it was about seven (horses). Now I'm back to four. For years and years I had seven, but that was about it, that's where it topped out."
During the Beatson stable's most active years, Ken obtained his own training and driving licenses, but the 48-year-old currently resides in Palgrave, ON and his full-time job in Toronto limits his appearances in the race bike. So far this season, he has just two starts.
"At one time, going back, he drove them all there for a few years," said Don Beatson. "He still has a license, he does a little bit. His interests are different now; he's not here so much anymore."
Grandson Cole calls Exeter, ON home, but the teenager also enjoys spending hands-on time with the horses whenever he is in Granton.
"He goes to school, but he comes out here whenever he gets a chance," said the elder Beatson.
The partners will be heading to Clinton Raceway on Sunday, July 7 to watch So Much More compete in the $64,900 Kin Pace Final, where she drew Post 5. After that it will be back to the Ontario Sires Stakes, either the Grassroots on July 25 or the Gold Series on July 27, both at Woodbine Mohawk Park.
"Haven't decided," said Beatson, when asked if So Much More will make the step up to the Gold Series this season. "We might have a notion of that, but haven't made up our minds for sure, yet. You sort of go from one week to the next and see how everything goes."
After the July events both the Gold and Grassroots fillies head to Rideau Carleton Raceway's five-eighths mile oval on Aug. 25. The Grassroots fillies then wrap up their regular season at Woodbine Mohawk Park on Sept. 10 while the Gold fillies finish up over the half-mile oval at Flamboro Downs on Sept. 22, six days before the Grassroots Semifinals at Woodbine Mohawk Park. With her flawless record in Grassroots action, So Much More currently sits atop the division standings with 100 points, 25 ahead of her nearest rival.
Whether So Much More makes the leap up to the Gold or remains in the Grassroots, the Beatson family will continue to enjoy the unexpected success of their latest East coast import.
Stakes action July 5 to 11
July 5
Woodbine Mohawk Park — OSS Grassroots (2cp)
July 6
Woodbine Mohawk Park — OSS Gold Series (2cp)
July 7
Clinton Raceway — Kin Pace Final (3fp)
Georgian Downs — OSS Grassroots (2ct)
July 8
Woodbine Mohawk Park — OSS Gold Series (2fp)
July 9
Woodbine Mohawk Park — OSS Grassroots (2fp)
July 11
Woodbine Mohawk Park — OSS Gold Series (2ft)
Ontario handicapping picks
A deep selection of handicapping picks for Ontario racetracks — featuring the talents of Garnet Barnsdale, Michael Bozich and Michael Carter — is available on the Ontario Racing website.