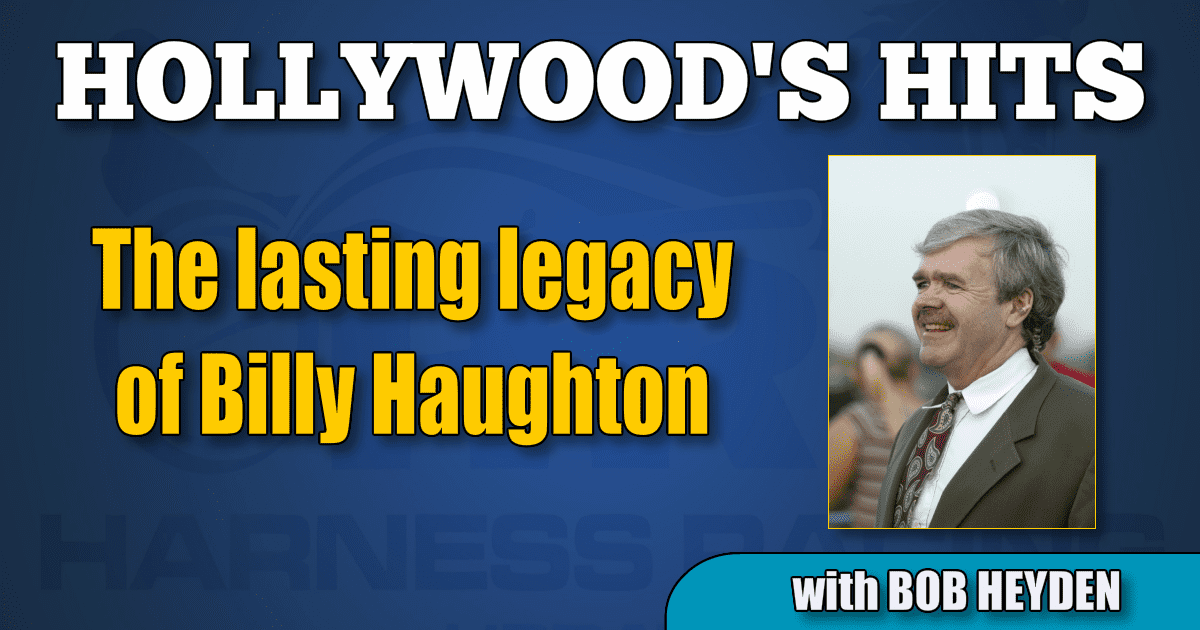 The lasting legacy of Billy Haughton
In more than 62 years, the legendary horseman left behind a body of work like no other.
by Bob Heyden
He was born 96 years ago, in November, 1923
He died 33 years ago after a tragic accident on the racetrack in July, 1986
The William Haughton Memorial, the race named in his honor, celebrates its 20th anniversary this year
Those who knew Billy Haughton still speak reverently of the man. For those too young, many have heard the Haughton name, and there's usually a certain curiosity as to why he was so fondly remembered.
In his 62 and a half years, Haughton left behind a body of work like no other and a family to carry on proudly. He also left a list of first which stand alone in the sports history. In many cases, first and only.
Billy Haughton firsts:
1. He is the only horseman to win the Triple Crown (1968-Rum Customer) and go into the Hall Of Fame the very same year.
2. He won 123 Classic races, the first Triple Crown race coming in 1955 in the Jug with Quick Chief. He would go on to become the only trainer to win the Little Brown Jug in four different decades — 1955 Quick Chief, 1964 Vicar Hanover, 1968 Rum Customer, 1969 Laverne Hanover, 1974 Armbro Omaha —all as a driver/trainer, and in 1985 with Nihilator as his trainer only (Bill O'Donnell drove).
3. He was the first man to send out a winner of five $100,000 races in the same year (1974 Armbro Omaha).
4. He once lowered a Triple Crown race record nearly three seconds! 1977 Green Speed — 1:59 in the Yonkers Trot. The record was 2:01.3. He also won the Hambletonian that same year with Green Speed and the 1:55.3 clocking was also a race record for the Hambletonian (4/5ths better than the previous mark) which he co-held the year before at 1:56.2 with Steve Lobell.
5. He won the very first edition of the Canadian Trotting Classic in 1976-and he did it with a filly —Keystone Pioneer.
6. He won the very first edition of the Messenger in 1956. He did it with a female here as well, Belle Acton.
7. He was the first trainer to tie for the most first-place votes in the year-end balloting for Horse of the Year and not get it. 28-for-28 in 1958. Two ladies duked it out, but Emilys Pride bested Belle Acton on total points (438-407)
8. He won 18 Triple Crown races after going into the Hall of Fame in 1968.
9. He trained and drove the first trotter to surpass $500,000 in a single season — Green Speed 1977. He earned some $584,000, which was $148,000 more than the previous best set by Super Bowl in 1972 at $436,000.
10. He trained the first $3 million-winning pacer (Nihilator, $3,225,653) who also was the first sub-1:50 winning race winner (1:49.3 on the first Saturday of August, 1985).
11. He trained Z— and his 20-year-old son Peter drove — the very first female to better than 1:55. On Nov. 22, 1974 at Hollywood Park, Handle With Care won in 1:54.4. Just a 3-year-old, the filly not only beat the boys, but older boys as well, including the reigning Horse of the Year Sir Dalrae.
12. Speaking of 3-year-old pacing fillies, Haughton trained — and Tommy drove — the first 3-year-old Filly Pacing Breeders Crown winner Naughty But Nice in 1984. She became the first female $1 million winning pacer.
13. His filly Belle Acton and his wife Dotty were featured on page 43 in the July 23, 1956 edition of Sports Illustrated, the first time the sport of harness racing appeared on the cover of that magazine (the first of four).
14. He won the richest race of all time — $2,161,000 with Nihilator on Aug. 16, 1984. That record still stands. Haughton trained and Bill O'Donnell drove. Haughton drove the winner of the fourth richest race ever held, the 1981 Woodrow Wilson for a pot of $1,760,000. That was the first time any million-dollar race was decided by a nose, as his colt McKinzie Almahurst held off Lon Todd Hanover in a thriller.
15. He was the first driver to win the Little Brown Jug five times (6 overall as Nihilator won it in 1985 with Bill O'Donnell in the bike), and the first to win any Triple Crown race seven times (the Messenger —1956-1967-1968-1972-1974-1975-1976. It became eight overall when his Pershing Square took the 1985 edition (Haughton trained that colt).
16. He had two sons win three Triple Crown races before their 25th birthdays: 1976 Kentucky Futurity — Quick Pay — Peter Haughton was 22; 1978 Kentucky Futurity — Doublemint — Peter Haughton was 24; 1980 Kentucky Futurity — Final Score — Tommy Haughton was 23.
17. He won the first edition of the James B Dancer in 1976 at Freehold and he did it with Windshield Wiper over the Horse of the Year that season Keystone Ore, as well as the talented Oil Burner.
18. He was the only driver to finish on the board in each of his first four drives in the Meadowlands Pace — 1977-1978-1980-1982. In 1977, Crash was third at 3-1; In 1978, Falcon Almahurst was first $5.80; In 1980, Storm Damage was second in the sport's first million-dollar race won by Niatross; In 1982, McKinzie Almahurst was third at 5-2.
19. He won the last four-heat Hambletonian in 1976 with Steve Lobell.
20. He and Tommy are the only father-son duos to finish 1-2 in the Hambletonian — 1980 Burgomeister and Final Score.
21. He is the only driver to record eight straight seasons as the leading money-winning driver (1952-1959). He would wind up with 12 titles overall. John Campbell is the all-time leader at 16.
22. His final full year (1985) with us, his colt Nihilator set the single season earnings record of $1,864,286-which lasted another five years.
23. His son, Tommy, won the Messenger in 2013 with Ronny Bugatti — 57 years after — his father won the inaugural with Belle Acton in 1956.
24. Son Peter was the first to driver a former Horse of the Year to a Meadowlands track record — Savoir on Oct. 8, 1976.
25. He won the Hambletonian five times after his 50th birthday — 1974-1976-1977-1980-1982.
HOFers on the HOFer
You begin to get the feeling that, yes, this man was indeed something special, very special. Which might be what prompted 7-time Canadian Trainer of the Year and double Hall Of Famer Bob McIntosh to say, "Billy was my idol growing up. I remember 1971 rubbing horses for $75 a week and loving it. Billy — wow — what a great, great horseman he was. And I know he treated his help great. I was just a young guy in rural Ontario, and when I finally got to see him, it was like, wow! A dream come true. Neverland."
Driving for him was something pretty much any catch/driver would have wanted to do. Carmine Abbatiello, a 1985 Hall of Fame inductee and one of history's first and greatest catch-drivers, remembers him well. "'Get as much as you can.' That is what he would always tell me. He never complained, and he never said anything after the race, no matter where you finished. A good guy, he really was."
Chuck Sylvester was only getting started when we lost Haughton due to a racing accident at Yonkers the first week of July 1986. Sylvester, a 1997 Hall of Fame inductee, remembers a particular incident at Scioto Downs. "Billy was in with some stakes horses. This was around 1983-1984, and one race I was in the stall right next to him getting my horse ready. Billy shows up, looks at his horse, realized the groom didn't know what he was doing, calmly changed everything, took the boots off, and got the horse ready to race. Never a word. He didn't say a thing. Class. I remember that like it was yesterday. It's one of the first things I think of when I hear Billy's name."
The horse always came first for Haughton. Bill O'Donnell remembers. "Every time I drove Nihilator, Billy would tell me the same thing: look after him."
That huge Haughton name
The Haughton name was so prevalent in the '70s and '80s that even when they didn't win the race, they were, well, all over the place. Take July 10, 1978, at the Meadowlands the night that Jimmy Cruise won in track record time of 1:56.1 with Kash Minbar. Haughton's Keystone Pioneer was second, and the defending Horse of the Year Green Speed was third. Oh, and later on the card a horse named Doublemint won in 1:58.1, also a Haughton star-to-be.
A strong supporting family — Holley-Cammie-Peter-Tommy and Billy, Jr. — all helped carry on and allow Billy to be as accessible and accepting as he was. Try and find an old-time writer who can recount a Billy Haughton story without smiling. That person doesn't exist. His widow Dotty, well, she was as much of part of Billy's success as anyone. The name, the legacy, the impact, the sheer numbers, all done with Dotty right there. No dynasty was ever built on a more solid foundation. She helped the entire industry move on and move forward after Billy's passing in July 1986, six years after the tragic loss of Peter in January of 1980.
I had the good fortune of catching up with Billy at Garden State Park after the Breeders Crown of 1985 — Nihilator's final race and the one which put him over $3 million. Just a couple years in the business, those 20 minutes will live forever with me. The only other time I was able to catch up with Billy was the week of his accident, when I caught him in the Meadowlands' drivers room and asked if he would do the next week's "Talk to the Stars" program (Wednesday Night-20-25 minutes or so of talking to the fans). I was thrilled, more than thrilled, when he said yes. But it was not to be.