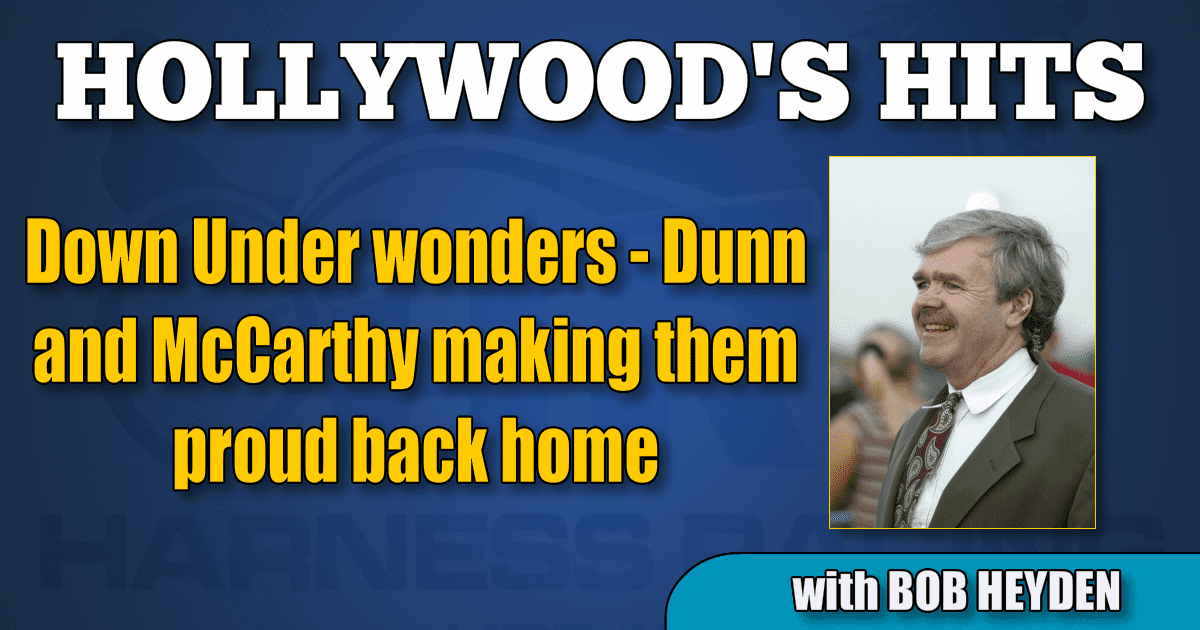 Down Under wonders — Dunn and McCarthy making them proud back home
by Bob Heyden
Never have a pair of Down Under drivers had a night like New Zealand's Dexter Dunn and Australia's Andrew McCarthy had last Saturday at Woodbine Mohawk Park for the North America Cup card.
As a matter of fact, Dunn starts the week ranked third in all of North America after his huge June 15 card.
Here's the capsule summary of their respective evenings, which totalled $756,500 in earnings between them:
Pilot Discretion won the $247,000 Goodtimes with McCarthy in the bike.
Pointomygrandson won a $20,000 overnight for Dunn.
Treacherous Reign was the upset winner in the $454,000 Fan Hanover for Dunn.
Bettors Wish was second in the $1 million Pepsi North America Cup for Dunn.
Aflame Hanover was fourth in the NA Cup for McCarthy.
Caviart Ally was third in the $330,000 Roses Are Red for McCarthy.
Bettor Joy N was fourth in that $330,000 Roses Are Red for Dunn.
On the evening, Dunn collected $513,400 and McCarthy picked up $243,100.
Never Has a Down Under driver made it to the top five in North America at year's end.
Shelly and Cat — remembering when
Shelly Goudreau was a top driver lost too soon, while Cat Manzi is the busiest driver ever, the only one past 95,000 career drives.
Goudreau (1948-1982) suffered a serious racing accident in California in late August, 1982 and died the first week of September.
He owns a unique, never-to-be-topped record. He was the only driver to have appeared in the first six million-dollar races ever contested — every one that was contested while he was alive.
In the 1980 Meadowlands Pace won by Niatross, Goudreau drove longshot Dear Star, 75-1, from post 12 and finished 9th.
In the 1980 Woodrow Wilson was won by 69-1 Land Grant, who just edged Goudreau and Armbro Wolf in the final steps. From post 11, the 5-1 betting proposition proved to be Goudreau's best shot at the seven-figure purses.
In the 1981 Meadowlands Pace, Armbro Whiz was seventh at 81-1. He was the longest shot in the field from Post 8.
In the 1981 Wilson won by McKinzie Almahurst, Goudreau was fourth at 5-1 with Apollos Way, the third choice.
In 1982 Meadowlands Pace won by his good friend John Campbell with Hilarion, Goudreau was ninth from post 12 with Apollos Way.
In the 1982 Wilson, Goudreau and Brenton Hanover finish last at 9-1 in the test won by Fortune Teller. This was Goudreau's last appearance in a million-dollar race. His accident happened later that month (Cat Manzi's first million-dollar drive came in this race).
Goudreau's composite record in seven-figure races was: 6 0-1-1, with two checks and total earnings of $643,550.
In 1983, Manzi had two photos where he was second best — and both were for over $1 million.
Hit Parade was second by a neck to Shannon Fancy in the Sweetheart. Hit Parade, who was sent off at 7-1 from post 12 and closed from 10th at the 3/4 pole to just miss on the sloppy track.
In the Woodrow Wilson that same year, Manzi and Trutone Lobell were nailed on the wire, by a nose by Carls Bird.