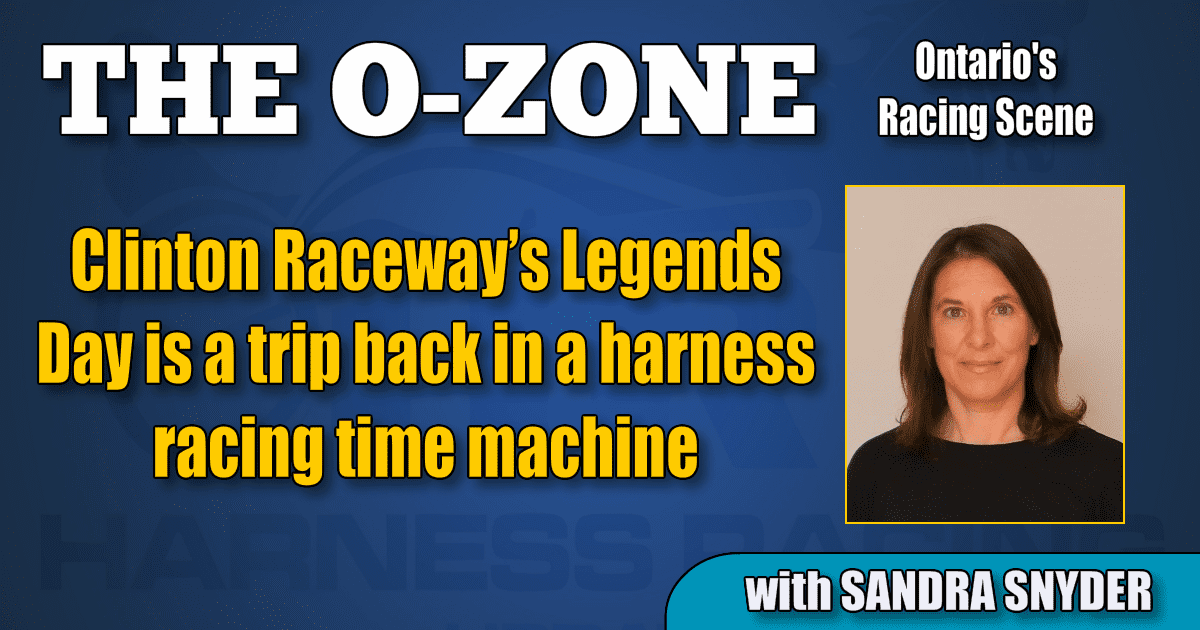 Clinton Raceway's Legends Day is a trip back in a harness racing time machine
The biennial event in support of the Clinton Public Hospital Foundation — featuring Doug Brown, John Campbell, Steve Condren, Wally Hennessey, David Miller, Bill O'Donnell, Trevor Ritchie, Dave Wall and Keith Waples and Ron Waples — is on tap for this Sunday at Clinton Raceway.
by Sandra Snyder | Sponsored by Ontario Racing
If you have ever dreamed of hopping into the DeLorean with Marty McFly and travelling back in time, Clinton Raceway's Legends Day should be on your bucket list.
A biennial fundraiser for the Clinton Public Hospital Foundation, Legends Day has the feel of an old-time fair meet. The crowd is robust and multigenerational, the atmosphere is laidback and the horse tales are colorful and abundant.
This year's edition goes postward on Sunday, June 23 at 1:30 pm and features 12 races, including the $15,000 Legends Day Trot, five Ontario Sires Stakes Grassroots divisions for the 3-year-old trotting colts, the Ian Fleming Hall of Fame Induction Race and the Sharpe's Summer Series Final for pacing fillies and mares.
Aside from the races, the day's highlight is an opportunity to meet Hall of Fame drivers Doug Brown, Steve Condren, Wally Hennessey, Dave Miller, Trevor Ritchie, Dave Wall and Ron Waples, who will all drive in the Legends Day Trot. Joining them for the autograph session will be John Campbell, Bill O'Donnell and Keith Waples.
"I'm going to be able to socialise quite a bit more when I am not racing, because I can spend most of the day on the front side, so I am looking forward to that aspect being different," said Campbell, who made his final drive in the 2017 Legends Day Trot. "It's going to be a little more relaxing for me.
"It's a day that I always look forward to, it's just a great day for me. So many people that I see were around when I started out at Western Fair, and I've still got a lot of friends and family in southwestern Ontario, so it's really a great time for me to catch up and see people that, a lot of the people I only see them at Legends Day."
Campbell and his fellow Hall of Famers will sign autographs between 2 and 3 pm, or until the line abates. Two o'clock also marks the grand opening of the new playground facility on the grounds, where the first 200 kids will be treated to free cupcakes and hot dogs. There will also be face painting and a chance to win a bicycle and a season-long family swim pass for the public pool located just off the first turn.
"Since the last Legends Day the municipality and the raceway and a bunch of community groups have gotten together and we've got a splash pad, a skateboard park, a new playground and a picnic pavilion, all put up since 2017," said Clinton Raceway's general manager Ian Fleming, whose upcoming Canadian Horse Racing Hall of Fame induction will be celebrated in Race 5. "The grand opening is this Sunday, so we're excited about that, it will add to the day obviously."
While the youngest members of the family enjoy the new park facilities, the adults can size up the offerings in the silent auction and bake sale or pick up their 50-50 draw tickets. Since its inauguration in 2001, Legends Day has raised more than $210,000 for the Clinton Public Hospital Foundation, with 2017 hitting a record-setting $60,000 thanks to the addition of a pre-event online auction.
"Right from Day 1 (the silent auction) always raised between $20,000 and $25,000 on the day, but two years ago we started an online auction and we got $60,000," said Fleming. "That was our record by a mile so we're hoping, in a perfect world, to get a little over $60,000. It's one charity, I mean every cause is a good one, but that's one charity that everybody can subscribe to.
"The foundation staff is a great help to us and they sell a lot of the barbecue tickets. And the online auction, there's lots of horse stuff on there, but there's lots of local stuff too, dinners and golf and condos and that, so it's a real community effort."
The online auction closes between 7 and 9:30 pm tonight (June 21), so there may be time to place a bid at http://www.legendsdayauction.com/. There may also be a few $20 tickets left for the Pineridge Chicken Barbecue, which sees 100 per cent of the ticket sales donated back to the Foundation. Contact marketing manager Jessica Carnochan at 519-955-6820 to enquire about availability.
In addition to visiting with friends and steering A J Cash from Post 4 in the Legends Day Trot, Dave Wall will be paying special attention to the five OSS Grassroots divisions.
"I have a trotting colt (Gold Creek Drive) this year that I like a lot. I haven't qualified him yet or anything, but he's a nice colt. He's three now," said Wall. "He's an Angus Hall, out of a good mare I had, a real good mare, Dell Ridge Savanna, I think she sold as a yearling for $70,000. I had trouble getting her in foal so she hasn't had a foal for a few years. This is the last one she had."
A two-time winner of the Lampman Cup as the top driver in the Ontario Sires Stakes program, Wall earned the nickname "Mr. OSS" for his willingness to criss-cross the province with sires stakes mounts. Among the horses Wall guided to stardom in the program were Armbro Luxury, Arrochar Wendy, Daisy Harbor, Dovers Dottie and Dovers Surge, Goodtimes, Gypsy Balance, Northern Bailey and Odies Fame.
"I did a lot of them, you're right," said Wall with a chuckle. "But it's been a good thing, not only for me, it's been a good thing for the industry, that's for sure.
"It seems to be that people still go to those type of races, whether it's Grassroots or Gold, they seem to show up at them, no matter where they're at."
Wall looks forward to being asked to drive in the Legends Day Trot each year, noting that Clinton was one of the first places he appeared as a young driver .
"When I started out racing years ago, that's kind of where I started. I made a lot of trips up there," said the Komoka, ON resident, who soon graduated to the 'A' circuit and spent three decades making nightly trips to Greenwood, Mohawk and Woodbine racetracks.
"It's nice to go, I enjoy it. They make a nice day of it and they seem to really have a big crowd for that day. You see people you haven't seen for a while and it's just an enjoyable day for me anyway."
Those who cannot make the trip to Clinton to experience Legends Day first hand can enjoy the event vicariously through the 'Facebook Live' broadcast sponsored by the Central Ontario Standardbred Association. The show, featuring Greg Blanchard, Mark McKelvie and Jaimi MacDonald, will air from 3:30 to 4:30 pm (ET) on the Facebook pages of HRU, Clinton Raceway, The Raceway at Western Fair District, Flamboro Downs and Grand River Raceway along with the Standardbred Canada website.
For complete details about Legends Day visit here.
Stakes action June 21 to June 27:
June 22
Woodbine Mohawk Park – OSS Gold Series (3fp)
June 23

Clinton Raceway – Legends Day Trot, OSS Grassroots (3ct), Sharpe's Summer Series Final, Filly and Mare Pacers
June 24

Grand River Raceway – Sharpe's Summer Series Final, Horse and Gelding Pacers
June 24
Woodbine Mohawk Park – OSS Gold Series (3ct)
June 27
Woodbine Mohawk Park – OSS Grassroots (3cp)
Ontario handicapping picks
A deep selection of handicapping picks for Ontario racetracks – featuring the talents of Garnet Barnsdale, Michael Bozich and Michael Carter – is available on the Ontario Racing website.