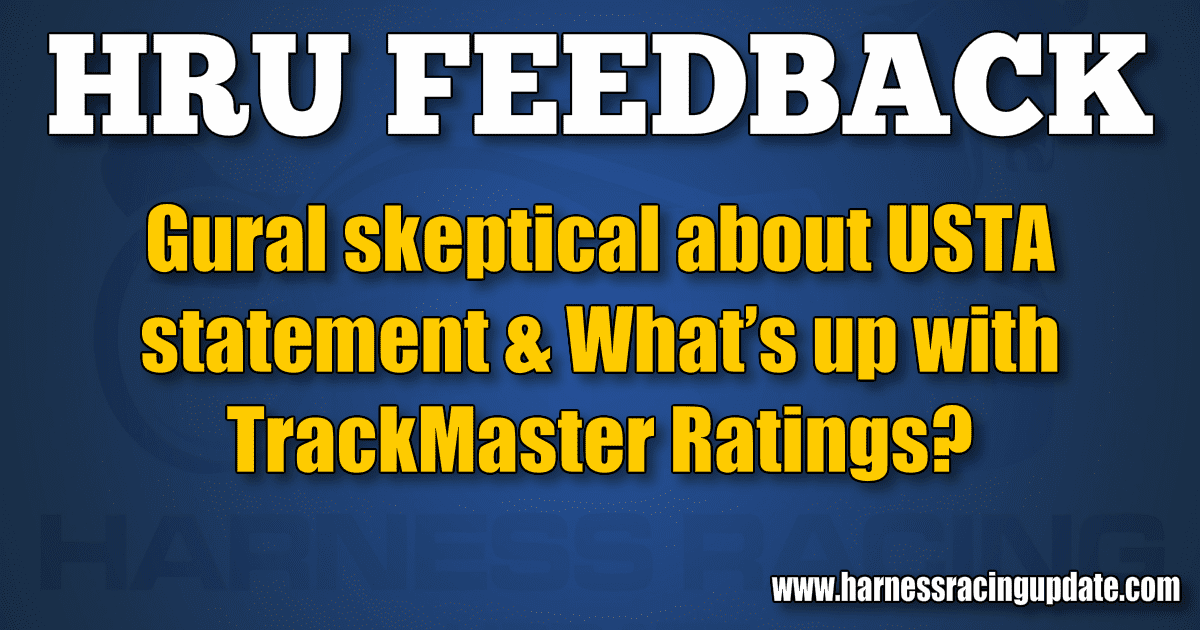 HRU Feedback (2019-06-16)
Gural skeptical about USTA statement
In Friday's issue you published a statement by the USTA opposing the Horse Racing Integrity Act of 2019. With all the turmoil at Santa Anita, I think it's fairly obvious that the public is going to demand that the Feds take over monitoring the sport. What I found most amazing in the statement issued by the USTA was the second to last paragraph where they said that test results prove that doping is not a problem. They went on to say that the anti-doping and drug testing program conducting by U.S. racing regulatory bodies showed that 99.71 per cent of standardbred horses were racing without illegal medication. This is coming from the USTA so if you believe that statistic then you should be very happy with the position they have taken. While I recognize that Lasix is an issue, in my discussions with the sponsors I believe they are willing to at least listen to our argument about the fact that our horses race far more often than thoroughbreds and as a result the rules for Lasix may have to be different. I am working very hard to identify the culprits and what chemicals are being used but having the USTA say it is not a problem shows a total disregard for our customers, the horses and the honest people trying to make a living in the sport they love.
– Jeffrey Gural / chairman Meadowlands, Tioga Downs and Vernon Downs
What's up with TrackMaster Ratings?
Without warning or explanation, "Trackmaster Rating" (TMR) has crept into the harness racing vernacular.
TMR is now being used at some racetracks (e.g. Meadowlands, Plain Ridge) as a basis for numerically ranking horses and serves a similar role to the now largely defunct alphabetical A, B, C classified racing system. The main difference being that the A, B, C system was governed by the local racing secretary and used to write races among horses of roughly similar current ability. Though subjective, classified racing was steeped in logic and easily understood. Conversely, TMR, which appears logarithmic in nature, has the trappings of an arcane system whose sum of its individual parts is incomprehensible.
Examples from the 10-June-2019 Plainridge Park race card:
Race 1 – As the horses were warming up, TMR rankings for Class, Pace and Power (whatever that means) flashed intermittently on the screen. Confusingly, #6 (Holy Grail N) was assigned TMR scores of 79, 80 and 79.2 respectively and yet his composite TMR was shown as 73.18 in the program (wait… what???). #5 (Southwind Terror) was assigned scores of 80, 76 and 74.8. Somehow, this equated to a TMR of 81.29. Since nowhere on the broadcast or program is TMR explained, one can only surmise that it's either absurdly abstract or utterly nonsensical.
Race 9 – #2 (Twelve), who will go off at 2-1, had won 3 of his last 4 (two of the wins coming at what clearly appears to be a higher class than today's tilt) and has a TMR of 73.01. Meanwhile, #8 (Stellas Phella), who will go off at 20-1, is 0-16 in 2019, 1-52 over the last 2 years and has been dull in all recent starts, including a listless rail-trip 4th at this level in last, yet he has a TMR of 77.06 (the highest in the race!)…Hello?
Don't bettors and horsemen deserve an explanation of how these figures are calculated?
With transparency being the underpinning of the information age, how about a Q&A with TrackMaster, or an interview with a race secretary or horseman whose racing opportunities are now being dictated by the TMR rating system? If there's genius behind it, great, tell us all about it. If it's deeply flawed and without merit, it should be exposed for what it is.
– David Lazar / former public handicapper and lifelong harness racing fan