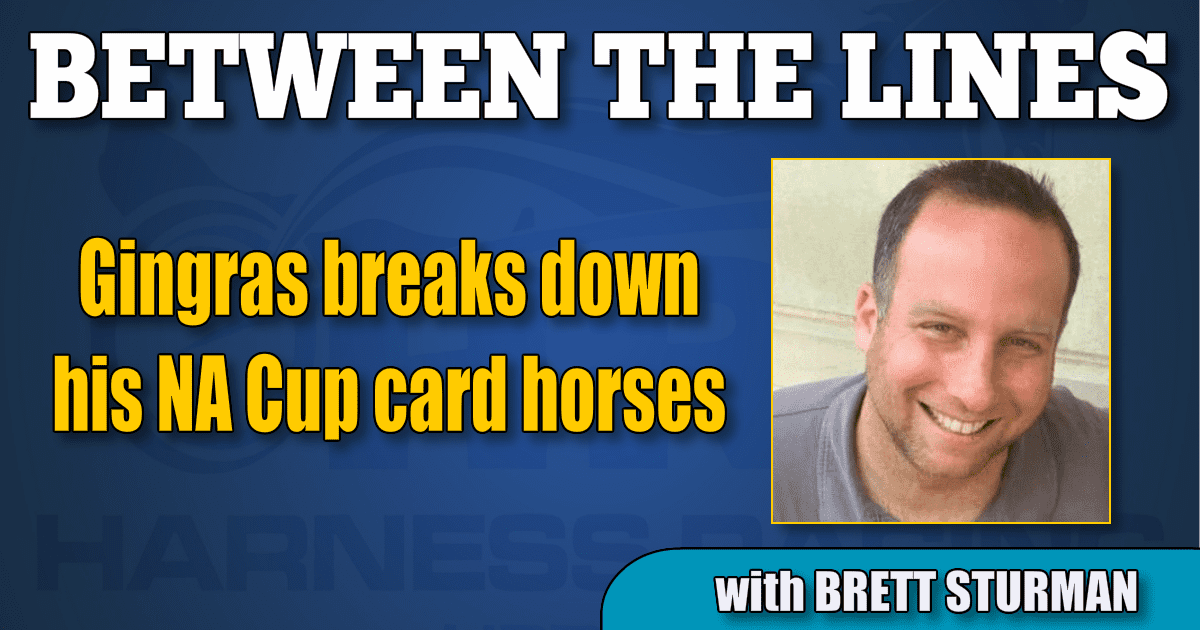 Assessing the Pepsi North America Cup stakes card with Yannick Gingras
The driver helps break down Saturday's rich Woodbine Mohawk Park card.
by Brett Sturman
Along with the signature North America Cup which goes for $1 million, three supporting stakes finals bring the total purses offered across the four races to just shy of $2 million this Saturday at Woodbine Mohawk Park. With a special early post time of 6:30 for the blockbuster card, the sport's perennially leading driver Yannick Gingras has live chances throughout. He shares thoughts from his perspective for his drives in the richest races.
Race 3, $247,000 Goodtimes Final
PILOT DISCRETION has set career marks now in his last three consecutive races and will be the one to beat in the Goodtimes final for 3-year-old trotters. The Muscle Hill colt remains unbeaten through five lifetime starts for trainer Tony Alagna and won arguably the softer of the two eliminations last week, but did it in a faster time while going through faster fractions. The other elimination winner was FORBIDDEN TRADE who was impressive when rocketing home in :26.3, and it might have been even quicker had he found room from the pocket earlier than he did. His 1:53.1 clocking was a lifetime best by many seconds and he'll warrant obvious consideration. To me, SWANDRE THE GIANT has a tendency to come up a bit short in competition outside of Indiana and I question if he is truly fast enough to win this.
His driver Yannick Gingras disagreed with that sentiment.
"I thought he raced good last week," Gingras said. "He got beat a by a good horse (Forbidden Trade) that sat on my back and sometimes that's the way that it goes. I'm not saying he's Greenshoe, but I think he's really nice and got beat by a horse that got tripped out behind him, and we sprinted home pretty good and he outsprinted me. I think there are three or four horses in that race with legitimate shots of winning and whoever gets the best trip is going to win it. I think if I tripped out behind that horse the same way that he tripped out behind me, I beat him too. Going into this week I'm confident in the horse. He was very good gaited last week which I was happy about and I think he's got a real good chance."
Asked if he was concerned that Swandre The Giant is yet to go as fast as the other elimination winner Pilot Discretion, "Time means nothing," said Gingras. "These horses can all go fast and I really don't believe that times mean much anymore – it's all about who you beat. If I was given the choice of the two elimination winners I'm not even sure who I would take – I think they can all go :52 no problem."
Race 6, $256,000 Armbro Flight final
The Armbro Flight final looks to be between what will be the two betting market principles, ATLANTA and HANNELORE HANOVER. Yannick Gingras drove both of them to elimination wins in which Atlanta equaled the fastest Canadian trotting mile by a mare, only to be broken a couple races later when Hannelore Hanover broke it and, in the process, trotted the quickest mile ever on Canadian soil in 1:50.3.
Heading into the eliminations, the conventional wisdom is that if Atlanta won her elimination it would be very difficult for Gingras to opt off her in the final. This is what turned out to be the case, but the decision wasn't as easy as it may have first appeared to be.
"No doubt it was a tough decision," said Gingras. "After the first elimination (with Atlanta) I was thinking that this was going to be an easy call, 1:51 with :26 at the end of it. I mean, I knew Hannelore would be good, but I didn't know she'd be that good. So after the first elimination I thought this could be an easy pick and then Hannelore comes out and crushes. She definitely made it tough and she's unreal – they both really are tremendous race mares and it was a tough decision and at the end of the day you've got to make one and I'm pretty fortunate to be in that spot where I have those kinds of horses to make decisions."
Both from the Burke barn, Atlanta rates as the 6-5 programmed favorite while Hannelore Hanover with a slight post edge picks up Matt Kakaley and will open at 9-5.
Race 10, $454,000 Fan Hanover final
Perhaps the shortest price horse of the four stakes finals is going to come in the Fan Hanover in the form of WARRAWEE UBEAUT. Last year's world record 2-year-old champion has picked up this year right where she left off last year and couldn't have been any more impressive in last week's 1:49:1 elimination stroll.
Asked if he feels Warrawee Ubeaut is his most likely drive to win amongst the four big races, Gingras replied, "Yes – I mean she's going to be a big favorite. I think Atlanta will be the favorite, too, but of course Hannelore could beat her there, there's no doubt. So yes, I would probably say she's my best chance of the four. She's another that was unreal last week. She raced really good and I agree that she's in midseason form and she's ready to rock. I think the second best one is probably TALL DRINK HANOVER and she sat on her back last week and couldn't beat her. So we'll see what happens this week, hopefully she's as good as last week."
Trainer Tony Alagna is well represented in this race with the other elimination winner TREACHEROUS REIGN. Dexter Dunn has been driving well this year in North America and he'll get a chance at the upset with this Captaintreacherous filly who overcame post 10 last week with ease to set a new lifetime mark in 1:50.
Race 11, $1 million Pepsi North America Cup
This year's North America Cup should be an excellent betting race, with at least half of the contenders good enough to take down the prize depending on how the race plays out. Even the role of race favorite is up for grabs, between WORKIN ONA MYSTERY and CAPTAIN CRUNCH. Last year's 2-year-old colt division champion Captain Crunch couldn't have looked any better early in this season but made an uncharacteristic break in the first turn last week and then had to tough it out from there while parked and was game just to make the final. Workin Ona Mystery won easily in 1:49 last week from an outside post and has run his career record to 8 wins from 9 starts. He's also now gone sub-1:50 in both his 2 and 3-year-old seasons.
BETTOR'S WISH capitalized on a dream trip last out to win in a lifetime best 1:49.3 for Chris Ryder and remains unbeaten through four starts this year. I thought the most eye-catching last week was DE LOS CIELOS DEO who came from absolutely nowhere around the final turn to just miss with a giant rally. Trained by Burke, he closed in :25 flat which outkicked the pocket sitting winner by over a full second. The other Burke entry in the race is CAPTAIN VICTORIOUS, driven by Gingras, who nailed down second-place last week at odds of over 60-1.
When asked if he was surprised by the strong performance of Captain Victorious, Gingras said, "Yes, a little bit, but Ronnie told me he would be really good and honestly, going in after one of the first times I qualified him, I really thought he was that type of horse. He qualified so good at the Meadowlands into the wind that one morning (April 27) and I thought I had a legitimate horse to go into those stakes races. And then he wasn't so good the next three starts and they found a couple of things wrong with him that they fixed, and Ronnie told me that he trained tremendous during the week and he told me this horse is ready to go. And when they warmed him up that night they said he was just rolling, and he really performed up to the challenge and what was said. I think the horse has a shot in there. He's going to be a longshot, I think maybe like fourth or fifth choice, but I see myself being a contender in there and with post 5 we got lucky with the draw. Of course, I don't think he can be parked the mile or come first up and beat them, but given the right trip I think he can beat them."