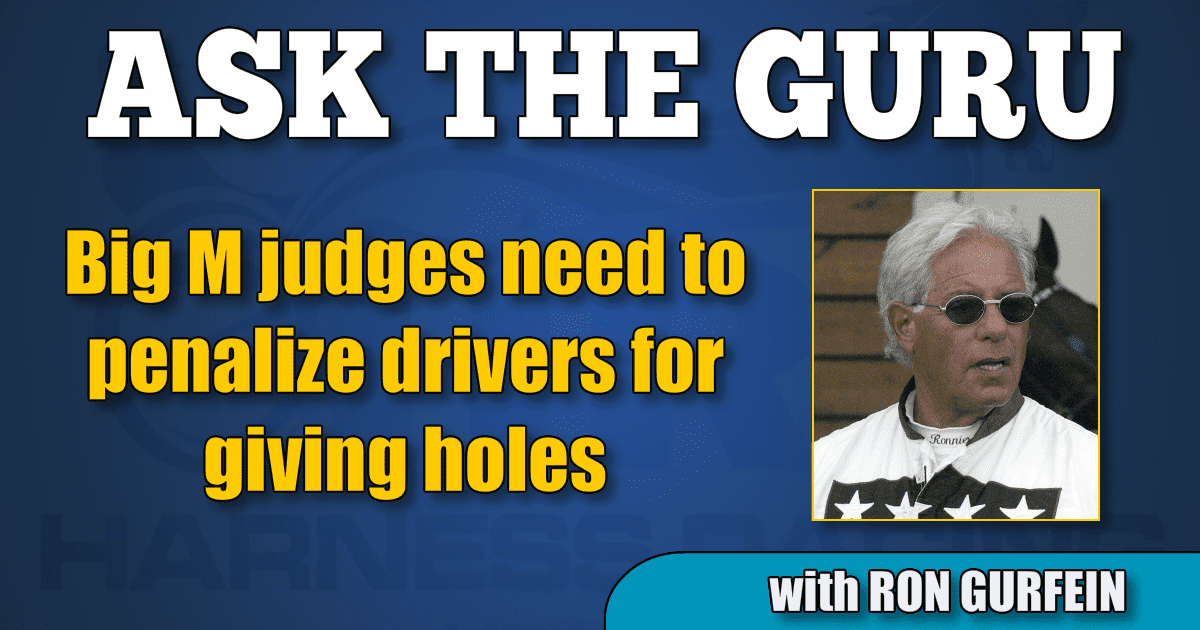 Big M judges need to penalize drivers for giving holes
Also, thoughts on why there are a small number of dominant sires, Brett Sturman's recent column and whether Melander's Big 3 rival Takter's 2014 trio.
by Ron Gurfein
Tidbits: Great news! Illinois is back in action. By a large margin, the house and senate of the state of Illinois passed a bill to have gambling at the racetracks in the state, as well as a provision to build a new standardbred racino. It will provide money for the breeding programs, as well. There is a provision for sports betting, but it is not contractually attached to the horseman's purse account. At this point, anything would have been better than the direction the sport was headed. They have lost three major racetracks in the past two decades, Sportsman's Park, Balmoral Park and Maywood.
Truly hope my good friend Eliot "Doc" Narotsky is somehow involved in the new venture. I am also very happy for the breeders in the state who have taken a hard hit in the last 10 years.
"Marcus Melander wins everything," should be the title of this week's headlines. After winning major stakes all over the place, he won four of the five 2-year-old races on Saturday morning at the Meadowlands and lost the other by a nose. It's too early to make comparisons, but I am getting close.
Talking about qualifiers, The Guru has a question. I have been very disappointed in the performance of my favorite pacing colt (at public auction 2016) De Los Cielos Deo, who has been awful in all his 2019 starts. Saturday he ran off in a qualifier in 148.4 and I watched David Miller closely and he was like a stone in the bike, never asked him at all. What happened?
YOU CAN'T MAKE THIS UP. My daughter Lauren, received a text asking her how to fix a colt that is paddling, from a top harness driver we will call individual #1. She is very bright, teaches at Yale and Boston University, but this was beyond her pay grade. Realizing the error, she forwarded the text to The Guru knowing it was meant for me and asks that I get to the bottom of how a crazy thing like this happened. I contact individual #1 who with full disclosure reveals the facts. He had contacted a person we will call individual #2 to obtain my phone number and somehow individual #2, gave him my daughter's phone number instead of mine. What really makes this strange is that individual #2 was the first one to text me about my mistake listing Woodside Charm in my Road to the Hambletonian, informing me that she was not eligible. How is it possible that in two weeks he forgot my number. Very strange.
For those of you that have exhibited displeasure at my refusal to handicap the Preakness Stake, I find myself totally void of opinion on the Belmont. Maybe it's just me but it looks as exciting as a C-1 Pace at Monticello circa 1970 with a million-dollar purse. I think the racing secretary had to call in a bevy of favors to fill that box.
Paul O'Neal asks: I have been watching the Meadowlands and don't understand why the judges don't penalize drivers for creating holes for parked "friends" in the first turn. It makes for a terrible show.
Paul, I agree. It seems there is a "gentleman's agreement " to make room for parked buddies. Personally, I think some of the smarter drivers do it all the time because they know they are going to improve position with little or no consequences. It's horrible for racing and I am truly surprised that Jeff Gural hasn't cracked down on it as I remember hearing him declare that this situation would not exist at any of his tracks.
It's definitely not a push-button situation. The judges must declare themselves before they start handing out suspensions. You can't let this situation exist as long as it has and then crack down with no warning. I think that the judges at the Big M are among the best in the industry and will listen to constructive suggestions. I have been in contact with Jeff and he was irate about the situation to say the least. "I think it's horrible, and have tried for years to get the drivers to stop, and the judges refuse to enforce the rule," he said, and went on to add that the presiding judge told him that if he sat in the booth and pointed it out they would enforce it.
I am not saying that if a hole is there a guy should whip his horse to close the hole, but no driver should be seen putting a stranglehold on a horse to let another driver back into a spot he has already passed.
I contacted the judges and found Peter Koch the presiding judge to be away until this weekend. I spoke to Larry Julian, whom I imagined to be an associate and asked if he would discuss the matter with me as the PJ was among the missing. He was very kind to inform me that "we are not permitted to discuss anything without the permission of the commission." STAY TUNED.
Robert LeBlanc asks: I noticed in the Kentucky Derby the number of different sires represented. In our big races they seem to be dominated by a few sires. Why the difference?
It is basically a matter of numbers. To begin with, there are nearly 20,000 thoroughbred foals born in the U.S. plus most likely double that in Great Britain, Ireland, France and Japan. Whereas, only about 7,000 standardbred foal every year in the U.S.
Then take into consideration that thoroughbred mares are only bred with live cover and our mares are bred artificially. According to my sources, the chances of the thoroughbred mare conceiving is 90 per cent, way less for the standardbred. I looked up some foal information on a few of the top stallions in the sport. Muscle Hill and Captaintreacherous had a little over 100 foals in the last few years. Tapit, a premiere thoroughbred stallion was in the high 90s the past two years.
We have only a handful of stallions whose foals could bring $200,000 at auction. There are at least 100 thoroughbreds that could have a $1 million yearling.
I had the pleasure of visiting Coolmore Stud in Ireland last year and they have 10 horses of their own in Ireland that could have a seven-figure colt, as well as the two Triple Crown winners at the Lexington farm, American Pharoah and Justify, that, without a doubt, will have multi-million-dollar offspring.
Of course there is no guarantee that the expensive colts will win the classics, but the people that can afford them are more likely to enter a major race with a marginal horse for the fun of it than the expedient owner would.
In the 2019 Kentucky Derby, from 20 horses there were 18 different sires represented.
In comparison with the Hambletonian the past few years (credit to Nick Salvi for providing the programs) with an average of 19 horses going to post, the represented nine different sires and each year one sire had five or six offspring present — they were by Chapter Seven for two years and Muscle Hill for two years. In 2015, Muscle Hill represented one third (six) of the 18 entries.
On the pacing side, it was even more evident. In the 2018 Cane Pace, there were 12 entries 5 sires and 8 by Somebeachsomewhere.
On the whole I think it will get worse before it gets better. In my Road to the Hambletonian 2019 five of the 10 horses listed are by Muscle Hill.
Eddie Muisenga asks: I am convinced that Brett Sturman's article on 5/31 (full story here) was genius, the idea of racing horses by purchase price at auction will show the average Joe that you can't buy success anymore. What are your thoughts?
To be honest with Mr Muisenga his question was like a novel and I cut it very short because although I agree that the Brett Sturman article was great and his ideas more than valid, the question showed that Eddie really didn't understand the premise of the article.
Brett wanted us to follow the thoroughbreds and make some big purse maiden races for yearlings selling at lower prices. Although this creates a bit of mediocrity, it does have some merit in certain situations. On the other hand, Mr Muisenga's take on the situation was that we should have our regular races filled on the same premise, which to this writer is impossible and ridiculous.
I suggest that Eddie study the Meadowlands program that includes yearling prices.
The basic result would be creating 1-9 shots in most races and have field that are spread by 50 lengths at the wire.
It is difficult enough with the shortage of horses to create a condition sheet that makes for competitive racing, but as we all know yearling price and ability have little to do with one another and in no way would create better parity as Mr Muisenga suggests.
I appreciate your love of the sport and I can tell how sincere you are by your letter but there must be a better way to achieve your goals.
Dalton Walls asks: In your opinion, how does Marcus Melander's "Big Three" of Hambletonian hopefuls compare to those of Jimmy Takter in 2014?
It's is awfully early to answer this question because at this point Melanders' precocious kids are still in the learning stages. It is difficult to assess class to them right now. Speed is something we know they have and with the exception of Father Patrick, neither Nuncio or Trixton showed the quickness of Greenshoe or Green Manalishi, but to me they are still works in progress. I still await some more speed from Gimpanzee.
Takter's trio were all class. Trixton and Father Patrick had very deep pedigrees as does Greenshoe and Green Manalishi.
If I were to guess based on what I know so far I would say Greenshoe will prove to be much the best of the six, and I am certainly not a Johnny come lately to this show as I was on his bandwagon from day one and never gave up hope.
My only regret is that the buyers changed his name from RIFLEMAN.
With the Grand Circuit in full swing, the mail has been wonderful. I thank you all and please keep up the good work. I got a nasty note asking where all the Alagna horses are that I liked all winter. I will address it next week, not that it deserves addressing in the first week in June. Tony doesn't need me, or anyone for that matter, to defend his motives, but in this case I will enjoy the commentary.
Great racing cards at Woodbine Mohawk Park this weekend. Don't miss it and have a fabulous week.
Have a question for The Guru?

Email him at GurfTrot@aol.com.