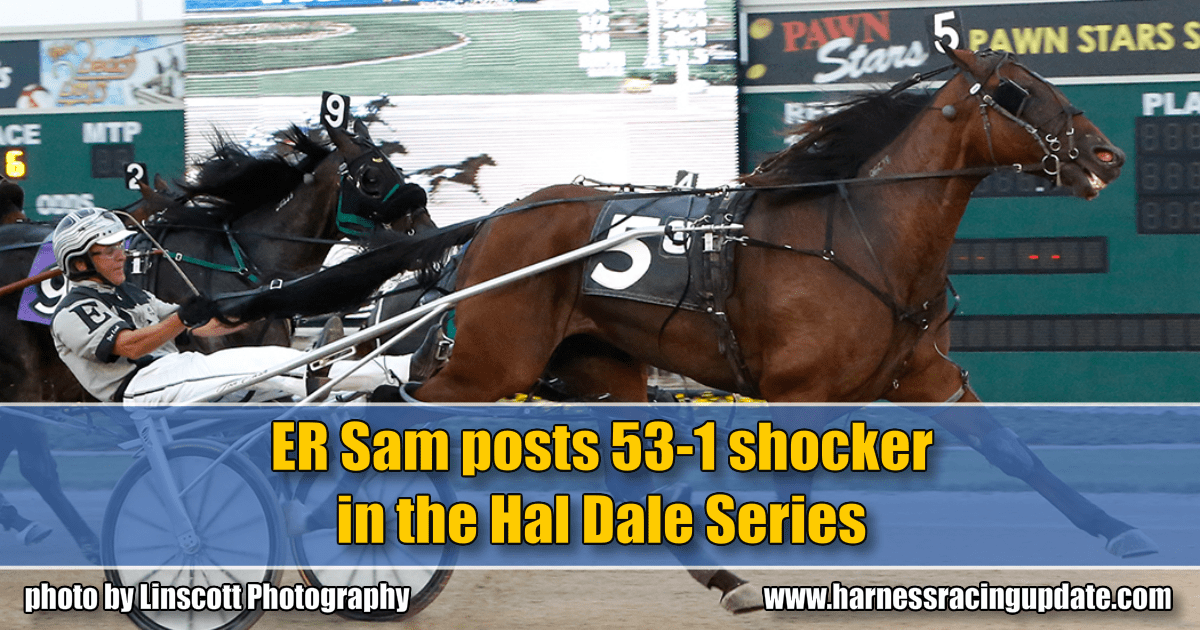 ER Sam posts 53-1 shocker in the Hal Dale Series
The son of Shadyshark Hanover shaved two seconds off his seasonal best in the process.
by James Platz
When trainer Don Eash and his charge, ER Sam, reached the wire first in an opening leg of the Hal Dale Series on Friday, May 10, it caught many bettors by surprise. Sent off at 53-1 in that night's sixth race at Harrah's Hoosier Park, the Shadyshark Hanover sophomore kicked home in :26.3 to win by a half-length, stopping the clock in 1:50.1. The time was two seconds quicker than the fastest mile he had registered in six previous seasonal starts at Harrah's Hoosier Park. Count Eash as being just as shocked as the rest.
"I wasn't expecting those kinds of miles out of him," the breeder, owner and trainer said recently. "I knew he could pace in (1:)52 and change; I was expecting that. I wasn't expecting a whole lot more than that this early."
Fans of Indiana harness racing may not recognize ER Sam's dam, Suzie Blue, but she is part of a successful breeding program at Eash Racing Stable that has produced significant winners. The mare lined up behind the starting gate 15 times as a freshman, each start coming on the fair circuit. She hit the board 10 times, collecting four victories for the Greenfield-based operation. However, she never returned to competition after the 2012 campaign. Instead, she was bred to Panspacificflight in 2013.
"She just wasn't a good-gaited mare. She was making breaks, and a little bit choppy-gaited. She just didn't put it together like she should have," said Eash.
What the Art's Chip mare lacked in lofty earnings and a fast time – she took her 1:57.3 mark in a qualifier at Indiana Downs in October 2012 – she made up for in pedigree. During the 2012 campaign, Eash also campaigned Suzie Blue's full-brother, Rustle's Chip, to an upset win in Indiana Sires Stakes finals action. Rustle's Chip, sent off at 67-1, put a nose in front in the final strides to take the $200,000 Gold final for sophomore pacers.
In the production from Rustler Hanover mare Rustle My Foot, Suzie Blue is sandwiched between Rustle's Chip, a two-time ISS final winner and career earner of more than $300,000 with a mark of 1:50.1, and E R Rudy, another full brother that is a 26-time winner with $230,000 on his card. That association alone gave Eash and his wife, Rosie, reason enough to add Suzie Blue to their broodmare band.
"It's kind of crazy. When she was two she just didn't want to pace," said Rosie, who said the farm will breed Suzie Blue and seven or eight other mares this season. "Now, it's funny, because in the field that's all she does."
The mare did not pay dividends immediately, though. Her first foal never made it to the races, and Suzie Blue turned up barren after breeding in 2014. Her pairing to Shadyshark Hanover in 2015, however, produced a colt that they liked immediately.
"Once we broke him we liked him. He just looked like he was going to be a nice colt," Rosie said.
As a freshman, ER Sam tallied 20 starts moving between the fair circuit and Hoosier Park. He collected six wins, five coming at the fairs, and his final score an open lengths romp at Hoosier Park in late October, pacing in 1:53.4. In his lone sires stakes attempt in July, ER Sam raced sixth, clocked in 1:55.1 as Tellmeaboutit and Peter Wrenn won with a 1:52.4 performance.
"I think he was a little immature, a little underdeveloped yet," Eash said of his charge. "He raced well, he showed signs and flashes here and there of speed, he just really couldn't put together good enough miles to go to Hoosier and stay there. He wasn't stakes caliber last year."
In his first six starts of the 2019 campaign, ER Sam showed that he could be competitive at Hoosier Park. He finished on the board three times, pacing once in 1:52.4 in a contest in late April. He did not give any indication of the fast miles to come.
"He trained down good. We don't train them real hard here," the 64-year-old trainer said. "We wait until we get up to Hoosier before we start going real fast speed miles. He really didn't show me anything special, but he was always good."
ER Sam backed up his Hal Dale coming out party with an equally impressive effort in the second round of the series. Starting from post four in a field of six, Eash sat through a :27.4 opening panel before brushing to the lead on the backstretch. From there, the colt was in control, sprinting home in :26.4 to draw away by fourth lengths at the wire, winning in 1:50.4. Three races later, Egomania, last year's 2-year-old champion in Indiana, made his 3-year-old debut at Hoosier Park, beating a field of older horses in 1:50.3.
The latest test for ER Sam comes in tonight's $18,000 final of the Hal Dale, slated as the evening's 12th race. The following week signals the start of Indiana Sires Stakes. The daunting schedule might be a bit much for a sophomore that Eash still considers green.
"That's not going to be an easy race. I'm not going to go in it with the idea I'm going to win it," he said of Friday night's affair. "He's going to be competitive, he certainly has a shot at winning, but there's definitely not a guarantee. If he keeps racing like he did his last two starts, he should have a pretty good chance. Three races like that in a row are pretty hard to come by."
Eash Racing has not celebrated an Indiana Sires Stakes final winner since Rustle's Chip scored back-to-back victories in 2012 and 2013. Is ER Sam the horse that could deliver another big win? He would be the latest standout tracing back to Rustle My Foot through Suzie Blue. Eash hopes this colt will hold up when they slug it out with the best of the program. The pacer has turned in two impressive performances, and hopefully there are more to come.
"I'm excited, but never overly optimistic. I've seen it happen before. You try not to get too high on them until they actually prove themselves," Eash said. "I know he has the speed, but whether he'll hold up and be able to keep that speed without having something happen, that's always the worry."