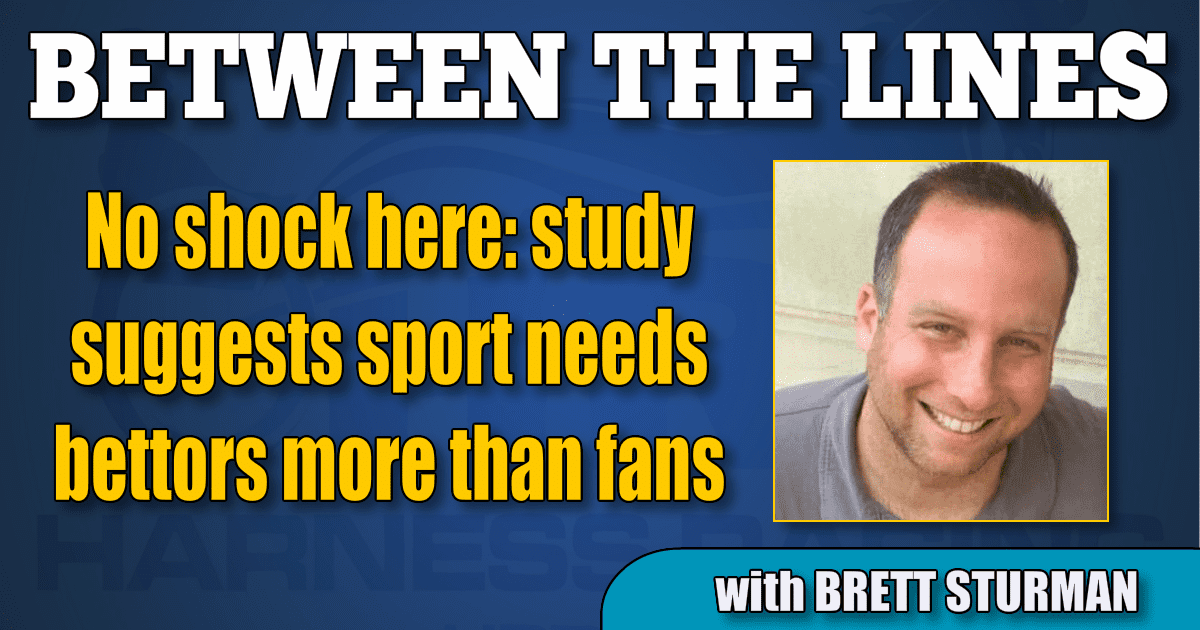 No shock here: study suggests sport needs bettors more than fans
Attracting fans should come second to drawing bettors to harness racing.
by Brett Sturman
This week, the results of a study that gauged interest in sports betting was released, coinciding with the one-year anniversary of the repeal of the Professional and Amateur Sports Protection Act (PAPSA). The study (PDF available here) was conducted by sports betting analytics data provider The Action Network in tandem with market research company GlobalWebIndex, and the findings that I found most interesting were those that dealt with the relationship in sports between bettors and fans.
For 10 major sports, self-identified sports fans were asked for each one if they were interested in the sport, and if they would make a bet on the sport. From there, a ratio was calculated as a percentage of those who would make a bet on the sport compared to those interested in the sport. For nine of the 10 sports, ratios ranged from 73 per cent to 89 per cent, essentially meaning that betting interest was high relative to those who were interested in the sport to begin with. There was one sport though where betting on a sport outweighed interest in it. At 120 per cent you guessed it – the sport was horse racing.
There're a few different ways one could interpret the results, especially that only 29 per cent of sports fans are interested in horse racing (on par with Major League Soccer and 2 per cent above E-sports). But the result is logical in that horse racing as the only sport predicated on betting has more fans interested in betting on the sport than necessarily following the sport.
The study doesn't state how it's defining horse racing, but let's safely assume that's referring strictly to thoroughbred racing and not harness racing. But if the study did include harness racing as its own sport, what would the hypothetical results look like?
I think there would be one glaring issue. It wouldn't be so much where harness racing ranks compared to other sports in popularity, but, more so, the ratio of those who bet harness racing compared to those who are interested in it. Unlike its thoroughbred counterpart, I'm willing to venture that the results would show more people are interested in harness racing than those who would bet on it. On the surface you may shrug and say big deal, what's the problem with that – but it's counterintuitive for a sport that exists for betting purposes.
To put it bluntly, what good does it do if people follow harness racing but don't actively engage it in the form of betting (or to another extent, owning).
The premise that harness racing has a disproportionate number of fans to bettors is based on a few things, some of which are anecdotal. For starters, a few years ago the United States Trotting Association (USTA) engaged with the social media consultancy firm Converseon with a serious investment to utilize social media to increase interest in harness racing. In his letter announcing the abandonment of the social media initiative nearly two years ago, then-USTA president Phil Langley addressed the reality that despite seemingly positive social media metrics, that "Unfortunately, no increase in wagering or attendance, or increased ownership of horses, is evident."
Along those lines, it's fair to say that there has become a dedicated harness racing social media following. But the amount of online chatter which can be actually quite engaging, doesn't equate to handle figures. With the exception of the Meadowlands, Woodbine and arguably a couple other tracks, handle across North America is often sub-par or worse.
As an example, Hoosier Park had a race last week where the win pool was $2,600 and the total race handle including all pools was $11,000. I'm using Hoosier as an example not to single any one track out, but rather because the track is emblematic of the issue that all of harness racing faces. This is a track that played host to the Breeders Crown the year before last and ended up getting a ton of good local coverage and national press throughout that process. It seems hard to believe that by all accounts a beautiful track that was able to gain exposure outside of normal harness racing circles and introduce itself to new people, doesn't handle more than it does. It's a problem that nearly all tracks have to deal with – how to convert those exposed to harness racing over to bettors.
This is something that this column has railed about repeatedly in the past, but it is relevant once again. The inability of would-be bettors to get easy access to race content is a major hindrance in converting fans to bettors, and this is undeniable. For instance, I've seen countless social media posts from casual thoroughbred players who now bet Pompano solely because of directly-provided links to free programs for various wagers each race night. Without this, these people may still be observers but would never be bettors.
Even people within the industry have trouble getting access to these types of things. I'm often baffled at how many times I see people directly within the sport make a social media post asking if someone has a program or if someone knows of a link to where they can watch a live race from. If it's this hard for people in the industry, imagine how hard it is for people brand new.
I get the times we live in where purses are driven by alternative gaming, and bettors aren't very relevant to the current racing model at most tracks. But it might not be that way forever, and at its core harness racing should still be viewed as a sport intertwined with gambling. As sports betting continues to expand and competition for harness racing continues to increase, new bettors need to be emphasized as much as new fans.
HANDICAPPING THE CONFED CUP
Tonight's Confederation Cup goes as race 10 as the main event on a Flamboro Downs card filled with Ontario Sires Stakes Gold and Grassroots races throughout the undercard. Trainer Ron Burke won this race last year with Filibuster Hanover and has two big chances this year. Going for a purse of $185,000 here's how I see the race:
DONE WELL rates as the 7-5 programmed favorite over the second morning line choice JIMMY FREIGHT at 3-1, but I'd look for the locally based and fan favorite Jimmy Freight to go off at something closer in the 2-1 range and is my pick to win the Confed Cup. Starting with 'Jimmy', he prepped as well as possible for his Confederation Cup elimination by chasing home Sintra at Woodbine two back, and then last week took on a fairly harsh trip when faced with post 8. In his elimination, he blasted and was caught very wide around the first turn with the tough Lather Up speeding directly to his inside. When it was all said and done he ended up having quite the adventurous trip and is now ultimately rewarded with a reversal of post position fortune. He'll have to deal with some obviously well-matched foes, but he'll get my slight edge. DONE WELL is likely to be close to odds-on in here and deservedly so. He coasted last week in his elimination and that 1:51:4 time was two full seconds quicker than the other elimination. This horse began his career with a ton of promise before being derailed with various injuries and ailments for Brian Brown – seems to be thriving now as a 4-year-old with Burke and is certain to be blasting when the gate lets them go. The other big horse is DORSODURO HANOVER who grinded his way to an elimination win in 1:53:4. He wasn't as flashy as the other elimination winner, but this is a game horse that consistently finds ways to win. He came from off the pace last week when starting from the same rail position – I wonder if Kakaley will employ that same strategy or may try to push harder early and take advantage of the post. GHOST DANCE was pretty game as a longshot last week and leaving, getting looped, making the lead and hanging in there until late. It was his first start of the year and first start going for trainer Gallucci and a case can be made that he'll be even stronger now. The second-tier starting slot should keep him close up with the action. AMERICAN HISTORY just hasn't fired yet in his two starts this year and is now clearly viewed as an outsider in this spot. THE DOWNTOWN BUS has the misfortune of drawing outside of DONE WELL which means he'll have to do it coming from a long way back; another that moves to longshot status.
Picks: Jimmy Freight, Done Well, Dorsoduro Hanover