by Garnet Barnsdale
There was a time in the spring 2018 when it was unknown if top Mohawk Park trotter Musical Rhythm would ever race again. But the 7-year-old Team Baillargeon star has not only recovered from injury to the point where he's king of the WEG trotting castle again, he's even breeding the morning of some of those races, then winning 12 hours later!
"I've been told that breeding in the morning usually makes them better that night, that it has a positive effect on them," says 28-year old Sara Baillargeon, who works closely with her father Ben, head trainer for Team Baillargeon.
"I like to say that I'm dad's right-hand man," she says of the trainer who is a winner of 2,293 races and purses of more than $38 million.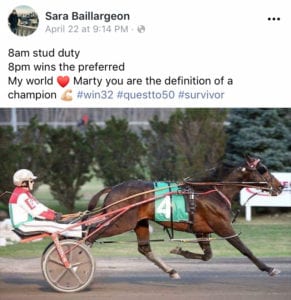 When you look at the results of Monday night's preferred trot, it's hard to disagree with her regarding her about the affect a morning's breeding has on that night's racing. Musical Rhythm was sent to the front by regular driver Mario Baillargeon in a :27.2 opening quarter then forced to take cover when his stablemate P L Jill loomed up boldly to take command before the half. But he was back out just after the three-quarter pole and he powered home in :27-flat to take a new season's mark of 1:53.3.
"I guess he was pretty proud of himself," Baillargeon said, laughing.
But it was never a surety that the son of Cantab Hall out of the Valley Victory mare Musical Victory — a winner of 32 of 85 starts and close to $770,000 — would even be racing this year, or ever again after the ordeal he went through last spring with his health.
"We were getting his ankles injected and they got infected," Baillargeon said. "So we sent him to the University of Guelph for a joint flush, which is a common procedure. It just all kind of went wrong, with one thing after the other."
The news that they got regarding Musical Rhythm's joint flush result was unexpected, and disturbing. "We found out that the infection had traveled into the bone and that type of infection was extremely difficult to detect which in turn made it difficult to treat," Baillargeon said. " He spent almost three months at Guelph and I have to give huge props to the entire team there and Dr. Cote, who never gave up."
Four medical procedures later, Musical Rhythm was out of the woods and on his way home to the Baillargeon farm. "It was just to get him home and give him the retirement that he deserved, maybe train him to ride or stand him at stud if there was any interest," Baillargeon said. "One day, dad comes to me and tells me: throw the harness on him, he's bored. I'll take him for a walk."
Walking led to trotting which then led to giving their trotting champ another go…and, "boom! He's back!," said Baillargeon.
Some say Musical Rhythm looked as good as he's ever been last Monday and Baillargeon agreed, but she says that he is staked only "lightly" this year for a reason. "We don't want to stress him or make it too demanding, and really, we don't know how many races he has left. It's a miracle that he's back and dad doesn't want to chase any of the big dances, he's just enjoying the ride and his horse being happy."
While noting that they have had some other high-quality racehorses such as Voelz Hanover and Yursa Hanover, Baillargeon said Musical Rhythm, whom they call "Marty", is held in the highest regard.
"Marty is the most important horse for us because he has touched all of us and he's such a fun horse to be around because I've never seen a horse who enjoys his job as much as he does," she said.
Musical Rhythm is both breeding and racing this year only because Team Baillargeon has limited him to breeding to six mares, which shouldn't add a lot of stress. "We're only breeding the mares that we own, and that's why we continue to race him," Baillargeon said, "because more than anything else, he loves his job, and because we are only breeding to a handful of our mares, it doesn't affect his training schedule much."
Going forward, there is hope that Musical Rhythm will have a full stud career. "We are very thankful for Mr. Heffering and Tara Hills Stud for their support in assisting with the breedings," Baillargeon said while noting that some people have expressed interest in Musical Rhythm's future breeding career. "They are attracted to the Cantab Hall line, plus his mother was a Breeders Crown winner, so he's very well-bred, and this story especially shows the kind of heart he and a lot of people have shown interest in breeding to him… So next year we'd like to stand him at stud for the public."
For now, "Marty" is enjoying the best of both worlds.