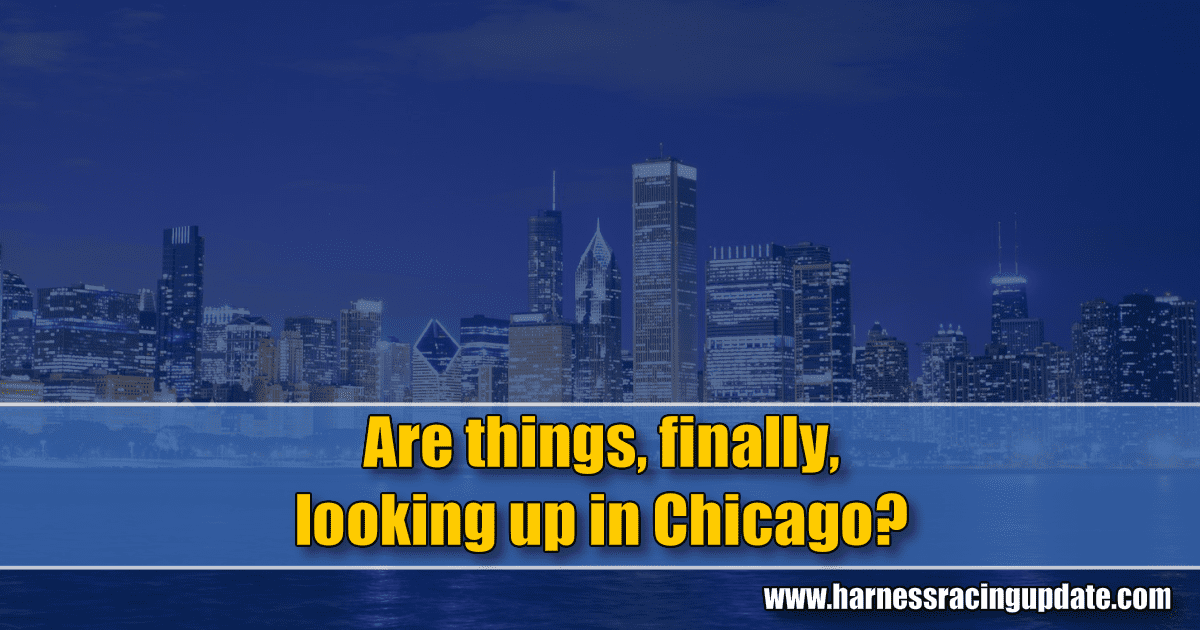 Are things, finally, looking up in Chicago?
As Hawthorne Race Course prepares to open its harness racing season, a number of possible expanded gambling initiatives that could support racing appear to be gaining traction in Illinois.
After hibernating for seven months, Chicago harness racing will resume its struggle for survival on May 3 when Hawthorne Race Course begins a 71-program meeting that will continue through Sept. 22.
Meanwhile, at the state capital in Springfield, the new governor, J.B. Pritzger, and legislators are considering a number of gaming expansion proposals that conceivably could bring renewed vitality to the once robust sport that has fallen on hard times in Illinois.
"I think the month of May is going to be very, very interesting," said Tony Simone, executive director of the Illinois Harness Horsemen's Association (IHHA). "There are plenty of bills and ideas. I'm cautiously optimistic that this will be our year."
Among the gambling expansion proposals under consideration are allowing sports betting at existing casinos and racetracks and permitting slot machines at the state's three racetracks — Hawthorne and Arlington International Racecourse in suburban Chicago and downstate Fairmount Park, across the Mississippi River from St. Louis
When bankruptcy forced Maywood Park and Balmoral Park out of business after their 2015 meetings, Hawthorne resumed harness racing for the first time since 2008, becoming the only standardbred venue in the metropolitan area of the third largest city in the U.S. The status quo is in sharp contrast to the time-frame of the late 1960s up to the late 1970s when there were six tracks on the Chicago circuit.
This is the skimpiest schedule since the mid-1940s when pari-mutuel betting on standardbreds was inaugurated at Maywood.
It's a far cry from 1995 when an all-time high 516 programs were held at Hawthorne, Maywood, Balmoral and Sportsman's Park and 1997 when Hawthorne raced double-headers galore and put on 70 programs between Jan. 1 and Feb. 13.
And, from 1968 through 2015, there was racing for at least 11 months a year (except for years in which horsemen's contract disputes delayed the start of the season).
Total handle on Illinois harness races fell from $531,442,911 in 1990 to $79,029,607 last year and on-track handle plummeted from $256,855,703 to $10,545,832 during the same time frame.
Because Hawthorne holds spring and fall thoroughbred meetings and Arlington limits racing to a May through September thoroughbred meeting there has been a standardbred diaspora, sending many horsemen to other states. A ripple effect can be seen in Illinois breeding as attested by significantly smaller foal. As a result, there are increasingly fewer young horses available for racing.
Hawthorne held short winter meetings in 2016 and 2018, but to build up purse money it applied for only spring/summer 2019 dates. That objective also has produced an abbreviated racing week.
Racing will be limited to Friday, Saturday and Sunday from May through mid-June when Thursday programs will be added. Hawthorne will go back to a three-day meeting in August when many horsemen will go to the Illinois State Fair in Springfield for a four-day meeting, the DuQuoin State Fair for a two-day meeting and the Brown County Fair for a (tentatively scheduled) two-day meeting. In September, Hawthorne will resume the four-night format.
"With fewer racing dates we've been able to increase purses compared to last year," said racing secretary Robin Schadt. "Those people who had faith in Illinois will be rewarded. I think we'll be able to offer a nice product."
Last year, Hawthorne's average nightly purses were $79,096; this year the IHHA is projecting a 20 per cent increase. Stakes racing again will be limited to seven Illinois-bred races on the closing weekend of the meeting. Last year, their purses ranged from $160,080 to $99,032.
Schadt and Simone are hoping that another substantial increase is in the offing.
"The Department of Agriculture has requested (to the legislature) that the recapture be reimbursed," Schadt said. "They haven't requested that for many years."
"Recapture" is a 1995 provision in the law that allowed Illinois racetracks to conduct full-card simulcasting. Unique to Illinois, it stipulates that if wagering on live racing is less than 75 per cent of the 1994 total tracks can "recapture" two per cent of this amount from the horsemen's purse account.
Every year since then, the amount has been under 75 per cent, enabling the racetracks to take in excess of $284 million out of thoroughbred and standardbred purse accounts.
Starting in 1999, the state authorized the Department of Agriculture to reimburse horsemen for the amount the tracks recaptured, but in 2002 the state was confronted with a severe budget crisis and the funding was discontinued.
According to Simone, if the Department of Agriculture's current request is granted it would add $2.3 million to the purse account at the upcoming Hawthorne meeting.
One-term Republican Governor Bruce Rauner was anti-union and opposed efforts by the collective bargaining agents of the harness and thoroughbred horsemen to win approval for slots at the racetracks. His Democratic predecessor, Pat Quinn, vetoed a slots-at-the-racetracks bill, but pushed for the successful passage of a bill permitting video gaming machines in restaurants, convenience stores and truck stops, except where ordinances prohibit them (most notably in Chicago). The video gaming began in September 2012 and currently it is being conducted at 6,834 locations throughout the state.
In contrast to his two predecessors, since taking office in January, Governor Pritzger has been encouraging the Democrat-controlled legislature (which was continually engaged in conflicts with Rauner) to send him a sports betting bill. The fact that a member of his transition team is Jim Edgar, a former Republican governor who has owned and bred standardbreds and thoroughbreds, would appear to be a good omen for the inclusion of racing interests in the legislation.
In his spending plan for the budget year that begins July 1, Pritzger is counting on $200 million in upfront revenue from selling 20 sports betting licenses for $10 million apiece. Four proposals were introduced by legislators on March 22 with options ranging from creating licenses for the 10 existing riverboat casinos and three racetracks to allowing betting at wherever lottery tickets are sold. The latter would create thousands of sports betting locations across the states.
"We're very pro-sports betting and we'd like to see us and the horse tracks be able to have sports betting and online sports betting," Tom Swoik, executive director of the Illinois Casino Gaming Association that represents all but one of the casinos told the Chicago Tribune. "I think it's doable."
In Simone's opinion, "A sports betting bill certainly is not a savior for our sport but every little bit helps. I'm confident if that bill goes through horsemen will be included.
"In the bigger picture, the gaming (at the racetracks) bill is starting to pick up steam. We anticipate in the next few weeks a bill will be introduced that is very similar to the one that was passed and then vetoed by Governor Quinn. With that said, it's still a very, very complicated issue — the riverboats have a lot of political strength in the state and they don't want the competition.
"We're going to have to convince the legislature that it's the right thing to do — that the jobs of horsemen and the people they employ are as important as any other jobs in the state. What's interesting this year is we have about a 25 per cent turnover in legislators compared to about 18 months ago. There are about 40 in all. Many of them don't know much about racing. We've been working to get them up to speed so they understand the intricacies of our industry."
The recent Chicago mayoral election also has produced a new element in the equation. Mayor Rahm Emanuel decided not to run again and fellow Democrat Lori Lightfoot was elected.
"She already is working and already has been to Springfield (to meet with the governor and legislators) but she doesn't officially take over until she gets sworn in (May 20)," Simone said. "So far, I like everything she has said. She is very interested in a casino for Chicago and I'm hoping we (in racing) would be included in that legislation."
Complicating the situation, the spring session of the legislature is scheduled to adjourn on May 31, which won't give Lightfoot much time to make her pitch.
"If we don't get anything done by then it isn't over because we still would have a chance in November when the legislature comes back for its two-week veto session," Simone said. "I still will feel very good about getting something done within the year."