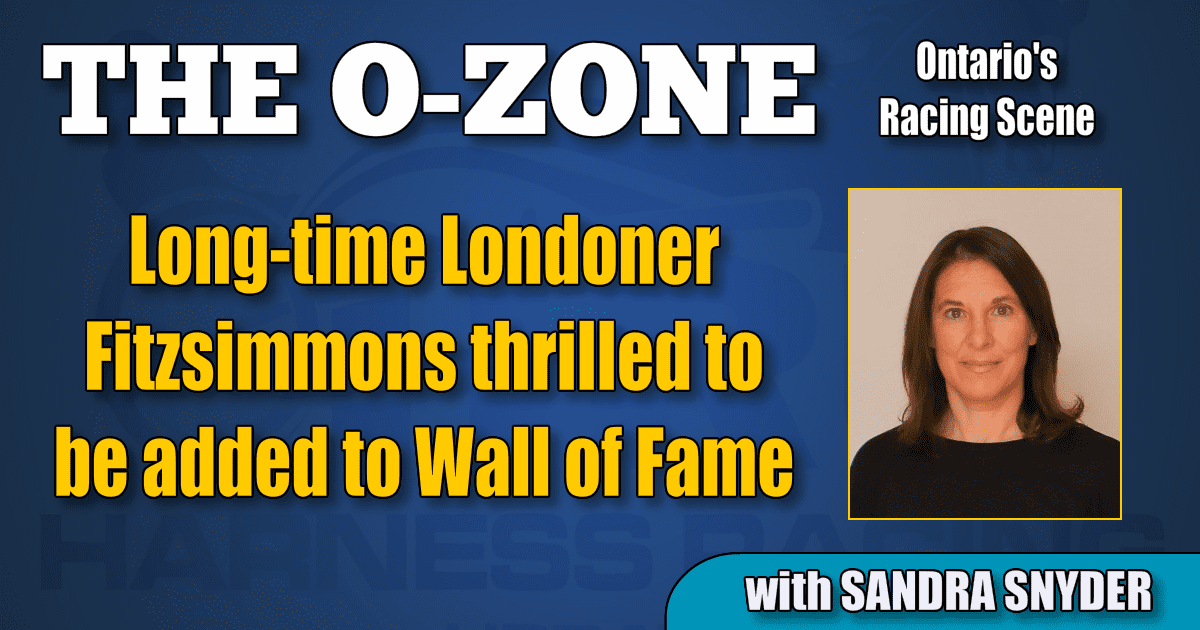 Long-time Londoner Fitzsimmons thrilled to be added to Wall of Fame
Trainer Larry Fitzsimmons has been a fixture at The Raceway at The Western Fair District for more than 60 years. Now, he will be joining its Wall of Fame.
by Sandra Snyder | Sponsored by Ontario Racing
Over the last 40 years, the Wall of Fame at The Raceway at Western Fair District has seen some influential names added to its ranks and on Friday, May 17 long-time London, ON resident Larry Fitzsimmons will join the list of honorees.
The trainer was surprised when he got the call about his induction and flattered that his name would be added to a list that includes the likes of Bill Herbert, Harold Wellwood, Jack Kopas and Super Wave, Dave Wall, Chris Van Bussel and Camluck.
"I didn't have an inkling 'til they came and asked me. I said, 'I'd be more than honoured,'" said Fitzsimmons. "I'm proud to be up there with those guys. The biggest problem is, I can remember them all, I know them all.
"The first time I ever went to the races I think Hals Bomb had win in 2:04, that was the track record in London back, what, 60 years ago?"
Fitzsimmons was first introduced to harness racing by his father Norm, who would pull his young son out of school to attend fall fair racing around their home in Markdale. After the family moved to Hanover, a summer job cutting grass at Hanover Raceway cemented his interest and gave him a front-row seat to observe horsemen like future Hall of Famer Bud Fritz.
At 16, Fitzsimmons left home for a training camp with Boston Bruins affiliate the Niagara Falls Flyers and was assigned to their Junior B team in Tillsonburg, ON. Although his hockey career would be cut short due to injury, the move to Tillsonburg proved to be a good one as it was where he met his wife Linda, when the two were just 16 and 15, respectively.
In Tillsonburg, Fitzsimmons also met trainer Clarence Gagnon, who put the young horseman to work starting yearlings.
"The only person I ever worked for really was Clarence Gagnon, he was training for the White Stable in Tillsonburg back then and I helped him break colts one year," Fitzsimmons said. "He was a good horseman Clarence Gagnon."
After working for Gagnon, Fitzsimmons went looking for a horse of his own and wound up purchasing Delbert, a son of Don Parker and Cloverland Mike, from breeders Alice and Jack Kopas. He would spend a few years splitting his time between delivering milk and training horses before getting his driver's license and making the move from Tillsonburg to London.
"I got my (horse) driver's licence when I was 24 years old, so it was right around that time I gave up (delivering milk) and tried it in horse racing," said the horseman. "Me and my wife moved to London from Tillsonburg. She used to drive back and forth to Tillsonburg to teach and I stayed in London in a trailer at the old Western Fair.
"Starved to death for a long time I guess probably," he added with a chuckle, "But I always enjoyed it."
Since then, Fitzsimmons has been a mainstay at The Raceway at Western Fair District, never missing a meet. Although he had opportunities to move closer to the Woodbine Entertainment Group racetracks, and stabled a few horses at both Mohawk and Greenwood Raceways from time-to-time, he never had a desire to leave London.
Among the horses that have flourished in his care are his first Ontario Sires Stakes winner Chicopee Star, a daughter of High Level and Arlina Hanover who earned $67,909 and took a mark of 2:02.4 at Mohawk in the 1970s. Chicopee Star would go on to produce the horse that tops the list of Fitzsimmons' favorites, Fundamentalist mare Angels Uprising. A winner in the Ontario Sires Stakes as a 3-year-old in 1994, Angels Uprising captured the $103,500 final of the Damsel Series at Woodbine Racetrack in 1995, giving the horseman his biggest career victory. After earning $309,187 and taking a mark of 1:52.4, Angels Uprising also produced Whosurboy son Jake Parrish, who has battled his way to $152,832 in the conditioned ranks around Ontario over the last five years.
Other memorable charges include half-siblings Chancelot (Ladatross) and Laurstar (Fundamentalist) out of the D and H Stables mare Ros Motoring. Chancelot would bank $253,167 for his Tillsonburg-based owner/breeders, while Laurstar earned $251,324 and went 10 for 14 in his 1990 sophomore Ontario Sires Stakes season. Camluck filly Stonebridge Celest earned owner Clarence Beitz $440,857 in her career and Royal Troubador gelding CR Bellman finished out his $541,311 career with Fitzsimmons.
The last trotter Fitzsimmons raced, CR Bellman, joined Angels Uprising in retirement in 2012 and the pair is living the Life of Riley in their golden years.
"They run together out at the farm. I keep them in a stall all winter when it's dirty weather and then once it gets nicer I turn them out," said Fitzsimmons. "He's 20 something years old too, not quite as old as her (28), but you know they were good to us, especially her."
Fitzsimmons keeps the retirees, along with the five horses he has in training, at Joe Elliott's training centre in Dorchester, where he is helped out by his sister-in-law Laurie Hicks and, on training days, his grandson, driver Nick Steward.
"I got as high as 35, probably around 1990-91. I had a lot of horses back then," said Fitzsimmons. "Up until probably five or six years ago I'd always have 10 or 12, and now I think we've got five. Of course, the older you get you've got to get down a little bit.
"I remember one time I think we had six Sires Stakes 2-year-old colts in London the first night, now I wouldn't be training six, that's for sure."
While Fitzsimmons may have scaled back his operation in his 70th decade, he has no plans to retire.
"I don't like going to Florida. In fact, I enjoy getting up and jogging and training in the morning, I really do," said Fitzsimmons, while admitting that he is happy to delegate race nights to Laurie, and his daughter and granddaughter Leslie and Dillyn Jackson. "They raced (Jake Parrish) the other night and I stayed home and watched it on television."
Fitzsimmons will be joined by family and friends at the May 17 Wall of Fame induction and said the long-time friendships he has developed in the industry may be the things he has enjoyed most.
"I'm just thankful for all the good people I've been involved with in horse racing. You get to meet a lot of people and probably 99.9 per cent of them you like," reflected the honouree. "You know, you try to win and that, but a lot of friendships… you get to know a lot of people, still do."
TRACKS SPRINGING OPEN
May's arrival shifts the Ontario harness racing industry into a higher gear. Four racetracks kick off their season in May, with three more following in the first week of June.
First out of the gate is Hiawatha Horse Park, which will host 21 Saturday evenings starting May 4 at 6:30 pm. Hiawatha joined Ontario Racing this spring and horsepeople will see a bump in daily purses as the Sarnia, ON oval benefits from the purse enhancement payment allocated to member racetracks.
Sarnia resident Peter Core is looking forward to the season opener at his local oval and has a few sophomore trotters among his 10-horse string that will be taking advantage of the five-eighths mile surface before the Ontario Sires Stakes season gets under way.
"Especially the trotters, I like to get them out where they can get their stride and gait going for a little more distance before they hit a turn, and then a little softer turns," he said. "It kind of allows you to get them kind of stretched out, get their gait and their speed."
CORE'S HIAWATHA TIPS
Where is Hiawatha Horse Park? The track is located just across the border from Port Huron, MI and Core says it has both a well laid-out paddock and grandstand where fans will find a family-friendly environment.
What else is there to do? In addition to the five-eighths mile racetrack there are a fully automated driving range, six beach volleyball courts, baseball diamonds and F1 Karting on site.
Hungry when you arrive? Core suggests Nick's Family Restaurant, just outside the racetrack gates, (Core trains Sportswriter filly Evas Sports Czech for restaurant owner Nick Stoukas) or Global Donuts and Deli, just down the road.