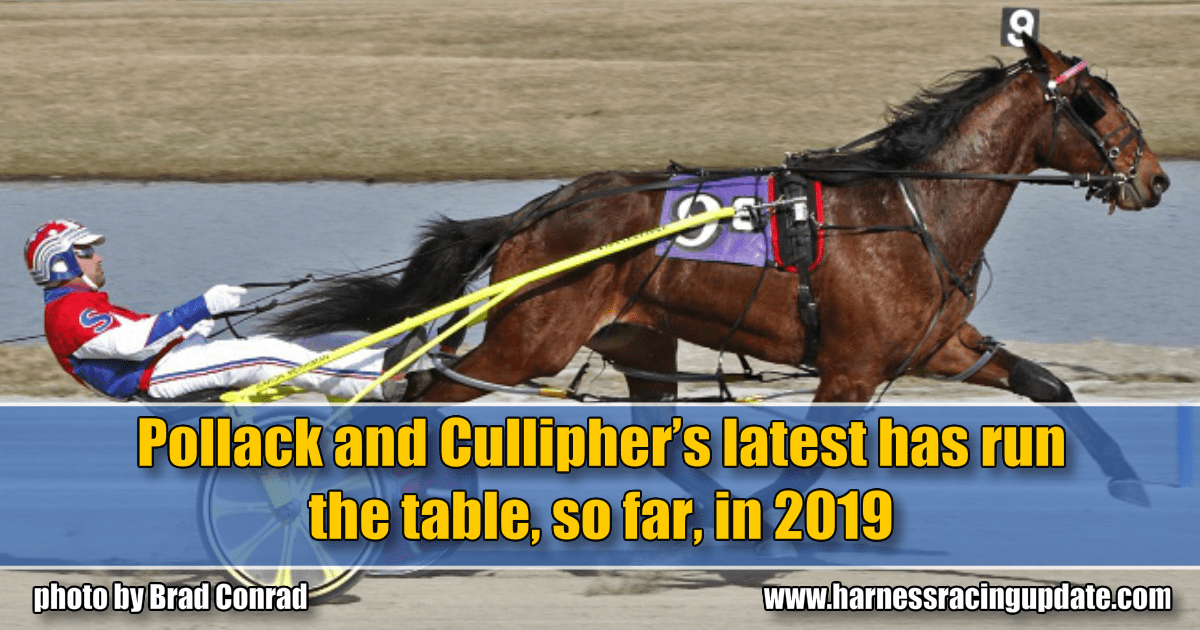 Pollack and Cullipher's latest has run the table, so far, in 2019
A year after a successful campaign with Wisdom Tree, Indiana's Tom Pollack and Jeff Cullipher's Dealer's Table is perfect through four starts.
by James Platz
Last season, the partnership of Tom Pollack and Jeff Cullipher campaigned sophomore pacing filly Wisdom Tree to a New York Sires Stakes championship, 11 wins in 18 starts, and over $430,000 in seasonal earnings. Those are lofty goals to aim for, let alone repeat, but this Pennsylvania and Indiana-based team may have another horse capable of big things in the Empire State. Dealer's Table, now four-for-four in 2019, is off to a fast start for his connections, with his 1:51.1 triumph April 2 at Miami Valley that established a national season's mark.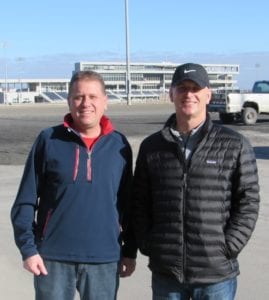 "I think he could have that ability. It's still early to tell, because you have to go in :49 and :48, if not faster," said Cullipher, who also trains the 3-year-old. "I think he's capable of a :50 mile right now. I don't know what he would do on a good, warm Meadowlands day."
For racing fans, Dealer's Table is a new face to harness racing. The American Ideal—Hasty Pulse sophomore sold at Lexington in 2017, where Cullipher and Pollack purchased the Winbak Farm-bred pacer for $60,000. The gelding is the second foal out of the Quik Pulse Mindale mare, herself a winner of just over $250,000 with a mark of 1:52.2. Training down, Cullipher said the big colt was one of the best babies in the barn, easily handling training over a half-mile track.
"He trained down good as a 2-yearold and got sore in a shoulder and we just stopped. I got him trained down pretty close to race time, but not quite, and just put him back out in the field," the trainer said. "He's just always done everything the right way. Anything you ever asked him, he delivered. We weren't going to take a chance when he started showing a little soreness. Hammering down on 2-year-olds is sometimes not the smart thing to do."
Bringing him back this winter, Cullipher said the well-mannered colt was a little difficult to gauge. The pacer tends not to overexert himself, so it was not until a few training sessions leading into his first qualifying effort at the Meadowlands that he really started to show his potential. In his first qualifier on February 23, he raced a close second in 1:57.1, kicking home in :26.4. He followed that with a 1:54.3 effort where he set the fractions on the way to a three-length victory. Cullipher had planned to leave Dealer's Table at White Birch Farm, his East Coast base, but instead brought him back to Central Indiana.
"Before leaving him out there, I wanted to race him the first few starts," the co-owner said. "By the time we shipped to Miami Valley, I already knew I've got a colt that could be alright. It was mainly about building a foundation. If he wins, he wins. If he didn't, I wasn't going to be mad. I'm just trying to teach him; he's still learning."
Making his debut in a non-winners of one contest at Miami Valley March 10, Dealer's Table wired the field from post two for Josh Sutton. Taking control from the start, the heavy favorite would win by a dozen lengths in 1:54.4. The gelding was then entered in the Omar Hiteman Memorial late closing series for non-winners of two or $20,000 lifetime. Sitting fourth in a division of the first leg, Sutton would steer Dealer's Table to a four-length score in a time of 1:52.3. It was more of the same in the second leg, with the sophomore positioned fifth at the quarter before taking control after the half and pacing the mile in 1:53. In last Tuesday's $20,000 series final, Sutton moved Dealer's Table to the front from post four, cutting the mile before winning by a neck in 1:51.1, the fastest time for a 3-year-old pacer on a five-eighths, or any distance for that matter, in 2019.
"Josh did a great job with him. I just told him to make sure we don't get in any trouble. He left with him the other day. As the favorite, I figured he probably would be on the front," Cullipher said of his charge. "This colt is versatile and has great manners. He never once tried to get hot. He can leave, duck, any way you want to do it. Right now, he's showing he can do anything."
Dealer's Table leaves Miami Valley with an unblemished record and $24,750 in earnings. Monday he will ship to White Birch Farm, and his next start may come in the Wiggle It Jiggleit series at the Meadowlands. The series kicked off Friday night, with Cullipher sending out Mark Witha K to a runner-up finish in one of the two divisions. The trainer is taking it week by week with Dealer's Table. The New York-sired pacer is not staked to the top-tier events this season, but he is eligible to a full stakes slate should he continue to move forward.
"Do we think we've got the next world champion? Probably not," he said. "Are we going to give him the opportunity at some point? Probably. As long as he keeps improving and stays healthy. We're going to let him tell us what he wants to race in."
Pollack and Cullipher have yet another contender in the barn. Dealer's Table has shown he possesses the tools to be competitive this season. Now the question is: Will he rise to the challenge?