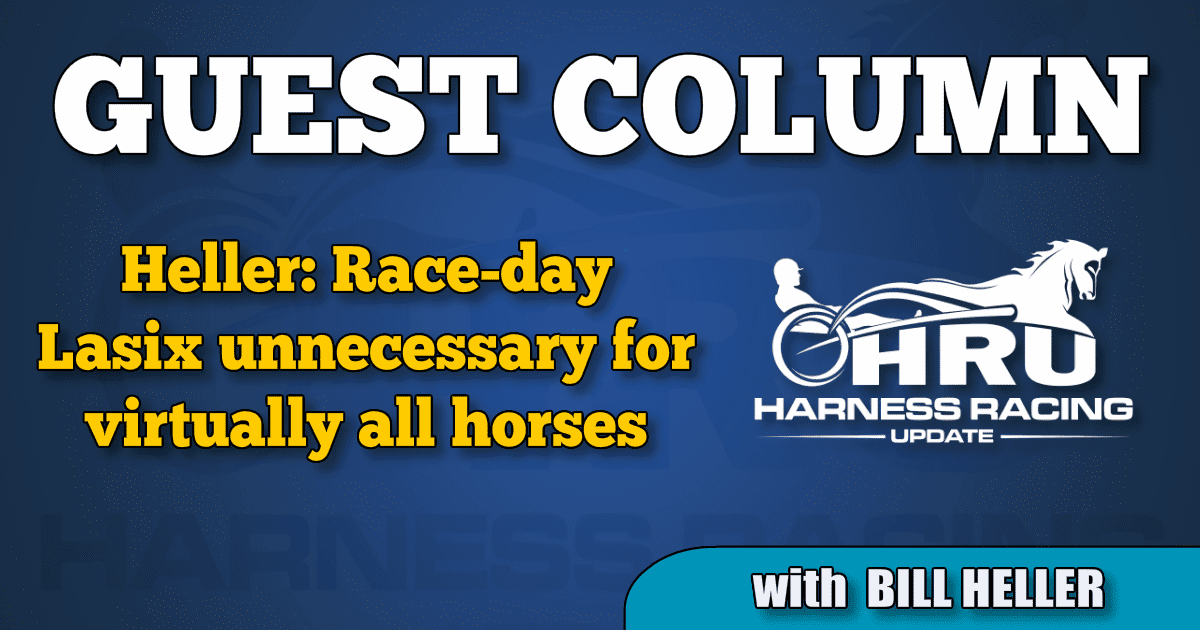 Race-day Lasix unnecessary for virtually all horses
by Bill Heller
The tragedy of horses suffering fatal injuries at Santa Anita has prompted the track to eliminate Lasix for 2-year-olds beginning in 2020. It's a small step forward to finally exposing that race-day Lasix is absolutely unnecessary for the more than 90 per cent of thoroughbreds and much lower percentage of standardbreds using it.
That this happens with Congress again considering legislation which would create a federal racing authority and uniform medication rules only increases the focus of mainstream America's opinion of horse racing.
Originally, Santa Anita proposed eliminating Lasix on race day for all horses immediately, but horsemen balked, and the compromise was made to start next year with the Lasix ban for 2-year-olds.
Finally!
Let's be perfectly clear about this. Nobody is proposing eliminating Lasix for thoroughbreds and standardbreds, just on race-day. Yes, Lasix is effective helping the tiny percentage of horses who have epistaxis, bleeding through their noses. But believing that eliminating race-day Lasix will create an epic number of horses breaking down and dying is hard to fathom.
Every single foreign racing jurisdiction on the globe bans Lasix and all other drugs on race-day. How many years can we believe that Canada and the United States are the only countries correct on this? Other countries haven't experienced a tidal wave of fatal breakdowns because horses raced without Lasix on race day.
If racing without Lasix on race-day is so dangerous, why did the trainers of the best thoroughbreds in the U.S. ship them half-way around the world to Dubai to compete in million-dollar races without race-day Lasix last weekend? And the American horses fared very well in Dubai: first and second in the World Cup, first in the Golden Shaheen Sprint and first in the UAE Derby.
Think about this: The Dubai races most likely are the richest and most important races those American thoroughbreds will ever be in, and our trainers have no problem saddling their horses for those races without race-day Lasix.
Have there been any U.S. thoroughbreds suffering any consequences because they didn't have their race-day Lasix in Dubai?
In main-stream media, racing is taking huge hits because of the Santa Anita breakdowns. Do we really want to add on to that? When Santa Anita began to eliminate race-day Lasix for 2-year-olds in an effort to protect our thoroughbreds, other U.S. tracks rejected the idea and did nothing.
Can racing afford to stick its head in the sand again?
Look around. Since the mid 1970's, when Lasix was first introduced to racetracks backstretches, thoroughbreds' average number of annual starts has fallen like a rock from more than 11 to six. Field size has diminished, too. The foal crop is half the size it was 20 years ago. These aren't opinions, they are facts provided by The Jockey Club.
Have we not noticed that epic drop in annual starts, field size and crop size?
The impact of Lasix has been debated for decades. What isn't controversial is that trainers like to have their thoroughbreds carry less weight. If a 10-pound, seven-pound or five-pound apprentice rider has shown any talent, that jockey has no problem getting mounts. When horses are administered Lasix, they urinate as much as 20 pounds. How can that not potentially have an effect on their performances?
There's another very basic concern about Lasix. Do all those thousands of horses have bleeding problems? Remember we're not talking about horses with epistaxis, but horses who may have a few drops of blood in their lungs when they are scoped. How does an entire field of 2-year-old thoroughbreds making their debuts already need Lasix?
Are trainers continuing to use Lasix just to stay on an even playing level with all the other trainers using it? If that's true, how can anyone be naïve enough to think there's no chance Lasix will improve performance?
Why does the Daily Racing Form and racetrack programs have a symbol for any horse using Lasix for the first time? Because it has no effect on performance? Some thoroughbreds and standardbreds improve greatly with first-time Lasix. Others don't. Some improve with second-time Lasix. Again, others don't.
We have a real opportunity here to move racing in the U.S. forward. Santa Anita is showing a way to do it, and if and when it is followed by any other tracks, racing will be seen by mainstream America as doing something tangible about horses' safety. It will show that the U.S. is ready to join the rest of the globe in banning at least one race-day medication.
Other jurisdictions ban all drugs on race-day.
Banning Lasix on race-day for 2-year-olds in 2020 is a start, a long-awaited start to join the rest of the racing world.
Such action would be a positive development after a tragic loss of equine lives, and we can all likely agree that racing, as seen by those outside the game, needs as many positives as possible.
This is the time. This is the moment.
(Bill Heller is an Eclipse Award and three-time John Hervey-winning writer that is the author of the 2002 book about Lasix "Run Baby Run." Heller is a member of the Harness Racing Communicators' Hall of Fame)