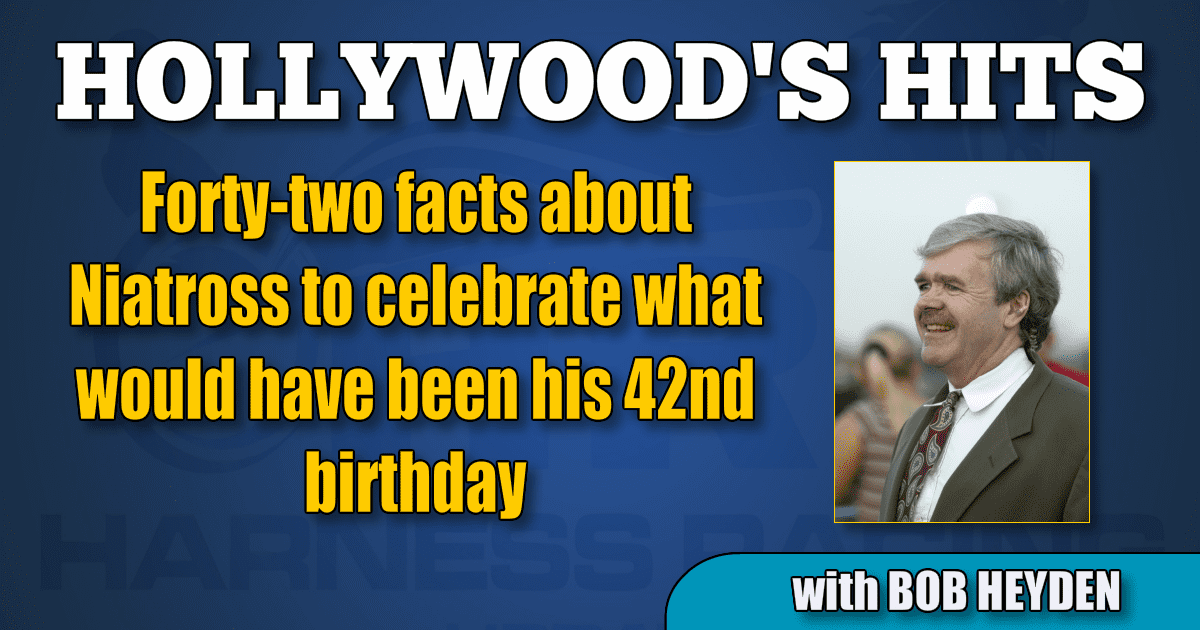 Forty-two facts about Niatross to celebrate what would have been his 42nd birthday
by Bob Heyden
Forty-two years ago as of Saturday (March 30), the legendary Niatross was foaled in Hanover, PA.
The son of Albatross out of Niagara Dream was the result of a mating that cost $5,000. Albatross' stud fee would later soar to $75,000.
Niatross was owned by Niagara Acres, the Niatross Stable and his trainer/driver Clint Galbraith. Marie Carson was his caretaker.
Niagara Dream was 12 when Niatross was foaled.
Elsie Berger of Grand Island, NY — who was in her seventies during Niatross' heyday — owned Niagara Acres since forming it in 1948.
Niatross earned $2,019,213 in his career, which, at the time, was an all-time record. He was the first standardbred to top $2 million.
He also won 37 of 39 career starts.
His career mark of 1:49.1 was taken in a time trail on Oct. 1, 1980 at the Red Mile. Oddly, Niatross did not race in Lexington that fall; he only time-trailed.
Named the New York Post's Athlete of the Year for 1980, Niatross stood more than 16 hands and used a 61 ½ -inch hopple.
After retiring from racing, he stood at stude for $35,000 at Castleton Farm in Kentucky.
Niatross died in 1999.
Galbraith was later voted into both the U.S. and Canadian Halls of Fame.
The following is a list of 42 facts and notes on Niatross to celebrate what would have been his 42nd birthday:
1. Niatross went 13-for-13 as a 2-year-old, banked $604,900 and set a new earnings record for a freshman — standardbred or thoroughbred.
2. It's rare to see even the greatest of performers have two long winning streaks. Niatross won his first 19 and his last 18, and never did finish second or third in any race, making him the only Horse of the Year with that distinction.
3. Steady Star time trialed in the early 1970s in 1:52 (he had a 22-foot stride). Niatross lowered that nearly three full seconds with a 23 foot 5-inch stride.
4. Albatross, Niatross' sire, set the all-time earnings record for pacers at ages two, three and four.
5. Niatross at 2 and 3 set the all-time earnings record the two years that he raced — and his $1.4 million season of 1980 more than doubled the $703,000 season of Abercrombie from 1978 which was the high water mark at the time.
6. Nihilator, Niatross' first crop superstar, also set the earnings mark at 2 and 3 and his $3.225 million was the new standard when he stopped racing after the 1985 season.
7. Niatross and Secretariat were both born on March 30. Both won their biggest purse races in New Jersey (Garden State Futurity in 1972 for Secretariat; Meadowlands Pace for Niatross) Both were named Horse of the Year at 2 and 3 — not done in either sport since; and both lost a race in Saratoga.
8. Niatross won the Little Brown Jug in 1980 and set six world records that day and posted the two fastest Jug heats ever at that time.
9. J Ds Buck was well over a million when his career ended, making him the richest horse to race against Niatross.
10. The 1980 Meadowlands Pace was the sport's very first million-dollar race and Niatross won it in track record time (1:53.1). Coupled with his victory in the $862,750 Woodrow Wilson the year before, it means Niatross twice captured the sport's all-time richest race.
11. Clint Galbraith referred to the Meadowlands Pace elimination of 1980 (in which he finished fourth) as Niatross' best race. "He had to race outside without cover, he made a break, he lost his headcheck. To qualify for the final after all that was special."
12. Was Niatross an outsider? In a way, yes. He won three major races at the Meadowlands from well out there: Post 8 — 1980 Meadowlands Pace; Post 9 — 1979 Woodrow ; Post 13 — 1980 Oliver Wendell Holmes.
13. Clint Galbraith's first Meadowlands win came with another star — this one on the trot with ABC Freight on Sept. 16, 1976 in a NW $5,000 versus older foes. The 2-year-old won decisively.
14. In 1979, Galbraith's only two Meadowlands wins for the year came with Niatross and he was not favored in either one. He paid $6.00 in the Wilson elim and $5.00 in the final, second in both was Whamo as the public choice. This marked the only time when betting was allowed that Niatross did NOT go off the public choice. Sixteen times in his 39 career starts there was either no betting at all, or he was barred from the wagering himself.
15. Pennies from heaven — that's about what you would have gotten if you had parlayed a $2 win bet on Niatross in his five Triple Crown wins ($2.10, $2.20, $2.20, $2.20, $2.20). Two elims and three finals. $2.34 would have been the final tally.
16. After his epic 1:49.1 time trail in Lexington, Niatross calmly shipped to Roosevelt Raceway on Long Island and dominated in the Messenger to capture the sport's Triple Crown. It was especially satisfying for the connections of his sire Albatross, whose defeat in the 1971 Jug to Nansemond cost him that year's Triple Crown.
17. On Meadowlands Pace Night in 1980, 42,612 were in attendance. More than $4 million was bet on track. Niatross defeated Storm Damage and Tyler B.
18. Niatross won the 1980 Cane Pace over Trenton Time, the very horse who wound up winning at Saratoga the night that Niatross fell over the hubrail.
19. Fourteen of Niatross' 39 career starts were made in New York, half of those at Vernon Downs. Each year, he qualified at Vernon to start the season-and those two qualifiers were his only two in his career. His other New York starts came at Yonkers (2), Roosevelt (1), Saratoga (1), Buffalo (1), Batavia (1), and Syracuse (1). He raced in New York more than any other state.
20. It's as simple as this: Niatross ushered in the million-dollar era. The purses were on the rise throughout the sport — 1979: $217,848,161; 1980 $233,421,503; 1981 $247,048,152
21. Niatross fell over the hubrail at top of the stretch at Saratoga the week before the 1980 Meadowlands Pace eliminations. He emerged with only a few scratches, and was trained three days later and declared ready to go. That race was called the "Haswell Memorial", there was no win wagering, quinella only, and it was the second half of a daily double. Trenton Time, Justin Passing and All The Way wound up 1-2-3. They called Saratoga the "Graveyard Of Favorites" for years on the thoroughbred side. After all, Secretariat also was defeated there seven years earlier.
22. Going into the time trail in Lexington on Oct. 1, 1980, Niatross owned the world race record of 1:52.4 at Syracuse and was trying to better it. The cost of the time trial was $250 if you bettered 2:00 and $200 if you did not. The fractions were: :27.3, :54.3, 1:21.4, 1:49.1. Steady Star's fractions in the precious best time trial were :28.3, :54.3, 1:23 and 1:52. The prompters were Freddie Bach and Dennis Lacey. "It's easier for the prompters the faster a horse goes, Bach said. "Normally, we have to restrain our horses a few times in the mile." Attendance was 4,132.
23. Twice Niatross raced in heats at two and won all four races. Three times Niatross raced in heats at three and won all six tests. Those 10 wins were by a combined 30 lengths.
24. Niatross once raced with just four days in between and twice with just five days off.
25. Niatross earned 369 votes for first place combining both the Horse of the Year ballots in 1979 and 1980. In 1979, he earned 131 votes to 60 for runner-up Hot Hitter. Overall, eight horses got at least one vote. In the 1980, HOY vote, Niatross earned 238 of a possible 239 votes with the lone dissenting voice going the way of French Chef.
26. Niatross won the 1980 Pace over Storm Damage, who finished runner-up to Niatross a record six times overall. Jerry Smith owned and trained Storm Damage, who would become the sire of Clint Galbraith's next sub-1:50 winner Call For Rain. Smith also owned Redskin, whose $1.407 million in the 1986 season set-and still exists as the highest ever earning season for a freshman in our sport. Care to guess who he topped while doing so? Nihilator, the HOY son from the first crop of Niatross.
27. Marginally speaking, Niatross' biggest margin at age 2 was 17 1/4 lengths at Liberty Bell. His biggest margin at age 3 was 15 lengths in his career finale at Pompano Park.
28. You couldn't get bet on Niatross in 16 of his 39 races.
29. Only once was a female on the board in any purse race Niatross competed in. Miles End Brenda was third on Aug. 16, 1980 at Syracuse, with Volos Mike in between her and Niatross. That 21 lengths from first to second was Niatross' biggest ever margin.
30. Chronology: In 1984, the first crop of Niatross stepped onto the track. A year later, Nihilator was voted Horse of the Year from Niatross' first crop. Also in 1985, Barberry Spur, from Niatross' second crop, took the inaugural Governor's Cup. In 1997, Niatross entered the Living Hall Of Fame. In 1998,a Breyer likeness of Niatross was released. In 1999, Niatross died and his memorial was placed right outside the doors of the Harness Racing Museum & Hall Of Fame in Goshen, NY.
31. Eight times Niatross drew post one and he went eight-for-eight by a combined 54 and 3/4 lengths.
32. Niatross never drew post seven in any race.
33. No horse finished second to Niatross BOTH at 2 and 3.
34. Niatross raced at 18 different tracks as a sophomore in 1980 (19 overall).
35. In his final 17 career starts, Niatross won by a combined 141 lengths!
36. Niatross went unblemished in Canada (three-for-three) winning at Blue Bonnets, Windsor and Greenwood.
37. Clint Galbraith: "Niatross wore just a plain snaffle bit and a plain overcheck."
38. You don't often see a horse win a $5,000 race (Syracuse) and a $1,011,000 race (M. Pace) in the same season, but Niatross did.
39. Post positions 8-9-10 and 13. Niatross started from these spots a combined nine times and went undefeated.
40. Niatross started on a mile track 13 times, a half-miler 11, 5/8ths 8 times and the ¾-miler at Vernon seven times. Vernon, his home base, was his favorite track with those seven races and a pair of qualifiers.
41. DON Galbraith drove Niatross in his very first start — a baby race at Vernon that resulted in a victory.
42. On July 6, 1997, Niatross became the first equine to be enshrined and show up for his own Hall of Fame induction ceremony.