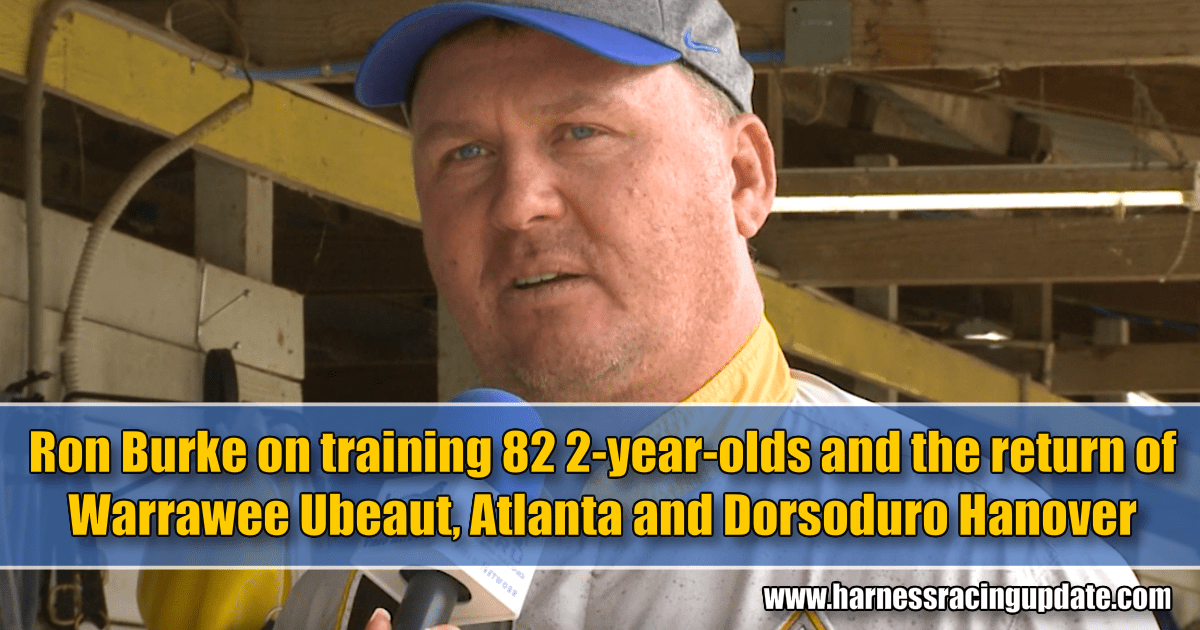 Burke on training 82 2-year-olds
Ron Burke, the reigning Training of the Year, was interviewed in Florida by HRU's Heather Vitale about Warrawee Ubeaut, Atlanta, Dorsoduro Hanover and the 82 2-year-olds he has in training, for the latest instalment of the 2019 Twos in Training video series.
by Dave Briggs
Ron Burke, the sport's only $200 million-winning trainer, is the latest horseman in the Harness Racing Update 2019 Twos in Training video series available now on the HRU YouTube channel.
The reigning Trainer of the Year discusses his stable of 82 precocious babies with Heather Vitale, including Marion Marauder's full-brother S Class and many top offspring of Burke's champion Sweet Lou, as well as some by Muscle Hill, Somebeachsomewhere, Captaintreacherous and more:
Special thanks to Deo Volente Farms and Ontario Racing for sponsoring the Burke video.
On Friday evening, HRU uploaded its video with trainer/driver Charlie Norris:
Thursday evening, 2017 Trainer of the Year Brian Brown was in the HRU spotlight:
All three of those videos were produced by videographer and editor Aaron Re of Hanover Multimedia of Hanover, PA.
Look for videos featuring Ake Svanstedt, Dustin Jones, Peter Wrenn, Dan Daley, Jeff Webster, Casie Coleman and Tony Alagna in the weeks ahead, as well as an update on Foiled Again's retirement.
Ontario videos produced by Cujo Entertainment's Curtis MacDonald — and featuring his wife, Jaimi MacDonald, as host — are also on our YouTube channel. So far, the MacDonalds have profiled Blake MacIntosh, Anthony MacDonald and Scott McEneny, with more videos to come from Ontario soon.
Some sponsorship opportunities remain for the videos. To place your video message at the start of a video please contact advertising director Wilma Van Vaerenbergh at: hruadsales@gmail.com.