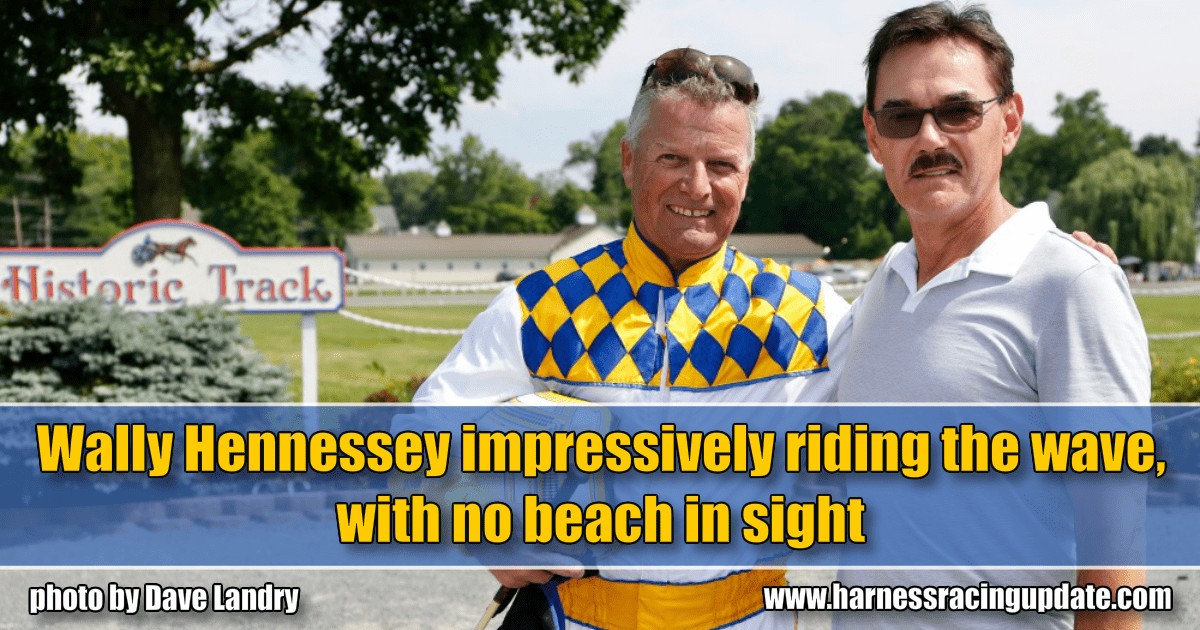 Wally Hennessey impressively riding the wave, with no beach in sight
At 62, the PEI native is having one of the most impressive runs of his Hall of Fame career.

by Tom Pedulla

Wally Hennessey wakes up tired. He does not mind.

Fatigue tells the winner of more than 10,000 races that the demand for his services remains higher than ever as he defies age at 62.

In statistics compiled since the Pompano Park meet opened last October, he was the runaway leader with 261 victories from among 663 starts for a gaudy winning percentage of 39.37 through March 3. He also placed second 102 times with 67 third-place finishes for a robust in-the-money percentage of 64.86.

Mike Simons was a distant second with 76 wins in 557 starts, a winning percentage of 13.64. Simons took second on 75 occasions and crossed the wire third 81 times. His in-the-money percentage: 41.65. Hennessey's $1,270,999 in purses more than doubled Simons' total of $527,852.

Hennessey's 382 victories last year represented his second-highest total since he began driving in 1977, surpassed only by his 419 wins in 1995. At an age when he could be excused for slipping, Hennessey is soaring.

Even he finds it all a bit mind-boggling.

"How could I just, at 62 years old, become a better driver? It can't be," he said. "I believe that my driving skills are the same. They haven't diminished, I'll go with that, but they haven't gotten greater. I can't explain why this is happening, where I'm still competing at the level I'm competing at, other than I feel the same."

According to his wife, Barbara, Hennessey's stunning success at an advanced age led him to re-think his future. "He used to say, 'When I get to 10,000, I'm retiring.' But that's not happening," she said. "Why would he?"

When the native of Charlottetown, PEI achieved the 10,000-win milestone with the trotter Prince of Fame on Jan. 23 in the last race of the night at Pompano Park, he briefly celebrated with family and friends in the winner's circle before hurrying home to catch as much sleep as possible. He joined his brother, Dan, in overseeing their six-horse stable the following morning.

Dan, 64, and Wally are the fifth and sixth of nine children. Their father, Joseph, drove and trained horses. They have worked around horses for as long as they can remember, a lifestyle 5'5", 140-pound Wally points to as a major factor in his longevity.

"I'm not a health nut. I don't work out. I work at the barn," Wally said. "I've always been asked, 'Do you have a regimen that you follow?' My regimen is getting up and coming to the barn in the morning."

When Dan encountered enormous difficulties, his workload significantly increased. Dan lost sight in his left eye to cancer in 2002. Surgery for a detached retina ultimately failed to restore vision in his right eye, leaving him legally blind since 2014.

Remarkably, Dan continues to groom horses, using his sense of touch and his innate knowledge of standardbreds to identify issues. "He'll pick up something, lameness or swelling on a horse, that maybe visually I don't see," Wally said.

All of the on-track work each morning now falls to Wally.

At night, Dan listens intently to the race calls. Wally's handiwork often leaves him smiling, as it does the rest of their large family.

"My brothers and sisters, myself, we're extremely, extremely proud," he said. "This doesn't come easy. It's a talent. It's a God-given gift."

Hennessey was inducted into Hall of Fame in the United States in 2007. Canada included him among its all-time greats seven years later. Still, he remains as motivated as ever to keep amassing wins, so much so that he said he has not allowed himself off a full day this year between training and driving.

"I'm kind of on a roll and I don't want it to stop," he said. "I'm going to keep riding the wave."
There are times when Barbara wonders if her husband is pushing too hard. Those thoughts are fleeting, though.

"He gets up out of bed and he's a little stiff, a little sore," she said. "But when he gets to the track, that's it. That's where he wants to be."

Wally may not have a respite until he goes through his annual relocation to Saratoga in May to begin a five-month sojourn there. For him, though, the daily grind is not a daily grind.

"I'm coming to do something I want to do," he said. "If I had another occupation and I was getting up in the morning tired, it would be such a hard drag to get myself to go there."

He and Dan do not employ any outside help. It appears that Hennessey's hands-on time at the barn and his hours in the sulky provide at least the same benefit as the most exotic training regimen.

"He just keeps himself in fabulous shape," Dan said. "He might be 62, but he's in the shape of a 40-year-old."

History suggests it will be difficult, if not impossible, for Hennessey to continue to win at such a breakneck pace. Of the 16 previous drivers to achieve 10,000 victories, only nine of them exceeded 11,000.

Whatever happens, he has no thought of leaving behind the sport he was born into.

"Retirement is not in my DNA. I'm going to be with horses whether it's me driving them, training or owning," he said. "The adrenaline rush you get from racing horses is second to none."

And so he will "keep riding the wave" in South Florida.