The Horse That Changed My Life – with Mark Hall
by Dave Briggs

USTA photographer Mark Hall said he was instantly smitten with harness racing when on his first trip to cover the Little Brown Jug he not only photographed Niatross winning, he got to touch the legendary pacer.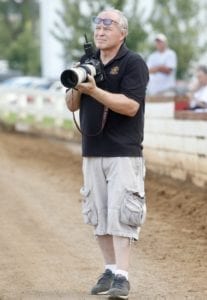 "When I was a little kid I always wanted to touch things, so just to be able to touch him and see how powerful and dominating he was had an impact," said Hall, who will be inducted into the Communicators' Hall of Fame this July in Goshen, NY. "It was my first time at Delaware and after seeing him race I went down got to see him in the winner's circle and back in the paddock."

The year was 1980 and Hall was working for someone else in those days.

"That was before I started with USTA in 1982," he said. "I was doing a job for somebody else, but got the credentials."

Hall said another legendary horse that won the Jug was instrumental in another Communicators' Hall of Famer's career photographing horses.

"Ironically, my former co-worker Ed Keys, who is in the Hall of Fame, his first assignment was Bret Hanover at Delaware," Hall said of the 1965 Jug champ.

Proving impressive horses have the power to change lives and chart careers.