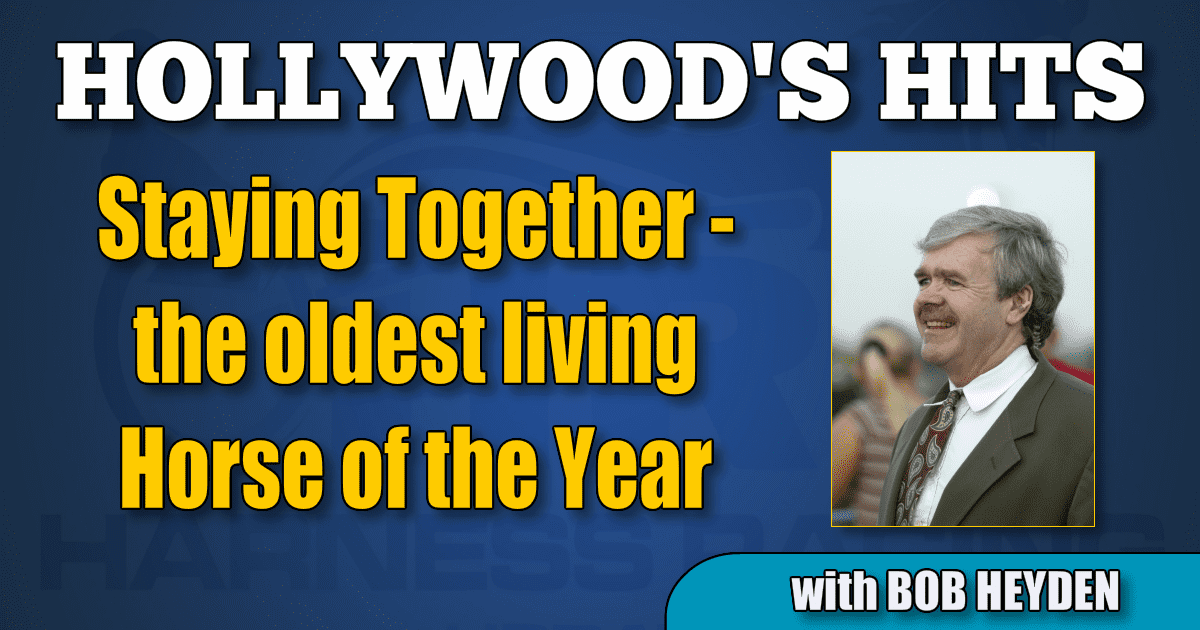 Staying Together – the oldest living Horse of the Year
by Bob Heyden
Staying Together, the 1993 Horse of the Year at age 4 is now 30. That makes him the oldest living Horse of the Year winner.
Staying Together was trained at 4 in his HOY season by Bob McIntosh, who had not trained him prior. The pacer, owned by Robert Hamather, currently lives at Kentucky Horse Park.
Staying Together set the world race record of 1:48.2 in 1993 at the Meadowlands.
Bill O'Donnell was his regular driver.
The HOY award came the year after McIntosh trained another Horse of the Year, Artsplace — another 4-year-old he had previously not conditioned that also set the world race record (1:49.2). NOTE: They set the record in the very same race, the Driscoll series, which was renamed the William Haughton in 1999.
"I thought (Staying Together) was the best 3-year-old of 1992," McIntosh said. "One day Bob Hamather called me and asked if I would consider training him at 4. I said 'Are you kidding? I love that horse. Yes!'
"Staying Together was a very special horse. A throwback. He was coarser than a lot of the standardbreds at that time. He had one helluva set of lungs. He wanted to win. He was also low maintenance. I think I was at Greenwood when I got the call that he won in world record time (1:48.2-June 19, 1993). I was shocked, but I knew he was capable of great things."
McIntosh is a seven-time Canadian Trainer of the Year that is in the Hall Of Fame both north and south of the border. His first Breeders Crown win came in 1986 at Garden State Park with Sunset Warrior. His North America Cup win with Thinking Out Loud was his biggest purse victory, and he's training that homebreds' first full crop in 2019.
"I train only my own — all homebreds. I am pretty high on my 2-year-olds who just turned 3 and the yearlings who turned 2. I didn't have any 3-year-olds last year of note. The last couple of years have been a little drier. I don't like to get ahead of myself, or get too high on the 3-year-olds, but I like what I see for sure right now."
Blair Burgess is the only trainer…
… to ever have a North America Cup, Meadowlands Pace, Little Brown Jug, Hambletonian and Triple Crown winner.
His 2002 HOY Real Desire was the fastest of his age group all three years he raced — 2-3-4. Burgess won the Meadowlands Pace with 14 years in between Frugal Gourmet in 1987 and Real Desire in 2001.
Same crop
In 2018, we had four outstanding 3-year-old trotting fillies — Atlanta, Manchego, Plunge Blue Chip and Phaetosive — all banking over $500,000. Where have all the rivalries gone?
In 2001, Bettors Delight battled Real Desire.
In 1987, it was Mack Lobell vs. Napoletano.
In 2000, Dragon Again waged war with Western Ideal.
In 1991, it was Precious Bunny vs. Artsplace
Is there any possibility in 2019 we will see…
• Scott Zeron win his third Hambletonian in four years?
• The first driver to eclipse $20 million in a season?
• A Triple Crown and Breeders Crown winner on the trot (never been done before)?
• The first back-to-back HOY in the 21st century?
• Anyone even sniffing Tim Tetrick's one season record for division titles (seven) or wins/earnings in a single season?
• A Horse of the Year sired by Somebeachsomewhere or Muscle Hill — which has not yet happened?
Time have changed
Ron Burke and Yannick Gingras teamed up to win every other race last weekend at the Meadowlands. Contrast this amazing two-man dominance to what happened 40 years ago on the same track:
175 different drivers
151 won at least one race
24 did not win a race
653 different trainers competed at least once that season
280 different trainers won at least once.
373 trainers did not win a race
HOY and HOF, same season
It doesn't get too much better than this. How would you top going into the Hall Of Fame and having the Horse of the Year in the very same Season?
Joe O'Brien did it in 1970 with Fresh Yankee, the 7-year-old trotting superstar the same year O'Brien was immortalized.
Ron Pierce did it in 2004 with Rainbow Blue the same season he was so honored.
Stanley Dancer did it in style, having the first trotter (Nevele Pride) to win the HOY three straight seasons the same year he entered the Hall. Just for good measure, Dancer posted a UDRS of better than .500 that season just in case there were any doubters.