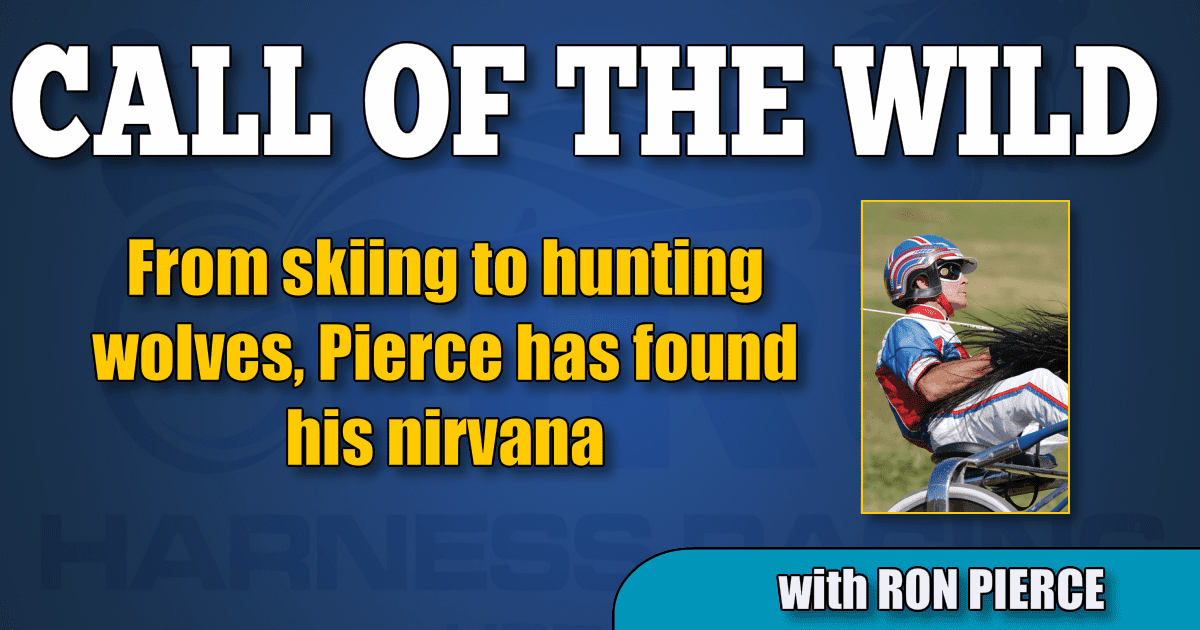 From skiing to hunting wolves, Pierce has found his nirvana
by Dave Briggs
When we last caught up with our action hero Ron Pierce in September (full story here), he was dodging grizzly bears in Alaska while prospecting for gold. Last time, he failed to mention he also was hunting wolves.
"I lost some ground I had to mine up there. I still gave it a pretty good go, but gave up the middle of August last summer. My body started getting sore a little bit, too," Pierce said, checking in this week from his home base in Montana. "I said, 'To hell with this, I'm going fishing.'"
Before heading to Delaware, OH to be inducted into the Little Brown Jug Wall of Fame, Pierce said he also hunted elk and wolves in Alaska.
"People, they want you to kill the wolves up there because… you've got to keep the population in check and manage it because they'll kill a moose a week, you know. And just as many caribou, whatever they can get their teeth on. They kill just to kill, those wolves. They don't eat everything like you hear… so they ask the sportsmen to help them manage the wolf population.
"I did it just because I feel it's my job to. Plus, it's a lot of fun, too."
Pierce chuckles as he says this. He is reminded of the old pest control business he ran in New Jersey shooting raccoons and gophers.
"When I first got back to the Meadowlands in 1987, I was bored to death just racing at the Meadowlands, so I started an animal control business and I did really well. I probably would've made more money (than I did as a driver) if I stayed in that business," Pierce said.
For a guy that earned more than $215 million in purses on the racetrack, that seems improbable, but one learns not to argue much with Pierce.
"Animal control… those businesses are good money-makers," he said.
As for the skiing, Pierce said it's been a mix between back-country outings and going to resorts in Montana.
"Today, I just got back from the resort, but I've also been doing a lot of back-country skiing," Pierce said. "That's where you put on the snowshoes and you hike up the mountain and when you get as far as you're going to go, maybe strap on skis and ski down. It takes up a whole day.
"The snow is excellent. Today, we probably had 12 inches of powder at the ski resort – it's called Showdown. There's some packed trails and courses, but then you have your powder and there's about 12 inches of fresh powder on some of the trails today. It was good… Not like the east coast when you get that slushy, ice. It's a nice, fluffy powder. It can get heavy, but not very often.
"This place I went to today is just about an hour from my house in Great Falls and there's another place about an hour-and-fifteen minutes from my house. Then you have Whitefish, which is just up north of Kalispell, just about 20 miles, and that's a great mountain for skiing, but it's about four hours from where I am.
"I've been up there a few times this year and I just stay over, so I can get more in. It's a nice town, Whitefish. They've got a dozen five-star restaurants in that town."
Apart from being an adventurer, Pierce is also something of a foodie.
"It's just right up my alley," he said.
Last winter, Pierce went to northern California for the winter, but decided to stay in Montana this winter.
"This country offers somebody like me so much," Pierce said. "I don't have any legs because I've been skiing all week, but tomorrow I'm going to rest up, rest my legs, and go trout fishing right down here in the Missouri River and maybe I'll catch a walleye for dinner.
"There's trout, walleye, muskie. There's a lot of bass. The fishing is great out here… and the hunting. You've got everything out here; you've got elk, deer – two breeds of deer, white tail and the antelope. You have moose, you have dall sheep, there's just so much. Wolves, black bears, grizzly bears.
"The wolves don't bother me, but the bears are always a pain in the ass. They've been protected for so long, they lose their fear of humans and get bold."
He then launches into a harrowing tale of a couple of recent grizzly attacks.
"I was bow-hunting elk and rifle-hunting elk up there on the eastern front of the Rocky Mountains and within 20 miles of me, this one guy got mauled by a grizzly, real bad. That was just 10-12 miles north of me, as the crow files. Then another bow hunter was attached by a sour grizzly and her two-year-old cub. It was probably a 250-pound cub and he had to shoot him with his pistol. That's the same place I was hunting, so those bears are a pain in the ass and keep you looking over your shoulder. They keep you on your toes."
That said, Pierce said he doesn't just hunt, he also deeply appreciates nature; like the time he found a wolf den in Alaska and was spell-bound watching the wolves interact.
"They are very, very intelligent. When I was up (in Alaska) last summer, I knew where there was a wolf den and I'd go up on this ridge just to watch them. There were nine adults and two cubbies. I kept my distance and just had binoculars and I'd look down on these things and they were beautiful," he said.
Pierce said his life has been truly beautiful ever since recovering from back injuries that forced him to retire from driving horses.
"In Montana, the biggest problem I've had the last couple of years since I've healed up is making my mind up about what I'm going to do that day. I'll try to make my mind up the night before… I don't know what toy to play with. Those are the biggest decisions I've had to make, 'What am I going to do today?' Am I going to fish? Am I going to hunt or go skiing? What pole should I use or what guy should I take? What mountain shall I ski?'"
Yet through all his wild adventures, Pierce said he has yet to find anything that equates to winning a huge stakes race.
"I still haven't found anything that comes close to winning the Hambo or the Jug or the Breeders Crowns or the Meadowlands Pace… I don't think there's a fish in this world big enough, you know, to equal that same feeling that you get when you win those kind of races.
"I do miss that, I really do."