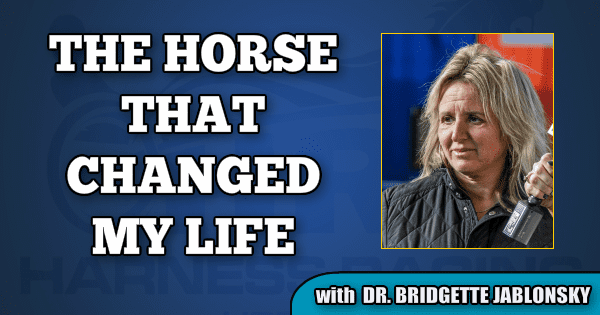 Dr. J on the two horses that made her a harness racing "addict"
by Dave Briggs
Dr. Bridgette Jablonsky said two horses — brothers Melvins Strike and Sans Strike — are responsible for getting her "addicted" to harness racing.
The executive vice-president and syndicate manager for Hanover Shoe Farms said without those two "mean, mean brothers" — both sons of Strike Out out of Briarwood Loraine — she may never have ended up at Hanover, or working with standardbreds at all, for that matter.
Jablonsky's family ran a boarding farm on Long Island where people who raced at Roosevelt or Yonkers would send their horses when they wanted to turn them out.
"This was before training centers, so when people wanted to turn out their horses they had to send them to a farm," Jablonsky said. "They raced at Yonkers and Roosevelt and then they would come out Monday morning, turn out for a few days and then go back… It was me and three of my cousins doing the stalls and taking care of them.
"We were younger, like eight or nine years old. We weren't allowed to handle them, but we would clean their stalls, so we felt like we took care of them."
Melvins Strike earned nearly $700,000 racing between 1976 and 1982. San Strike made over $170,000 between 1979 and 1988.
To Jablonsky and her cousins, Melvins Strike and Sans Strike were TV superstars.
"I used to watch that show with Stan Bergstein and Spencer Ross they did from Yonkers and Roosevelt at 11:30 on Saturday night. It was right after wrestling," Jablonsky said. "I used to watch wrestling just so I didn't miss the opening."
At the time, Melvins Strike, the better of the two horses, was racing in the open. Watching the brothers race on TV at the top harness tracks in the country and then getting to help care for them a few days later made Jablonsky particularly star-struck.
"They were at the farm, then you'd see them race. And they had such personalities," Jablonsky said. "We felt that even though they were mean they liked us. They didn't really like us, but we felt they did. They were both chestnuts, beautiful chestnuts.
"I always loved the horses, but I may not have fallen in love with this sport without those two horses and me watching them on TV.
"I could have gone a different way, into riding horses. They made me love the sport."