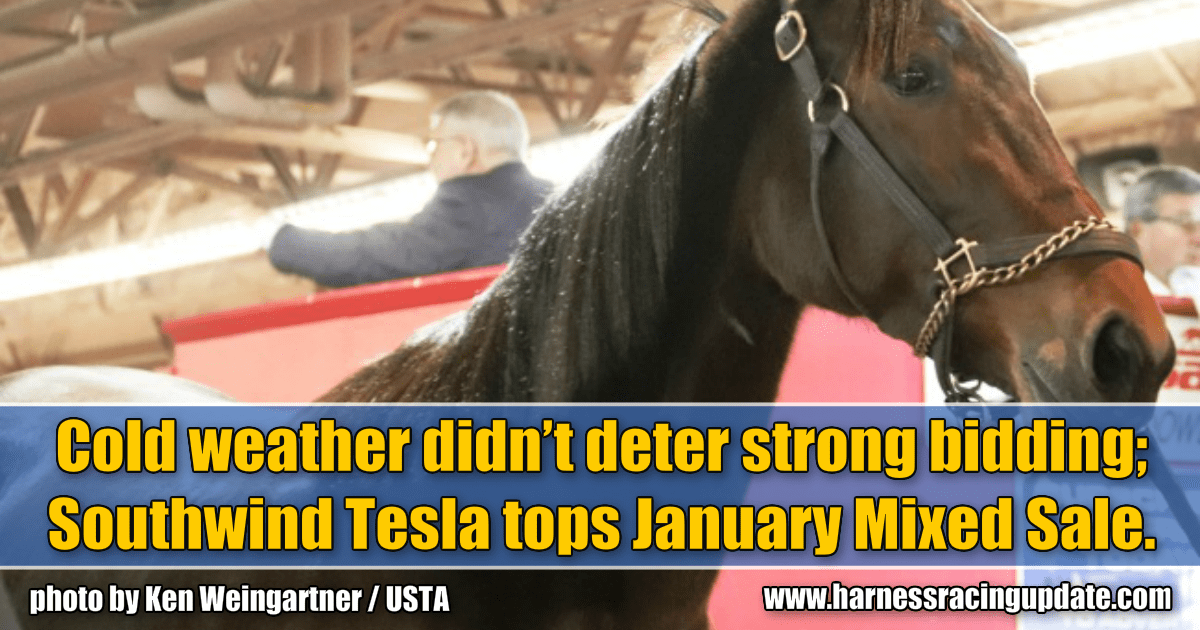 Cold weather didn't deter strong bidding at January Mixed Sale
Monday's sale in the paddock at the Meadowlands averaged $29,302, off just 3.3 per cent from last year's strong auction. Broodmare Southwind Tesla topped the sale with a bid of $152,000.
by Dave Briggs
Despite a brutally-cold day and 71 fewer horses sold than in 2018, Monday's Tattersalls January Select Mixed Sale in the paddock at the Meadowlands Racetrack in New Jersey was nearly comparable to last year's strong sale.
Exactly 150 horses / stallion shares were sold, grossing $4,395,300 for an average of $29,302 that was off 3.3 per cent from the 2018 auction that topped the $30,000 average for the first time in many years.
"It was a very good horse sale from start to finish, especially the racing stock," said Northwood Bloodstock's Bob Boni, who led all consignors by average at $32,393. "As we all know, there's a shortage of horses. If you want racehorses, you've got to come and buy them and you've got to pay for them. If there's something there that you like, you're going to pay for it."
Owner Adriano Sorella of Ontario agreed that, "it was a good, strong sale." Sorella purchased the highest-priced racehorse sold and the second-highest priced horse to go through the ring when he paid $140,000 for hip 160 Maroma Beach who is expected to be conditioned by five-time Canadian Trainer of the Year Richard Moreau.
"I said to Richard ahead of time, 'The way they are selling right now, we're probably going to have to go to $120,000, maybe even more,' so when it got to $120,000 I figured I'd have to go to $150,000. I knew what was coming," Sorella said, referring to the 5-year-old gelded son of Somebeachsomewhere—Arts Diva, a winner of more than $150,000 lifetime who sports a mark of 1:50 taken last year at four.
"There's only so many good ones in the sale, right? Racehorses are hard to find right now, so you've got to spend the money. There's bad ones going through the sale, selling for $50,000 or $60,000… I said, 'You've got to spend $70,000 or $80,000 more.' It sounds crazy, but you have to do it if you want racehorses. We buy a lot of babies and those are easy to buy, but every year you've got to support your stable and you're going to need those type of horses."
Five-year-old trotting mare Southwind Tesla (Chapter Seven—Southwind Sauna, $204,957) topped the sale with a bid of $152,000 by agent Mario Zuanetti of Atlantic Trot Inc. of Pompano Beach, FL on behalf of Hickory Lane Farm of Ohio.
"The plan is that she's going to be bred to Tactical Landing," Zuanetti said. "I like her; excellent pedigree. She's toeing out on the right front, but hopefully she will now produce top horses."
That the sale-topper is heading to Ohio is an indication the Midwest is becoming more prominent, said sale manager David Reid.
"The industry has to take notice that the Midwest is a player in the game," Reid said. "I've been saying that for a long time when talking about jurisdictions. In Indiana, going back to Breeders Crown night there two years ago when it was held in Indiana, they had three Indiana-sired horses win the races. That's just a sign of this program getting better."
Atlantic Trot Inc. was the sale's second leading buyer with $209,000, total, spent on three horses. Trainer Rene Allard topped all buyers with $253,000 spent, in all, on five horses. Trainer Richard Banca spent $202,000, total, on three horses to rank third.
Hanover Shoe Farms' Dr. Bridgette Jablonsky, who was recently promoted to executive vice president and syndicate manager, said she tried to make a play for Southwind Tesla, but the bidding got too hot. Still, Jablonsky said she was happy with the three mares purchased for the farm.
Hanover purchased:
• Hip 13 My First Lady (Muscle Hill—Prime Mistress), in foal to Donato Hanover, for $26,000. "We have the three-quarter sister, a mare called Queen Of Grace and she's not only the dam of a Hambletonian Oaks winner, but we sold a beautiful Father Patrick yearling out of her this year for $300,000. So our plan is to foal (My First Lady) out and breed her back to Cantab Hall and get a three-quarter brother or sister in blood to a Hambo Oaks winner," Jablonsky said.
• Hip 72 Caviart Jenny (Cantab Hall—Perfect Patty) for $60,000. "I thought it was a very good price," Jablonsky said. "Cantab Hall is off to a fantastic start as a broodmare sire and this is a very solid family."
• Hip 74 Hall Of A Dream (Cantab Hall—Lunar Dream Om) fro $50,000. "She is a little small. I wish she was a little bigger, but she's only a 2-year-old. Again, she's a Cantab. She has good conformation. This, at one time, was THE trotting family to buy… I think it's maybe tailing off a little bit, but a lot of these great families come back. They'll skip a generation and then, all of a sudden, they'll take off (again)."
As for overall sale numbers, a year ago at the Tattersalls January Mixed Sale, 221 head / stallion shares grossed $6,694,000 for an average of $30,290. The 2018 gross of was the highest since the 2010 sale.
"I thought (this year's) sale was actually very good," Reid said. "We had 30 outs. You never really want to have outs, but percentage-wise it's right in line with what we usually have.
"It was the same story, quality horses sold well. People who focus on the marketplace get the biggest benefit, meaning they plan on their calendar to strategically sell here and race their horses accordingly, freshen them up and have them ready to go. There's no greater spot to sell a racehorse than here."
In 2017, 233 horses/stallion shares grossed $6,288,400 for an average of $26,989.
In 2016, 258 horses/stallion shares grossed $5,849,400 for an average of $22,672.
In 2015, 269 horses/stallion shares and breedings grossed $5,971,500, for an average of $23,291.
In 2014, the gross of $5,971,500 for 234 horses/stallion shares produced an average of $25,519.
In 2013, 206 horses and stallion shares grossed $4,549,600, an average of $22,085.
The most notable difference this year was the cold.
"I don't think the heat was working really well in the paddock," Reid said. "Unfortunately, the paddock was cold."
So much so that the bid spotters asked for, and received, an exemption on their usual suit-and-tie attire and were wearing winter coats and gloves.
"I have to give credit to the buyers that came and participated and bared the elements because it was not a nice day out there today," Reid said. "On behalf of everyone here, Tattersalls and Preferred and all the consignors and buyers, I just want to tell them that we really appreciate them braving the elements."
Reid's Preferred Equine — which led all consignors with gross sales of $3,384,700 — sold 117 horses/shares, including the seven highest priced horses that went through the ring.
Northwood Bloodstock was the second leading consignor with gross sales of $939,400 for 29 sold.
On the stallion share and breeding front, three breedings to Sweet Lou were popular with them going for $23,000, $23,000 and $25,000, respectively.
"When you have a stallion with a book that's full and closed, it creates that excitement and it was good for the connections to have those breedings available. It always adds a little color to the sale and we appreciate that," Reid said.
Meanwhile, Southwind Frank's connections supported that stallion as well, buying three shares for $18,000, $16,000 and $18,000, respectively.
"We just figure it's a good, long-term investment because we really believe in the horse," said Mark Weaver. "His first crop just turned yearlings and all the reports have been fabulous… He was maybe one of the best 2-year-olds ever and showed how tough he was at three when he was still right there when he wasn't 100 per cent, so the fact that we can invest back in him, we are more than willing to put our money where our mouth is."
For those that couldn't bear the cold, the sale received a strong response to its live stream.
"At some points there were over 600 people watching," Reid said. "I think some of those people watching are probably talking to the people here or watching horses for them. It might be owners or just fans, but we really tried to improve our camera angles this year because being a temporary facility here, there's nothing built in. So, there's an added cost and expense, but we wanted to bring the action home to the buyers and customers at home. I think we've achieved that and we get a lot of positive compliments. It's something we'll build upon, for sure."