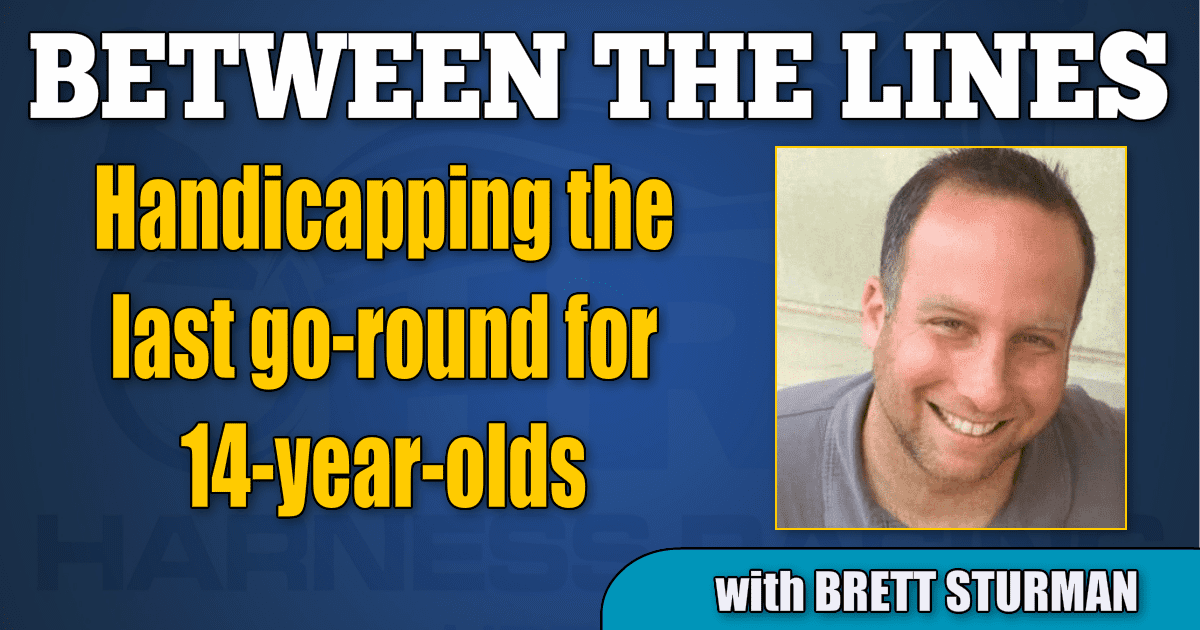 Looking at the last go-rounds for 14-year-olds
by Brett Sturman
In just two days the expiration date will arrive for 14-year-olds of 2018, as their racing careers will come to a mandated close. For some of these horses that first took to the track in 2006 as 2-year-olds, the final race of their careers marks the end of a truly long and remarkable journey.
Through the years there have been efforts to honor these types of horses through races with unique conditions. Most notably, Monticello has consistently tried to fill an "Au Revoir" race; a race limited to 14-year-olds to take place on New Year's Eve. Unfortunately, there has only been a handful of instances during that time that the race has been able to fill as with the general population of horses dwindling, so is the total number still standing and racing by the end of their 14-year-old season.
Although not restricted entirely to 14-year-olds, Freehold is showcasing 12, 13 and 14-year-olds in what's being called at Old Timers Pace. Interestingly the two 14-year-olds in the race are 1 and 2 in the morning line choices.
Beginning with the 9-5 programmed favorite, Esprit De Kayjay A was scratched last out as were all Surick trained horses, but that doesn't seem to be an issue as Julie Miller takes over training responsibilities and Andy Miller remains aboard as usual. A winner of 11 out of 23 on the year, the iron-tough horse is a winning machine and has the post edge on anyone that could reasonably threaten. With 82 career wins, he races again on Monday so he could conceivably close out his career with two more wins. Stormin Rustler is the another 14-year-old in the race, though he lands the outside post 7. His only chance into it would be to leave, and I'll note that he did go wire to wire from post 5 in 1:59 six races back. Must Be The Bunny invades from Monticello where he went three-wide in a 1:58:2 mile; relatively quick for that track. Blue Strike raced twice recently in $7,500 claimers at the Meadowlands; could threaten if the race sets up for him.
Selections: Esprit De Kayjay A, Must Be The Bunny, Stormin Rustler
You may have noticed one glaring omission from the Freehold Old Timers Pace, but there's no need to fret. The richest – and arguably the most popular ever – standardbred will be in action before year's end.
Foiled Again races for the final time at The Meadows in what will go as Race 10 on New Year's Eve. As the closing race of the wildly successful and well-received farewell tour, it's almost not fair that Foiled Again drew the outside post 8 in the $13,000 open. Will Foiled Again be able to go out a winner?
Amazingly, Foiled Again hasn't been any worse for wear lately. In fact, he's been as consistent as ever. He's won 6 times in his last 9 starts, with two second-place finishes to go with that. Last out at Woodbine he won with a well-timed first over move to win going away in 1:53.2 against a pretty classy foe in Alexas Jackpot.
In the race at The Meadows, Southwind Yukon starts from post 7, but being co-owned and trained by Burke, it's hard to imagine that driver Palone would give any issue to Gingras and Foiled Again leaving around him. The morning line favorite is the probable post-time favorite, which is Shooter's Dream who comes off a game speed try at Northfield. Racing well in the opens there, he's been a sub-1:50 winner last year and the year prior and any number of those Northfield miles look like they'd be good enough in here. Nathan Feelsgood steps up from the $12,500 claiming ranks, but hasn't been worse than second since being reclaimed by Stratton three back. Knocking Around draws the rail and closed willingly three back in the preferred handicap; figures to be around for a share and maybe more.
Selections: Foiled Again, Knocking Around, Shooter's Dream
The final harness race of 2018 will take place at Pompano Park Monday evening. Pompano used to have a "midnight mile" years ago where the final race of the year began at 11:59 pm and ended at 12:01 am and with only 8 races on the card, I don't think the final race will approach that midnight witching hour (though I suppose it could if post times are dragged out just a little more than usual).
In attempt to go out the year as a winner, race 8 is for F&M non-winners of $1,050 in their last 4 starts pace.
Unfortunately if you're looking for a price, it looks to be about a $2.40 win mutuel coming for backing the likely odds-on choice Sun Belle Slippery. The 4-year-old mare comes off a 1:58.3 win where she went right by the heavily favored Rockin Desire against similar competition just a few days ago in a race where the top 3 were miles clear of anyone else. She makes her second start at the reduced level, lands the rail and six back won in 1:52.3; seems liable to crush these. Looking underneath, Ashley's Desire could never get close from the second tier last out, but actually made up decent ground in the middle part of the mile. I don't know if it would have mattered, but Drea's Good Powow was shuffled last week behind a 99-1 shot despite having every chance to pull from fourth at the half; one more try? Rockin Blue Star only missed by a couple lengths last out and now drops. Short Term makes her second start back since some issues earlier in the month but still looks a little cheap.
Selections: Sun Belle Slippery, Rockin Blue Star, Ashley's Desire
And with that, harness racing concludes another year. Happy New Year, everyone!