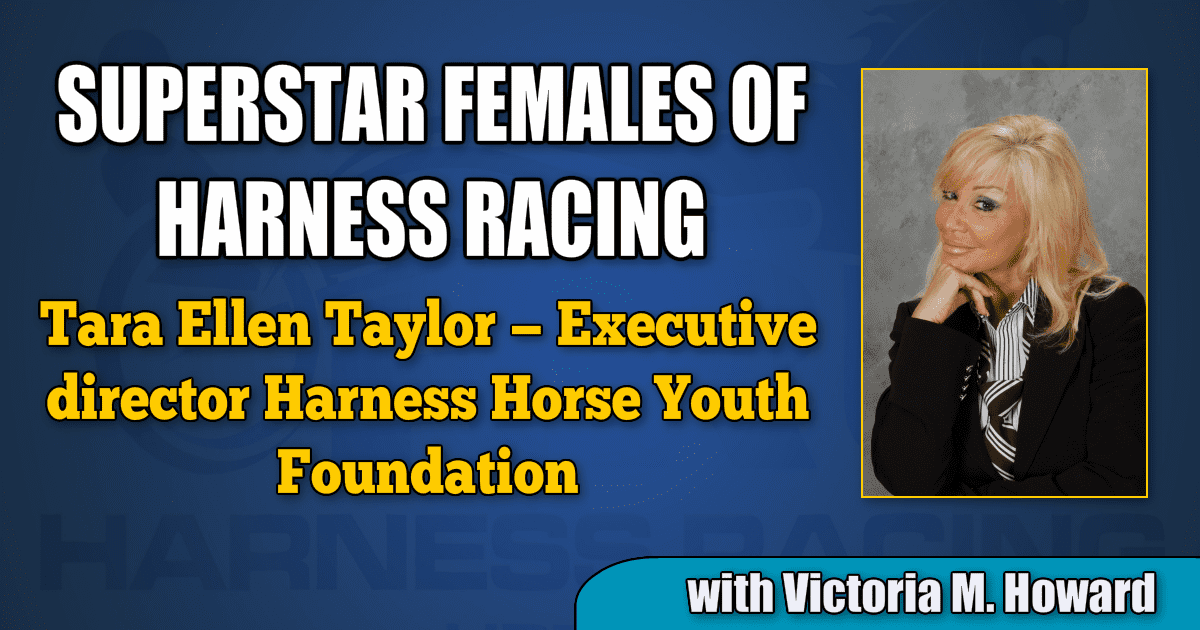 Tara Ellen Taylor: Executive director Harness Horse Youth Foundation
by Victoria M. Howard
How many people can say that their birth 'was paid for' by bartering training services for the obstetrician's racehorse? Tara Ellen Taylor, the executive director of Harness Horse Youth Foundation (HHYF), is one person who can.
Though she goes by Ellen today, she was named "Tara" after the only mare to ever beat the great Greyhound in a race. Ellen's father, mother and grandfather were all trainers and drivers of standardbreds.
"When I was 6, I was given an orphan foal named Dew. There was never a prouder owner than me when she won a matinee race at Muncie, Indiana. When her racing career was over, Dew produced some very nice state bred champions," Taylor said.
"I started out by helping my parents grooming and foaling mares. Our family preferred trotters, but the fastest horse I ever took care of was 'Gold', an Illinois-bred pacing colt. In my early 20's I was runner-up as Harness Tracks of America' Caretaker of the Year.'
"My mother served on the Harness Horse Youth Foundation (HHYF) board and I tagged along to the events. I started out as camp coordinator at the age of 16 and in 1990 I became executive director. That means I've been involved with HHYF for more than half of my life.
"In 1998, Stan Bergstein approached me about a writing curriculum for a "little league" idea and the first camp of its kind was held at Hoosier Park in 1999. Because I have been 5' ½" most of my life, I realized how intimidating average sized horses are — especially to children with little experience.
"For the first two years of the "new" format, HHYF borrowed Trottingbreds. (A 'pony-size' breed of horse that races mainly in Indiana, Quebec, Spain and Bermuda). We realized that if our program was going to grow we needed to have our own equipment, so we purchased the stable members first, a truck a few years later and then a trailer. For the past 19 summers I have been on the road non-stop for 30 to 60 days at a time, and it's now time to replace the truck."
The Harness Horse Youth Foundation is a charitable 501 ©3 organization dedicated to providing young people and their families educational opportunities with harness horses. Their goal is to foster the next generation of fans and participants.
HHYF is fortunate to have generous summer sponsors, great backing from horsemen volunteers, and a dedicated board who wants the program to grow and diversify. Because of the temperament of even the gentlest racehorse, HHYF programs are for ages 10 and up. Our five-day camps are designed for the ages of 12 to 14.
Attendees wanted even more involvement, so HHYF developed a leadership level camp for older teenagers. In keeping with the "young at heart" idea, HHYF welcomes adults to listen in at its events, too.
"One interesting informal statistic about HHYF programs is that 65-70 per cent of attendees are not from racing families," Taylor said. "My personal philosophy is if we simply provide the opportunity to expose and educate harness racing to potential new fans, then we have achieved an important goal. However, it is extremely gratifying to see a young person develop his/her interest level to the point of being active in the business.
"Much of the success of HHYF programs is due to the horses for they are excellent teachers of many important life lessons, such as getting along with others, perseverance and gaining confidence. We are the instructors are who merely the conduits."
After the death of Ellen's father in 2016 the family farm was sold.
"I needed to heal from the emotional trauma of care-giving and had to adjust to a new lifestyle. I feel confident though that there will always be horses to curry and the chance to help a friend muck a stall, but I will not miss cracking ice from water buckets in the winter," she said, adding that, "as long as there are horses and competitive individuals, harness racing will exist in some form. I am a trainer's daughter first and foremost and believe that the 'love of the horse' should remain paramount."
For more information on HHYF or to make donations contact Ellen Taylor at Ellen@hhyf.org or 317-908-0029.