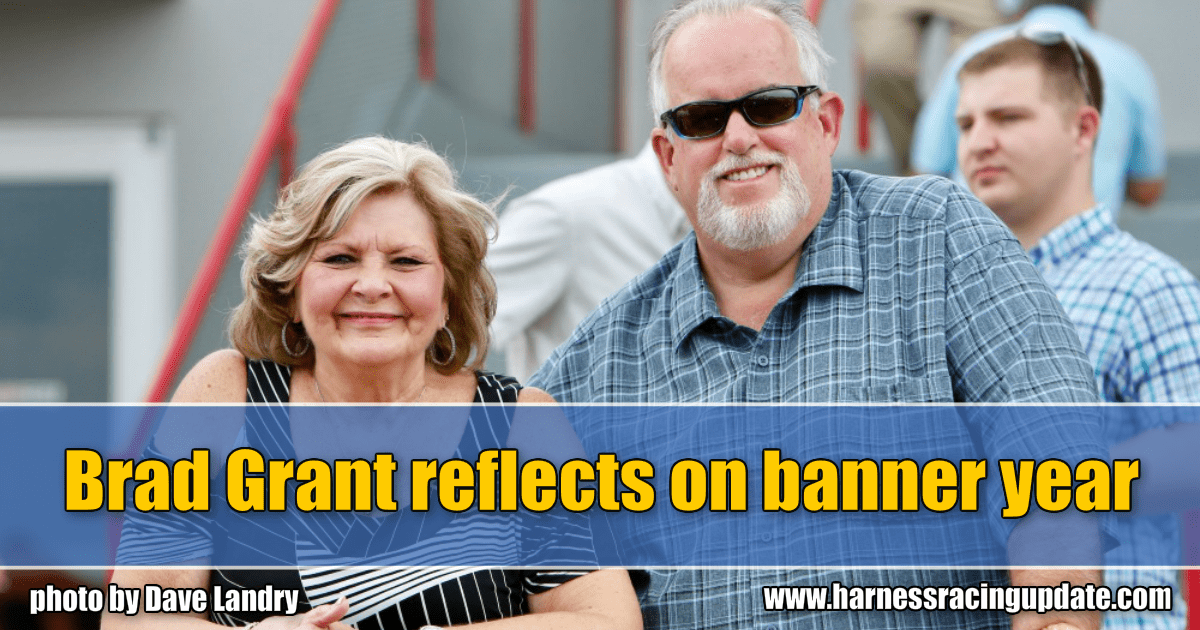 Brad Grant reflects on banner year in 2018
After winning three O'Brien Awards, the Hambletonian, two legs of the pacing Triple Crown, standing his first stallion and being inducted into the Milton Sports Hall of Fame, can anything top 2018 for the owner from Milton, ON?
by Dave Briggs
It's been a game-changing season for owner Brad Grant of Milton, ON — and not just because he started the year by winning three O'Brien Awards celebrating the best in Canadian harness racing and then won the Hambletonian with his trotting filly, Atlanta, two legs of the pacing Triple Crown with his colt Stay Hungry and was inducted into the Milton Sports Hall of Fame in November for his time owning and operating the Milton Merchants Junior Hockey Club.
Grant said 2018 was a year in which he developed deep friendships and partnerships with a number of fellow Grand Circuit owners.
"For the most part, I've always been kind of a (sole) owner of horses, but in the last couple years I've been very lucky to be a part of some good horses with some good people – Marvin Katz, George Segal, John Fodera and his wife, Barb; Wendy Samelman on Stay Hungry, and other people. So I'm enjoying that part of it very much. They are all good people," Grant said. "They all recognize that you can't win every race. When they are in a race with you, or against you, you get, 'If I can't win, I hope you do' so you have a little bit of rivalry, but camaraderie at the same time. That part has been fun. I got to meet a lot of new people."
Grant said he particularly enjoyed the experience of the group owners that came together to win the $1 million Hambletonian in August at the Meadowlands with Atlanta, a filly trained and owned, in part, by Rick Zeron of Oakville, ON and driven to victory by his son, Scott Zeron. Atlanta — owned by Rick and Grant and fellow Ontarian Bill Holland of Niagara-On-The-Lake, ON, as well as Americans Howard Taylor and Michelle and Albert Crawford — was the first filly to win the Hambletonian in 21 years.
"The Hambletonian was outstanding. To win the Hambletonian with the filly and to be a part of Rick and Scott Zeron and the Zeron team and (assistant trainer) Ernie (Hendry)… that was big. The same day to win the Cane Pace with Stay Hungry, in the fashion that he did it, was outstanding. I would say, if I had to pick a day, that was the day," Grant said.
The Cane Pace was the first leg of the pacing Triple Crown. Stay Hungry also won the second leg, the Messenger, defeating Ontario-Sired superstar Jimmy Freight at Yonkers Raceway.
"Jimmy Freight was a beast all year and we weren't sure how Stay Hungry would do in there on a half-mile track, so to win that one was big, too," Grant said, adding with pride that recently-retired Stay Hungry is his first stallion — another major accomplishment on the year.
Grant said winning the Hambletonian and being inducted into the Milton Sports Hall of Fame were "1 and 1A — a dead heat" on his list of sweetest memories from 2018.
He purchased the Merchants in 1986 after the junior hockey club won just five games the previous season and was at risk of folding. He sold the team in 2001, but not before the team won four division titles, three league championships and a provincial title.
He said the induction ceremony was particularly moving because 32 former Merchants players showed up at the banquet to see him enshrined.
"Seeing the kids that played for me and how they've done in their personal lives… that was big," Grant said. "When I owned the hockey club, it was all about the players being not only hockey players, but developing their life skills and being better people.
"Most people in hockey talk about developing the kids' skills, but we believe that we had to develop them in other life skills as well as the hockey skills. Most of them, realistically, were not going to make the NHL but they would be good college players and get educations. So we really focused on helping to develop everything else. It teaches you to work hard. It teaches you to bear down when you have to… it's like good horses – they win. They know what they've got to do to win."
Grant, who is the chairman of the Ontario Hockey Association (OHA), was also key in helping raise more than $10,000 at Woodbine Mohawk Park by donating the April earnings from his gelded pacer named Humboldt to the Saskatchewan Junior Hockey League (SJHL) Player Assistance Program in the wake of the tragic Humboldt Broncos bus crash that claimed the lives of 16 with the team.
"Obviously, with my hockey connection and being involved with the Ontario Hockey Association and Hockey Canada, I knew Bill Chow, the chairman of the league (in Saskatchewan) and know the teams," Grant said. "I didn't know the players off the team, but I know a lot of people that it touched in that league… My wife and I are very big on health care and local hospitals and charity events and I said that I'd really like to do something. The funniest part was, we were sitting here and I was looking at entries and I realized, 'I own a horse named Humboldt.' So, I just said to her, 'I think we know what to do.' That's when we decided to donate his winnings for a month to the cause."
Grant said he has a lot of people to thank for the terrific year he's had.
"I get a lot of the accolades, but there are a lot of people that have been a part of the luck and the success that I've had," he said. "You can't name them all, but you've got to make sure that people know that it wasn't done on my own. It was done with a lot of help from a lot of people — trainers Tony Alagna, Richard Moreau, Ben Wallace, you can go on and on with the people… the drivers, Dougie (McNair) has done a great job. Andrew McCarthy's done a great job for us and lots of other people… It's the grooms and the trainers in the background that really are the mainstay. Same with the hockey players. I get the accolades as the owner, but, as I used to tell the kids, 'I can get the scouts in the building, but you've got to close the deal.' So when kids got scholarships to Division-1 schools, they had to do the work."
Grant, the leading standardbred owner at the Woodbine Entertainment Group, started the year by winning 2017 O'Brien Awards for his horses Stay Hungry (Canada's 2-year-old pacing colt of the year), Bettors Up (3-year-old pacing filly of the year) and Sandbetweenurtoes (older pacing mare of the year). It was the first time Grant has won an O'Brien Award despite a long career owning horses. Though, he was present the night in 2001 when his father — the late Canadian Horse Racing Hall of Famer John Grant — collected O'Brien Awards when Ontario-based stallion Bettors Delight was named Canada's Horse of the Year and 3-year-old pacing colt of the year.
Brad said both his father and Bettors Delight — the world's richest pacing stallion with progeny earnings exceeding $300 million — came to mind the night of his Milton Sports Hall of Fame induction when a former coach of the Merchants spoke on behalf of the team.
"He said, and it very much hit home, 'Your grandchildren will be able to come to the arena and see your name up on this wall' and it's so very true," Brad said. "The thing I miss about not racing (standardbreds) at Woodbine anymore is that I used to enjoy walking through the Canadian Horse Racing Hall of Fame there. To see my dad's name and see Bettors Delight and Charles Juravinski and a lot of people I know, things flood back. So it really hit home when he made that statement, that the grandkids will be able to look up and say, 'That's my grandpa up there.'"
Though he said it's unlikely he will top 2018, Grant said he is looking to the future. He said he would love to see Atlanta race in Europe one day — "Everybody that has been, that I've talked to, just says that it's the trip of a lifetime and I've got to do it, so I guess it's on the bucket list," he said.
In the meantime, he's hoping for big things next year.
"I have lots of nice 2-year-olds that I'm looking forward to for next year," he said. "Obviously, Captain Ahab raced really, really well. Tony (Alagna) did a great job with him. Andrew (McCarthy), his driver, did a great job. It was disappointing that he came up flat in the Metro, but he wasn't right that night and I look forward to see him race next year. I'm looking forward to all of the young horses we have going forward, so I think that's what keeps you going, along with some of the yearlings that we bought. I'm looking forward to hopefully another good year next year, keeping my fingers crossed."