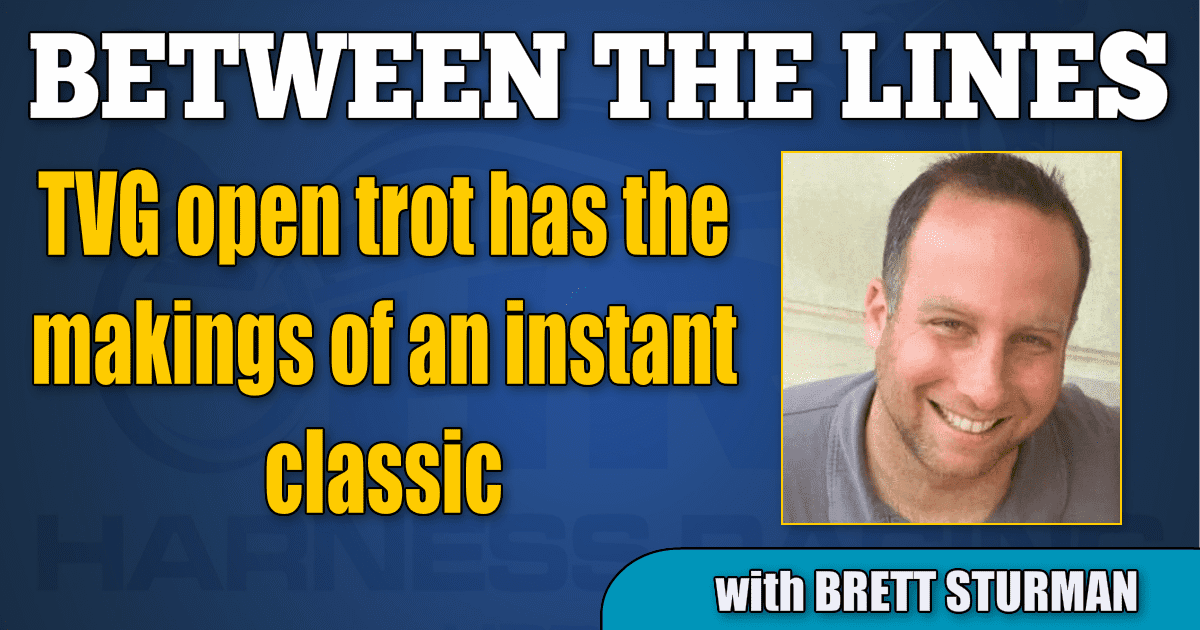 TVG open trot has the makings of an instant classic
by Brett Sturman
In a harness racing year that's been full of twists and turns, it ends up that the best race of the year might be one of the last ones. Tonight's TVG open trot will determine 3-year-old colt trotter of the year should either Six Pack or Tactical Landing win. Although to do it, they'll have to beat a group of deep older horses. In addition, there are three other TVG Finals to go along with the Fall Final 4 races for the 2-year-old divisions.
Though not handicapped as part of the stakes races, a special farewell to Foiled Again, who races as part of his farewell tour in race #3 on tonight's card. Thanks for the memories!
Race 2, TVG mares trot
EMOTICON HANOVER exits another Breeders Crown win and now aims for her fourth straight win. She's the sharpest of this compact field and is the one to beat. HANNELORE HANOVER returns to racing against strictly mares and that could help land her back in the winner's circle; trainer Burke said "all systems go" on social media earlier this week, for what that is worth. ICE ATTRACTION went a giant mile in the Crown at the longest of odds and has been a giant slayer before.
Selections: 3-1-2
Race 5, TVG mares pace
SHARTIN N continues to keep going in what's been a dream season. This will be her 24th start of the year and a first or second will put her over $1 million in earnings for the season; possibly looking to make a statement to bolster outside Horse of the Year chances. Her main threat is the mare starting right next to her, CAVIART ALLY. She raced brave against Shartin N in both Crown races and is sharp right now for Noel Daley. PURE COUNTRY prepped over this track last week to come away with a confidence building win; tough mare is capable of coming up with big ones.
Selections: 1-2-8
Race 6, Three Diamonds final
WARRAWEE UBEAUT returns from her sharp Breeders Crown win and she's been as sharp as they come for a couple months now, even going back to before that 1:48.3 win in Lexington. She did all she could to come home in :26 flat in that recent qualifying mile and looms a deserving short-priced favorite. ZERO TOLERANCE is the champ's main threat and has been within striking distance of that rival in two of her last three, most recently finishing second by less than a length in the Breeders Crown. PRESCIENT BEUATY appears to be most comfortable when coming from off the pace so you'd think the Meadowlands stretch would be favorable to her style; still needs to be close enough though turning for home. McNair sends BEAUTYONTHEBEACH from Canada back down to these parts and she rates a shot; cut the first part of Ubeaut's record mile. RENAISSANCE LADY K and SLYPH HANOVER have talent but are compromised by the outside posts.
Selections: 1-4-5
Race 7, Goldsmith Maid final
SONNET GRACE showed she is for real in the Matron when she just missed to Breeders Crown runner-up When Dovescry in the Matron. That was her first start for Burke (excluding her Crown elimination when she broke) and both recent qualifiers were big. Fires from the rail and seems best with a flat mile. STELLA JANE popped in a big way last out after finally getting away from Woodside Charm and that 1:54.4 was a respectable win time; concern is that race was now three weeks ago. EVIDENT BEAUTY has to be respected despite post position 10; she always fires and Miller will find a way into it. ASIAGO is better than those last two races would indicate and she should be able to stick close from the inside. JEZZY'S LEGACY is trying to live up to the expectations set by her dam. PRINCESS DEO seems to be right up there on paper with most of these.
Selections: 1-10-2
Race 8, Governor's Cup
If last week's elimination was any indication as to what's to come in the final, the Governor's Cup is up for grabs. Breeders Crown winner CAPTAIN CRUNCH did all he could to keep going on the lead last week in a game effort, but lacked the stretch kick that he showed prior at Pocono. Moves inside now. That was some race by MANGOGH and some drive by Callahan to never give up despite the long, uncovered grind all through the lane. ESCAPETOTHEBEACH found room up the inside and looked home free but came up just short; still a top try. BLOOD MONEY won the Matron last out at Dover in 1:51.1 and didn't have the easiest go of it from post 9 prior in the Breeders Crown; certainly figures to be one of the key players. MAC'S POWER closed fastest of all last week from an impossible spot in :26:2.
Selections: 5-4-2
Race 9, TVG open trot
There's a load of redemption on the line here for Svanstedt and SIX PACK, and I think he'll get it. Despite scratching sick from the Breeders Crown final, he looked as good as ever in his Matron win when no others could keep up with him by three-quarters. Despite only a 3-year-old, he can make it two straight for the sophomores against older in this race as What The Hill won last year; tremendous race coming. TACTICAL LANDING is the other 3-year-old and what a season that he's had just over the last three months or so. He was nothing less than awesome in his Breeders Crown races and has developed into something special; has never been in better form than he is now. GUARDIAN ANGEL AS was one I really liked in the Breeders Crown and I'm convinced he would have won if not for getting blind switched; stands more than a reasonable chance to win this at a price. WARRAWEE ROO will be closing. CRUZADO DELA NOCHE picks up a new driver. WILL TAKE CHARGE and MARION MARAUDER are always capable but you can't pick everyone.
Selections: 6-2-3
Race 10, Valley Victory
FORBIDDEN TRADE was still coming at the end of his mile last week as this was his first race since a $173,250 Ontario Sires Stakes win over a month ago. He closed into a soft pace and did it after being forced wide into the stretch; driver McClure came up with some big wins here on Hambletonian day. HUDSON RIVER and SEVEN HILLS both had almost identical trips last week in their eliminations as favorites. They had had first over trips where they both looked like they were going by, but both got outsprinted through the stretch by the horses on the lead (TRIX AND STONES and CHIN CHIN HALL, respectively). SOUTHWIND AVENGER nearly beat Forbidden Trade at Woodbine Mohawk and is better for Nifty Norman than that 1 for 10 record would indicate.
Selections: 8-2-6
Race 12, TVG open pace
MCWICKED went about the easiest 1:47.3 mile last week that you'll see and he continues to remain impossibly good. No one's gotten within even a couple lengths of him in recent starts, though FILIBUSTER HANOVER has been runner-up twice in a row. He'll be blasting for Kakaley and if he can get a trip you never know. DEALT A WINNER has surprised at this track in similar FFA spots in the past; WESTERN FAME shouldn't be too far off the pace.
Selections: 1-6-3