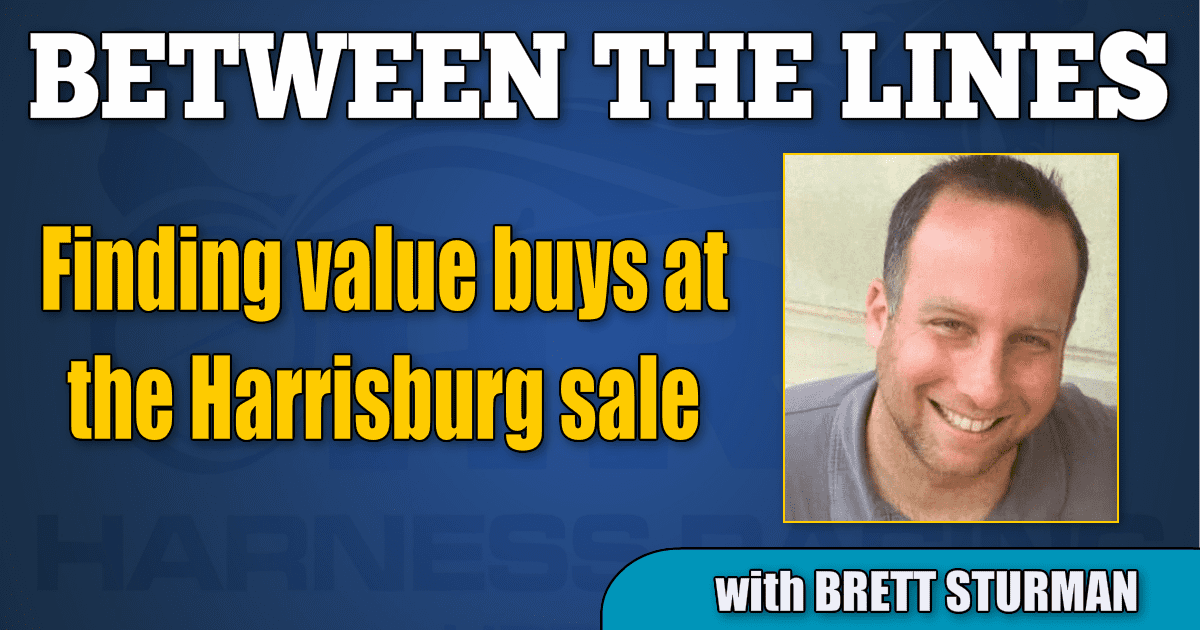 Finding value buys at the Harrisburg sale
by Brett Sturman
With nearly 1,000 yearlings to be offered over the course of the next week, the annual Standardbred Horse Sale Company's sale in Harrisburg, PA represents the largest yearling sale in the sport. Yearlings will range from anywhere between next to nothing and well into the six-figure range, depending on a number of factors including their breeding.
A column earlier this year performed a statistical analysis that focused on pacers as they advance from ages two to three, so this column will focus solely on the trotting side in attempting to place value on sires that have yearlings in the sale.
Like prior analysis, one can get a good gauge into the quality of sires simply by looking at their total and average earnings of their progeny. But that's only one part of the picture. The real question is: what are the top sires producing relative to strength of the rest of their pedigree? In other words, which sires are producing results greater than the sum of their pedigree parts and which ones should be doing better, relatively speaking?
Unlike their thoroughbred counterparts, harness racing is dominated by a small, centralized number of stallions. You don't need a complex lesson on statistics to tell you that on the trotting side that the Muscle Hills, Chapter Sevens and Cantab Halls will give you the best chance for success. But what if you don't have $100,000 or more to spend on average for the going rate of one of their yearlings?
Keeping a modest budget in mind, there are plenty of yearlings next week that could provide value based on an undervaluation of their sires. It's entirely possible – and even likely – that the physical for some of these horses may not be up to par, but based on pedigree alone here are some horses that may deserve a deeper look into.
Manofmanymissions is a sire that rates favorably based in part on the success of Impinktoo and Mission Accepted. Impinktoo earned over $167,000 as a 2-year-old last year while adding substantially to that bankroll this year and in the process acquiring a mark of 1:49:4; the fastest ever for a 3-year-old filly trotter. The Ohio-based Manofmanymissions has also produced Mission Accepted who has earned over $370,000 to date at this point in his 3-year-old season. In addition, he produced good 2-year-old earners Wittyville and To Russia over the past couple of seasons, all the while being paired with dams from lesser prolific broodmare sires. His one yearling in the Harrisburg sale is a colt hip 664 out of Medusa Blue Chip. The dam is yet to produce anything through three prior foals but second dam produced 2014's O'Brien winner for 3-year-old colt trotter of the year in Harper Blue Chip. Second dam Credit Winner has been the broodmare sire of recent 2-year-old stars You Know You Do, Samo Different Day and Moonshiner Hanover, just to name a few. Manofmanymission's averaged $31,286 from seven offerings last month at Lexington.
Swan For All is another sire offering value and over the past couple of years has gained notoriety for much more than simply an Indiana-based sire. Last year his 2-year-old Fiftydallarbill won the Breeders Crown and just recently his 2-year-old Swandre The Giant was sold for reportedly close to $1 million. There are only four yearlings in the sale offered by Swan For All, and two of them to focus on are ones by dam's by Muscles Yankee. Muscles Yankee is the broodmare sire of this year's likely 2-year-old filly trotter of the year Woodside Charm as well as a number of other rich and fast young trotters over the past few seasons including Hey Blondie and Hat Trick Habit most recently. Hip 539 is from a dam with a perfect 4 for 4 record of producing winners. Although no major stars have been thrown yet, this is the first time she gets paired with Swan For All. On the other side, hip 402 represents the first foal from an unsuspecting dam. A flyer for sure, but these are the types that can be most rewarding. Three Swan For All's at Lexington averaged $46,000 but I would think these should go for lower than that.
Arguably one of the better bargain sires out there right now is Muscle Massive. He had a large number of horses sell last year at Harrisburg averaging only $21,194 and his lone yearling from Lexington this year sold for just $13,000. His profile may have been raised a bit now by the success of Cruzado Dela Noche winning the Yonkers International; that after a successful career in Europe and also as a stakes performer earlier in his career in this US. As is the case with other underrated sires, Muscle Massive has quietly produced some decent ones against the backdrop of dam's and broodmare sires not up to the record producing quality as some others. In addition to prior stars Snowstorm Hanover and Speak To Me, Muscle Massive has already produced three 2-year-old trotters that have made over $100,000 this year while also getting 3-year-old Lawmaker to the Hambletonian final. In the upcoming sale, hip 591 comes from a good producing dam, Frisky Fergi. Her sire Garland Lobell is the broodmare sire of recent top young trotters, Only Take Cash, Demon Onthe Hill and Devious Man. Another one of interest is hip 513, a second foal out of a dam by Cantab Hall. There's some nice horses if you go far back enough, and perennial top sire Cantab Hall is also the broodmare sire of recent champion horses Manchego, Atlanta, Six Pack, Ariana G and the list goes on. Either of these two yearlings may be worth a shot at an expected lower price tag.
Despite his age, venerable sire Conway Hall is still a good producing stallion. He's seen the price of his yearlings go down in recent years as newer stallions have been introduced, but he shouldn't be overlooked. Just over the past year he's produced the fast Barn Bella, and good 2-year-old's of 2018 Thunder and Conway Kellyanne. This, while seemingly outperforming the pedigree quality he's been matched with. This year at Lexington he averaged only $17,429 and from what we've seen you don't have to always go particularly fast to make good money at the New York half-mile ovals. In this sale, hip 631 is a half-sister to $600,000 Possessed Fashion. Also of interest is hip 733 who comes from a family of two $300,000 earners and five $100,000 earners.
Lastly is Yankee Glide where it was announced just a couple of months ago that he's now been retired from stud duty following mares that he was bred to this year in 2018. His breeding record through the years speaks for itself and similar to Conway Hall, he's fell out of favor as he's gotten older with the highest quality dams. With that said, he's still produced quality horses over the past couple of seasons including Giveitgasandgo, Overdraft Volo and most recently Windy Corner who has already earned close to $200,000 thus far in her 2-year-old season. In this sale, hip 593 is a Yankee Glide colt out of a Cantab Hall mare. He comes from a quality family going back to the third dam Crown Dream who was the dam of Dan Patch winner Victory Dream as well as half-million dollar earner Dream Valley Om.