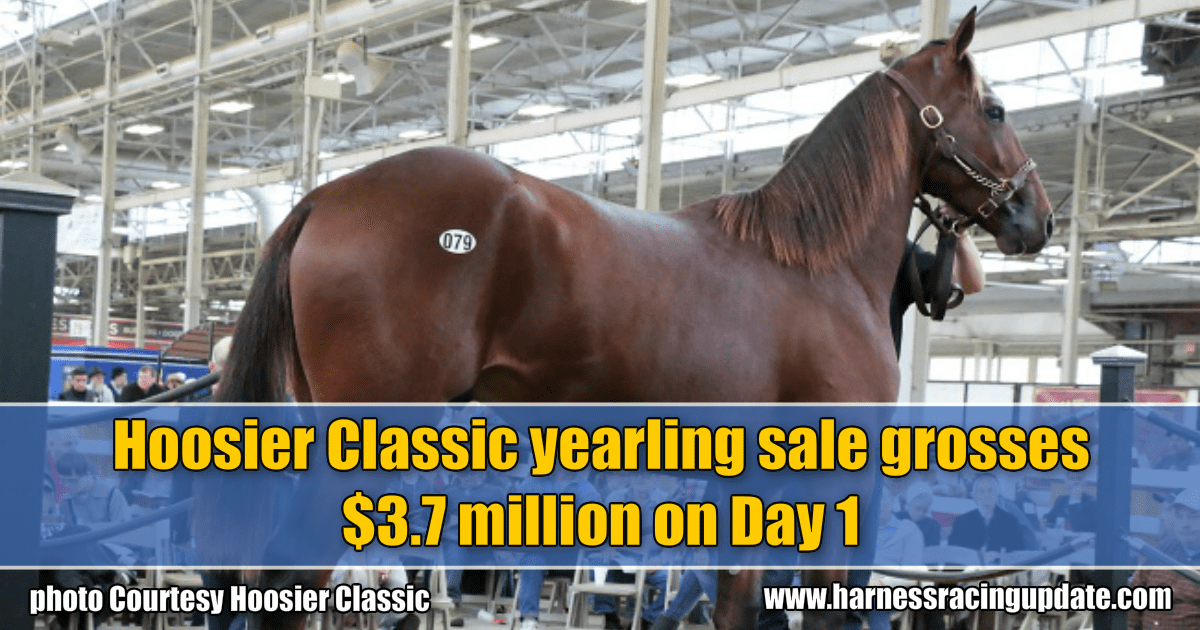 Hoosier Classic yearling sale grosses $3.7 million on Day 1
The average of $20,299 was down 1.5 per cent from 2017.
by James Platz
Hoosier Classic Sale Company, LLC kicked off its annual two-day sale Friday (Oct. 19) at the Indiana State Fairgrounds. The first session produced strong numbers, with 184 babies passing through the sale ring, selling for a gross of $3.7 million. After a banner 2017 Hoosier Classic Yearling Sale, the first day of this year's event was down only slightly, with the $20,299 sale average representing a 1.5 per cent decline.
"I'm pleased with the results from the first session," said Hoosier Classic sale manager Steve Cross. "We enjoyed significant gains last year, and that set a high standard that is tough to replicate. With the changes in the Indiana Sires Stakes program, we were unsure of how that would impact the sale. Horsemen appear to be buying with confidence. We are close to even when compared to last year's numbers, and I look forward to the Saturday session."
While no yearlings fetched six-digit bids, plenty of horses brought top prices. Justanothermiki, consigned by Homestead Acres, led all babies with an $87,000 price. Mike Roth signed the ticket on the Always A Virgin colt for Ohioan Carl Atley. Cataloged as Hip 156 in the session, Justanothermiki is the first foal from Western Hanover mare Artsy Princess, herself a winner of nearly $300,000 on the racetrack with a mark of 1:52.
Always A Virgin progeny led all pacing sires, as a group of 27 grossed $763,000, representing an average of $28,259. Meadowbrook Rhonda was the next highest priced yearling for the sire. The filly, consigned by Meadow Brook Farm, is the first foal from Electric Yankee mare Lady Lakers, a $100,000 winner that is a sister to multiple Indiana Sires Stakes divisional winners. Joe Holloway purchased Meadowbrook Rhonda for the price of $60,000.
Rockin Your World brought the top price for stallion Rockin Image, sold for $80,000. Hip 130 in the session, the filly is a full sister to Indiana Sires Stakes Super Final and Breeders Crown elimination winner Rock N Tony p,2, 1:52.3s, 3, 1:50.2s ($574,742). Consigned by Wilt Standardbreds as agent, Rockin Your World was purchased by Donald Robinson, Agent for Brian Brown. A total of 33 babies sired by Rockin Image sold for an average of $23,439 during the first session.
Swan For All set the standard on the trotting side with 25 yearlings selling for $751,000, good for a $30,040 average. Bluebird Deacon, a full brother to multiple Indiana Sires Stakes elimination winner Bluebird Reverend 3, 1:55.3s, 1:53s-'18 ($501,415) was hammered down for $72,000. Part of the Bluebird Meadows consignment, Brandon Bates signed the ticket as agent for Paul Gange.
Filly Swan Fashion, cataloged as Hip 162, sold for $70,000 Friday. The first foal from Broadway Hall mare Fashion, Voyager, her second dam produced Breeders Crown final and Hambletonian elimination winner Pilgrims Taj. John Barnard purchased the filly, consigned by Oakwood Farms.
Barnard was one of the more active buyers of the session. Although not in attendance, the Miami resident acquired five yearlings for a cost of $229,000. Besides Swan Fashion, he also purchased Bridge To Heaven, a Jailhouse Jesse filly that is a sister to multiple Indiana Sires Stakes Super Final winner Bridge To Jesses 2, 1:56s, 3, 1:53.4s, 4, 1:52.2s-'18 ($793,055). Leave And Roll, the top-priced yearling from Time To Roll's first crop, was another Barnard buy, bringing $35,000. Luckiana Farm consigned the colt.
Melanie Wrenn signed five tickets totaling $237,000 during Friday's session. She purchased four of the babies as agent for owner Dana Parham, the most expensive being Swiss Rocket, Hip 149 in the catalog. The Rockin Image colt is the second foal out of Antigua Hanover. The Somebeachsomewhere mare took a mark of 1:50.4 as a sophomore and has already produced ISS elimination winner Rockinbythebeach.
Hoosier Classic's second session begins this morning (Oct. 20) at 10 a.m. You can watch the sale on the company website, hoosierclassicyearlingsale.com.