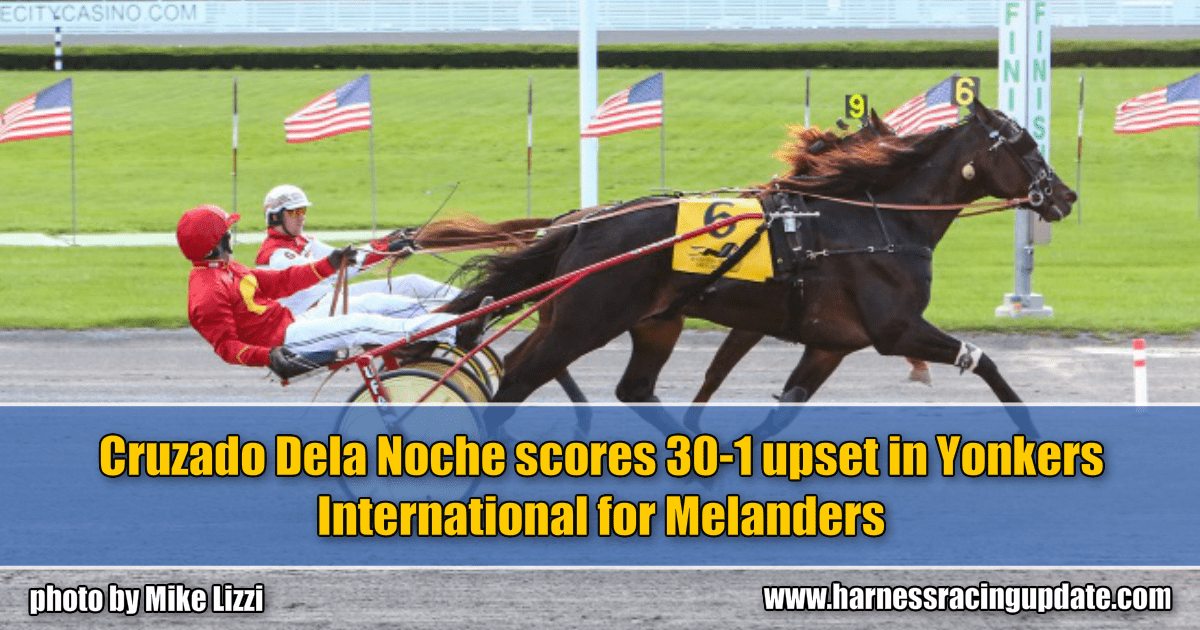 Cruzado Dela Noche scores 30-1 upset in Yonkers International
But will the 40th edition of the International be its last now that the Rooney family has sold the track to MGM Resorts?
by Tom Pedulla
As one era ended, perhaps it was only fitting that an ambitious young trainer watched a dream come true when Sweden's Cruzado Dela Noche pulled a stunning upset in the 40th International Trot on Saturday at Yonkers Raceway.
Timothy Rooney, who purchased Yonkers Raceway in 1972, presided over the International for the final time as new owner MGM Resorts prepares to take over the tradition-rich half-mile track in 2019. The International, which started at old Roosevelt Raceway in 1959, holds such a special place in Rooney's heart that he restored the once-prestigious race in 2015 after it had not been contested for 20 years.
While MGM is contractually committed to continuing racing, Rooney, 81, acknowledged that the $1 million International faces an uncertain future.
"I just hope that somebody there likes horses," he said of MGM Resorts.
Marcus Melander, 26, must hope so, too. For now, he is content in knowing that he and his uncle, Stefan, combined to do an outstanding training job in preparing Cruzado Dela Noche for a last-gasp head victory against Norway's Lionel at the daunting odds of 30-1. France's Up And Quick took third. Ariana G, the lone mare in the field of 10, was fourth
Stefan worked extensively with the 6-year-old son of Muscle Massive before shipping him to the United States in late June to take dead aim at the International. The horse completed his required time in quarantine and arrived at Marcus' farm in New Egypt, NJ, at the start of August.
Marcus knew what to do from there. He had known from a tender age that his career would be in racing.
"I started to drive the small ponies when I was seven or eight," he said. "So, I've been doing this my entire life."
He quit school when he was 15 to take a head-first plunge into the sport, including an invaluable one-year stint with Hall of Fame trainer Jimmy Takter. Between his uncle and Takter, he learned that there are no shortcuts. Nothing replaces invaluable time spent on the track.
"We train our horses a lot. You can't just go out there for 15 or 20 minutes and think that is enough," Melander said. "When we go out for a workout, it takes over an hour. I want my horses to be well-prepared when they race."
Cruzado Dela Noche was prepared just enough for the mile-and-a-quarter International – even if it did not look that way on paper. Although he had won two qualifiers at Pocono Downs on Sept. 12 and Sept. 26, he had not actually raced since a distant fifth-place finish on June 10.
"We did not know if he was 100 per cent in form," said Melander, "but we got a good trip."
That trip came courtesy of Brian Sears, who has a strong working relationship with Anders Strom, the winning owner.
"Anders has been real good to me throughout our relationship," Sears said. "We had talked about my driving the horse early on, so I was kind of committed to him."
Sears said he studied replays of past races to be as prepared as possible. He liked everything he saw.
"He doesn't have great speed," he said, "but he keeps coming. He can take a lot of the racetrack two wide."
Sears, keenly aware of the layoff, knew he needed to conserve as much energy as possible. He also knew he needed everything to go his way.
It did.
When Elitloppet winner Ringostarr Treb, leaving from post four, broke stride entering the first turn and Pastore Bob did the same from post five, favored Marion Marauder of Canada and his driver, Scott Zeron, soon found themselves in an early lead. Neither was happy to be there.
Zeron said of the misfortune that befell Ringostarr Treb and Pastore Bob, "It changed the whole evolution of the race. It forced my hand to put mine on the lead, and I think my horse is a much better chaser. I was disappointed in the way it unfolded."
At that point, the only question for Sears involved whether his horse would be short on stamina as he launched what proved to be a bold and decisive three-wide move. "He definitely could have been (short)," the driver acknowledged, "but because he doesn't race real aggressive early, he kind of saves himself. He knows how to finish and that's the type of horse I like. They know where the wire is and what they are trying to accomplish."
Victory was accomplished in 2:24.3. Sweden gained its sixth International triumph to rank third, trailing the United States (14) and France (12).
Goran Antsonsen, driving Lionel from post nine, was full of confidence when his 8-year-old took over the lead from a withering Marion Marauder, last year's runner-up who came in fifth.
"I was almost 100 per cent sure of victory in the final third (of the race)," he said.
As brutal as the loss was, Antonsen was hardly discouraged. "I'm very, very proud," he said. "He was fantastic."
As he prepares to leave a track that has been so much a part of his life and that of his famous family, Rooney expressed hope that the International's revival will not be fleeting.
"If they get behind this thing," he said of MGM Resorts, "they will make it bigger and better than anybody could. They are tremendous marketing people."
Then the aging Rooney left the winner's circle in the fading afternoon light and disappeared into the crowd, knowing he had presented the International trophy for the final time as proud owner of Yonkers Raceway.