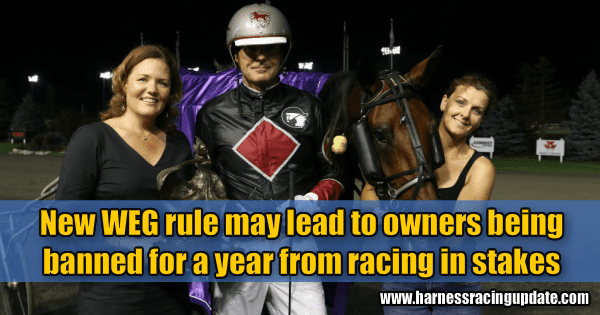 New WEG owner integrity rule approved for 2019
Owners who race a horse in a WEG stakes race with a trainer found guilty of a Class 1, 2 or TCO2 positive in any jurisdiction may face a 12-month ban from entering horses in WEG stakes. Jeff Gural's tracks may adopt a version of the rule, as well.
by Dave Briggs
Woodbine Mohawk Park president Jessica Buckley said Thursday that a new standardbred owner integrity rule approved for 2019 is intended to "send a message that when owners stake their horses" to WEG events "there is going to be the utmost integrity."
Buckely said, "ultimately, (the new rule) benefits owners, the players and everybody involved," by trying to create a more level playing field.
Effective Jan. 1, 2019, any owner who participates in a Woodbine standardbred stake race (added money greater than $50,000) with a trainer who has an outstanding Class 1, Class 2 or TC02 positive test under appeal in any jurisdiction, shall be ineligible to participate in any Woodbine standardbred stakes for 12 months following the conviction if such trainer is subsequently found guilty relating to the Class 1, Class 2 or TC02 positive test. The new conditions are only applicable to a positive test occurring on or after Jan. 1, 2019.
For example, if a trainer had a positive test in May and appealed it, they would be allowed to race in, say, the Pepsi North America Cup while they await the outcome of the appeal. However, if that trainer subsequently loses his or her appeal of a Class 1, 2 or TCO2 positive, any owner connected to the horse or horses raced by that trainer in the NA Cup would be banned from entering a horse, under any trainer, in a WEG stakes races for 12 months.
"However, if the trainer received a penalty (and it) was under appeal and (the owners) decided to switch their horse to another trainer to race in one of our stakes, no matter the outcome (of the trainer's case) they would not be affected. If they switched to an AGCO-approved trainer to participate in our stake, then there is no risk to them," Buckley said.
The goal, clearly, is to encourage owners to choose reputable trainers.
"If a trainer had received a penalty and has served their penalty in advance of participating in a (WEG) stake, they are obviously fine (and able to race in WEG stakes)," Buckley said.
Woodbine originally tried to implement a similar rule for the 2018 season, but was asked by the provincial regulator — the Alcohol and Gaming Commission of Ontario (AGCO) — to hold off until it could properly vet the rule (full story here). Both the AGCO and Central Ontario Standardbred Association (COSA), which represents the horsepeople that race at Woodbine Mohawk Park, have signed off on the new rule.
"It was important for us to follow-up on our integrity initiative that we had announced earlier in the year," Buckley said. "We collaborated with the AGCO and with the horseman's group to come up with some conditions that would allow us to continue along the theme of integrity and giving our owners and our players confidence in our racing.
"We simplified things. In order for us to be compliant with the AGCO we were able to come up with this current condition, and we also worked with John Campbell and the Hambletonian Society to get their input into how we should look at the condition With John's help, we were able to come up with this and then the AGCO was supportive. Again, it was compliant with their existing racing rules, which was really important."
One of the benefits of working with the AGCO on the rule has been the establishment of a closer relationship between WEG and the regulator, Buckley said.
"We've built great relationships with them, particularly over the last eight months, developing this together, and I think the changes they put out in April on their new rules, around all the classes an how they are dealing with penalties, has really made a difference," Buckley said.
At the same time, WEG has shown a renewed commitment to integrity, she said, by going back to a 24-hour retention program in 2018.
Buckley said the reason for announcing the new integrity rule now is one of full disclosure before the major yearling sales.
"I think it's important to be transparent to everyone in the industry, before they are investing money in young horses and their prospects for next year, to know what conditions will be applied to our stakes and when they are choosing which trainer to have their horses with and getting into partnerships," Buckley said.
The three Jeff Gural-owned racetracks — the Meadowlands, Tioga Downs and Vernon Downs — were planning on adopting the original WEG rule. Buckley said Woodbine, "consulted with the Meadowlands and their team, and they were supportive of (the new rule)."
Asked Thursday to comment on whether he would adopt the new WEG rule, Gural emailed to say he is likely to adopt the rule, "but we may have separate rules relating to changing trainers which would give us total flexibility in deciding who is allowed to race."
Woodbine Mohawk Park is playing host to the Breeders Crown in 2019, but Buckley said the new rule currently only applies to WEG-run stakes (a complete list appears below).
"At this time, it's going to include all the stakes that are listed in the release, but we certainly welcoming any of the other properties or any of the other tracks to adopt our condition," she said. "We haven't heard anything, yet, on the Breeders Crown, so it's not going to apply to Breeders Crown, to my knowledge."
Meanwhile, Buckley said Woodbine's gaming partner, Elements Casino, has started construction at Woodbine Mohawk Park to expand the track's gaming hall.
"They've begun construction on the site, expanding into some of the new spaces and we've continued to see lots of activity and great crowds," Buckley said, adding track management is excited to be racing year-round at Mohawk for the first time since the decision was made for standardbred racing to leave Woodbine Racetrack permanently.
"We're really excited to be going into our first holiday season at Mohawk Park and we have a whole holiday promotion planned for the whole month of December, so we're geared up and ready," she said.
The following stakes races are subject to the new conditions:
Pepsi North America Cup
Armbro Flight

Canadian Pacing Derby
Canadian Trotting Classic

Casual Breeze
Champlain
Elegantimage
Eternal Camnation

Fan Hanover
Goodtimes
Graduate
Maple Leaf Trot
Metro Pace
Milton
Miss Versatility
Nassagaweya
Peaceful Way
Roses Are Red
Shes A Great Lady
Simcoe
Somebeachsomewhere
William Wellwood Memorial