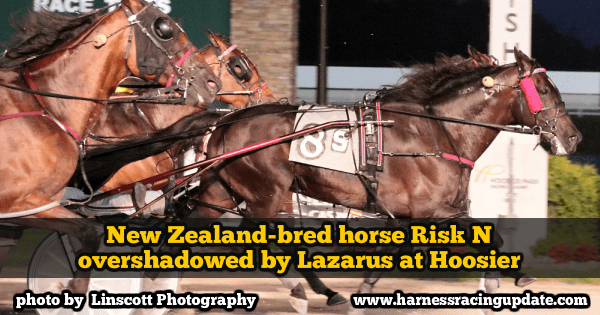 Cullipher and Pollack's New Zealand-bred horse Risk overshadowed by Lazarus
Despite posting a 1:48.2 mile that was two-fifths-of-a-second faster than Lazarus won Friday's Dan Patch at Hoosier Park, Risk N was virtually invisible after winning the $25,000 Gregg Haston Memorial earlier on the card.
by James Platz
Friday night at Hoosier Park Racing & Casino a veteran pacer with ties to the southern hemisphere made his United States debut. He entered the program with only a lone qualifier – an open-lengths romp – to his credit since his arrival on U.S. soil. This New Zealand bred, however, was not the highly acclaimed Lazarus N racing out of the powerful Jimmy Takter Stable. Two races before Lazarus captured the 25th edition of the Dan Patch Stakes, Risk N surged late in the mile for driver Sam Widger to claim the $25,000 Gregg Haston Memorial in 1:48.2, two fifths faster than his more heralded fellow Kiwi-bred counterpart.
Risk N, and pacers like him, have helped trainer Jeff Cullipher reach the winner's circle with a greater frequency than any other conditioner at Hoosier Park over the last two seasons. Cullipher has teamed with Pennsylvania-based owner Tom Pollack to build a racing operation that strives to win at every level both in Indiana and outside the Hoosier State.
Locally, the plan has paid dividends. Last season, the 46-year-old finished in a tie with Jamie Macomber atop the Hoosier Park standings. Both stables racked up 92 wins over the course of 160 days of racing. Through the first 90 days of racing, Cullipher has sent out 76 winners from 372 starters with purse earnings of $789,476 compared to Macomber's 67 trips to the winner's circle. That was before Friday night's strong showing.
"We've had a good year already," he said of the Hoosier Park campaign. "I'd like to get a little more separation from Jamie, but every time I win a couple she comes right back."
Risk N was one of a trio of winners that Cullipher sent out on the Dan Patch program. Joining the 7-year-old son of Changeover Friday were Coal Hanover, a 1:50.2 victor in the $20,500 Myron McHenry and Castle Flight, winner of the $23,750 Dan Messner in a lifetime best-equaling 1:49.4. Castle Flight finished a quarter length in front of Incredible Shark, a four-year-old Shadyshark Hanover gelding also trained by Cullipher. The stable also had an entry in the lucrative $325,000 stake, Hoosier Park's signature event. New Talent, sent off at triple digit odds, finished last in the field of nine. The trainer admits he entered the horse thinking he may not make it in based on earnings, but was willing to take a shot nonetheless.
"This is my first one off the plane," Cullipher said of Risk N. "I had him six weeks before qualifying him. He paced in 1:51 and Sam Widger drove him. When Sam got off the bike he said, 'He might be the fastest horse I've ever driven. I'm excited.'"
The owner and trainer wished he could have entered the stable's newest acquisition in the Dan Patch and believes the effort could be overlooked in light of the victory by Lazarus N in the night's feature.
"Poor little guy just raced his ass off and isn't going to get any recognition," Cullipher said with a laugh.
Spoken like a true owner. That, in part, is what makes Cullipher's relationship with Pollack slightly different from most trainer/owner pairings. When a trotter or pacer is added to the barn, Cullipher owns a piece of each, meaning he has just as much at stake each time a horse lines up behind the gate. It helps that both men are on the same page when it comes to their strategy.
"Each time we reach one level, we want to get to the next," he said. "We can't slow down. We want to put better stock in the barn. We have gotten our name out there enough now buying horses we get calls all the time. We just never stop looking."
The partnership is active in buying stock that can compete at the top levels at Hoosier Park, and they are equally aggressive at the yearling sales, purchasing babies each fall that they hope will become Indiana's next champions. However, they are also looking outside the state. In fact, one of the best horses campaigning for them currently is the New York-bred filly Wisdom Tree. The Betterthancheddar—Wisdom sophomore has won nine of 12 starts in 2018, scoring in five rounds of NYSS competition and setting a Hoosier Park track record in the $142,000 Nadia Lobell, stopping the clock in 1:49.4. She has only finished off the board twice this season, the most recent a fourth-place performance in the $191,800 Mistletoe Shalee. Wisdom Tree recently eclipsed $300,000 in career earnings.
"That's our golden girl right now," Cullipher said. "We bought her as a yearling out of the Lexington sale. The last couple of years we have looked for one or two Ohio breds or New York breds. We are trying to spread things out some."
Standing in the grandstand paddock Friday night moments before the Dan Patch field assembled for battle, the trainer talked about the possibility of expanding the stable outside Indiana. Racing a string out east would present a new challenge for a trainer that oversees a stable that now totals close to four dozen horses.
"I love Hoosier Park. This is home to me," Cullipher said. "We've talked about starting another stable and race on the east coast. With the class of horses we want to race, we are getting too many and I have to race them against one another. With the number of horses we have, we need more opportunities to race. We've got to go year-round racing."
Cullipher won't have much time to savor the recent victory with Risk N. He has a barn full of horses that require his attention. Macomber is nipping at his heels in the trainer standings, and he is busy looking for the next opportunity.
"You can't take a day to relax," he said. "You've got to be on your game. You've still got to do your job and keep winning."