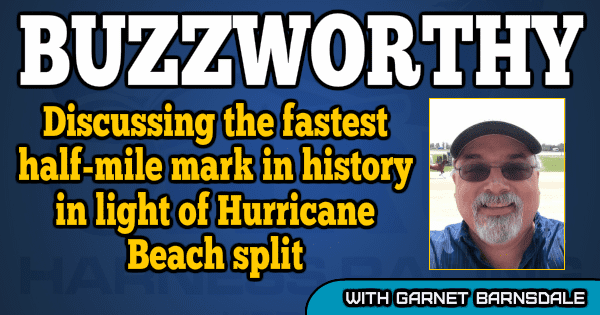 Discussing the fastest half-mile mark in history in light of Hurricane Beach's :51.3
by Garnet Barnsdale
Facebook was buzzing Sunday night after four-year-old pacer Hurricane Beach ripped off an eye-popping front-end score at Pocono Downs over a sloppy track.
The gelded son of Somebeachsomehwere out of the Western Ideal mare Blazing Yankee made his first start for new connections memorable by carving out a wild :51.3 opening 1/2 on his way to a 7 1/4-length lifetime best 1:49.4 victory in a $17,000 conditioned race.
Hurricane Beach – who was initially bought for $230,000 at the 2015 Lexington Select Sale – changed hands on July 15th at the Tatersalls Mixed Sale, purchased for $110,000 by Allard Racing Stable, VIP Internet Stable and Yves Sarazin.
The performance – which was the fastest race of the night by 2 and 3/5 seconds — prompted the question: "Anyone seen a faster half" by Philip Sporn, who posted the chart of the race in the Facebook Harness Racing History group.
Facebook poster Ryan Gates brought up Devonshire Hanover's wild mile from July 2006 in which he eclipsed the :51.3 half set by Hurricane Beach the other night. You can watch that incredible mile below.
Of course there was the :51.4 and 1:19 half and three-quarters from the sensational Meadowlands Pace of 2008 in which Art Official handed the great Somebeachsomewhere his only defeat.
While the :25.2 opening quarter set by Hurricane Beach was certainly quick, it was pointed out in the Facebook thread that the record for fastest opening quarter was still held by Pronger, who was sent through a :24.4 first quarter by Luc Ouellette on Feb. 4, 2006 at Woodbine Racetrack. Interestingly, this wicked quarter was also paced over a sloppy surface.
But perhaps the wildest fractions ever set were interestingly carved out by Hurricane Beach's half-brother, Hurrikane Kingcole, in the 2012 New Jersey Classic. After taking over command passing the first quarter in a reasonable :26.3, the speedy son of Cams Card Shark proceeded to pace a :51.4 middle half on his way to passing the 3/4 in an unbelievable 1:18.2! That race can be viewed in its entirety below.
One thing that seems common to offspring of Blazing Yankee is wicked, raw speed, which makes for some interesting miles.