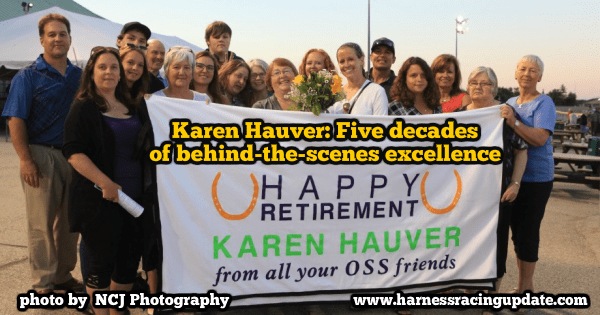 Five decades of behind-the-scenes excellence
Karen Hauver, who retired last month, has been an essential — and endlessly cheerful — part of Ontario's harness racing scene, most notably as the Administrative Coordinator of the Ontario Sires Stakes program.
by Kelly Spencer
Despite being the daughter of Hall Of Famer Keith Waples and his wife Eileen, you may not know Karen Hauver at first glance.
But if you've been involved in the Ontario harness racing industry in the past five decades, chances are slim that you've not been touched by her work behind-the-scenes.
She likely charted several of your horses' racelines, researched their pedigrees for a yearling sale, captured their wins in a photo finish, accepted their entries in the race office, clerked their performance on an eligibility card, engraved a trophy they won, or typeset the pages in a magazine article about your horse and coordinated circulation of the magazine (while also managing the accounting system).
And if you've raced in the Ontario Sires Stakes (OSS) in the past 21 years, she has been the voice on the other end of the phone merrily answering your queries while assisting with the creation of the schedule, coordinating payments and issuing purses.
Hauver is an administrative maestro. And a really, really nice one at that. Universally revered as one of the most knowledgeable and most helpful and sincere people in the biz, Hauver has maintained a consistently delightful disposition for several decades beyond what most of us could possibly muster.
How? "I've just always really loved the work, and the wonderful people," she said.
Ever the planner, Hauver advised of her retirement from her role as OSS Administrative Coordinator a year ago, officially stepping away from the title on June 30 of this year. "Retiring and leaving the OSS was a really hard decision to make, but I'm confident I'm leaving it in good hands," said Hauver. Allison Glynn has assumed the role. "Allison is very knowledgeable and passionate about the industry and she will do a great job!"
Hauver has been the photo finish operator at Hanover Raceway since she was 18. Now 64, Hauver jokes that although the stairs to the top of the grandstand have been harder to conquer with each of those 46 years, she'll keep that gig. She also jumped into an ambitious new volunteer role within the industry, working alongside Bill Galvin and others in launching the Youth Literary Derby, a horse-themed writing contest designed to engage Ontario youngsters in Grades 5 through 8.
She'll have more time with her five grandkids ranging in age from 13-23, and additional opportunities to indulge her love for traveling with family and friends. Even then, don't expect the harness racing theme that has illuminated her life to lay dormant.
"We're hoping to travel to Sweden in May to cheer on Canada in the World Driving Championship and take in the Elitlopp," she said.