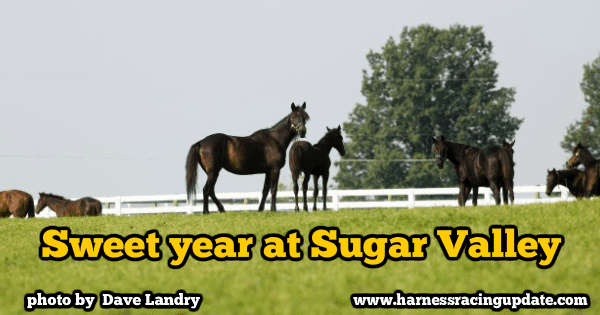 Sweet year at Sugar Valley
Thanks to the exploits of Lather Up and Wolfgang so far in 2018, Joe McLead of Ohio's Sugar Valley Farm is promising to do cartwheels if things get any better.
by Dave Briggs
Joe McLead said it's been "an incredible year" already for his Sugar Valley Farm of Delaware, OH thanks to Lather Up's win in the $1 million Pepsi North America Cup, but a victory by Wolfgang in the Hambletonian would be mind blowing.
"That would be awesome… I tell you what, I would be doing cartwheels through the winner's circle if that happens. It's a pretty exciting time," McLead said.
Lather Up is a son of Im Gorgeous that stood at Sugar Valley from 2012 through 2015. Wolfgang is out of the first crop of My MVP, currently in his fifth season standing at Sugar Valley after retiring from racing in 2013.
Wolfgang will start from post two in the first of two $181,000 Stanley Dancer divisions Saturday at the Meadowlands. The Jimmy Takter trainee currently is a perfect 2-for-2 in 2018, including a win in the $202,260 Goodtimes at Woodbine Mohawk Park on the NA Cup undercard. But the big star of that night was Lather Up, whose sire is back racing in Ohio at age 11 (full story here) after getting little interest as a stallion in recent years.
"This is just our seventh year, breeding season-wise," McLead said of Sugar Valley. "I had Im Gorgeous for four years, maybe five. At the beginning of 2012, it was the first breeding season at the farm and George Teague was gracious enough to decide to bring Mr Wiggles and Im Gorgeous in.
"Im Gorgeous, the first year, being a son of Bettors Delight out of a Andrel mare, you could breed him to anything and he got 60-some mares that first year and Mr Wiggles got 20. So we decided, economically, it was time for Mr Wiggles to go somewhere else. So George took him back home and bred him there for a few years and, obviously, (2015 Horse of the Year and $3.9 million-winning) Wiggle It Jiggleit came about from his first crop in Indiana, where he had only bred 18 mares."
Mr Wiggles has since returned to Sugar Valley.
Meanwhile, the new owners of Im Gorgeous are planning to stand the horse again, somewhere, at the end of this year.
"With Im Gorgeous, we had a good response, but he just never did anything. I mean, he had the top two-year-old filly pacer in the state, Miss Me Yet, and she was voted two-year-old filly pacer of the year in Ohio and won the Sires Stakes championship and that was just the ground floor of Ohio's VLT program and then other stallions came in, not only at my place, but also at other places and he just kind of fell by the wayside," McLead said. "He bred 20 or 30 mares, here and there. He bred eight one year and then, his last year here, he bred 22 and that's the crop that are yearlings now.
"I always thought that the horse had great potential."
So, too, for My MVP.
"The horse is a Cantab out of a Kadabra mare and I've always thought that he would be a stallion. He competed well on the Grand Circuit, winning one jewel of the Triple Crown in the Kentucky Futurity. I think it's one of the greatest testaments in the sport, going two heats like they did at the time. That's why I stand three Kentucky Futurity winners at my farm. I always thought that the way the sport is now, that you need to have something that shows that grit and determination and to win two heats on the same day is a great testament to the type of stallion they are," McLead said.
The prospect of playing a role in horses that might end up being the top sophomore pacing colt and sophomore trotting colt, respectively, this year, isn't the only thing that has McLead smiling these days.
He's also bullish on the return of Ohio as a major harness racing jurisdiction.
"Our state of Ohio is really progressing and I don't think we're going to be the one or two-year wonders, either," McLead said. "If you look at what's coming around with some of these things at the top level of our sport…they can say that they were able to get the two top pacers coming off the track last year and the top trotter to come to the state in one, single year. Our Sires Stakes program is now going for $275,000 in the Finals and I think we're basically one of the top programs now.
"The state of Ohio is just starting to explode, not only because we have some of the top stallions coming in, but the broodmare bands are being built back up and more people are getting involved and it's fun."
McLead said the sport is so engrained in the state that, at one time, "everybody owned a broodmare or two – the dentist, the local doctor, everybody had a racehorse and it was fun. And it still is. We have 88 counties in the state of Ohio and I think we have 64 county fairs, which also includes a couple of independent fairs, that are racing out of 84 counties."
Mating numbers reflect the recovery.
"Ohio was where they bred the most, then the VLTs starting hitting everywhere and Ohio didn't have them and they dropped down to 600 mares bred, instead of what used to be 2,000 to 3,000. Now, we're back to number one in North America again, in the amount of mares bred per state," McLead said. "It shows that people are back getting more involved. You can make a decent living in the state of Ohio because you can buy yearlings from $100,000 to $200,000 all the way down to $2,000 or $3,000. You can make, on average, $30,000 or $40,000 with some of them and it's fun. You're not getting rich, but it's paying the bills to where you're not getting hurt because there are opportunities."
Those who want to dream the ultimate dream need look no farther than what a couple of Ohio-breds named Lather Up and Wolfgang have accomplished, so far.