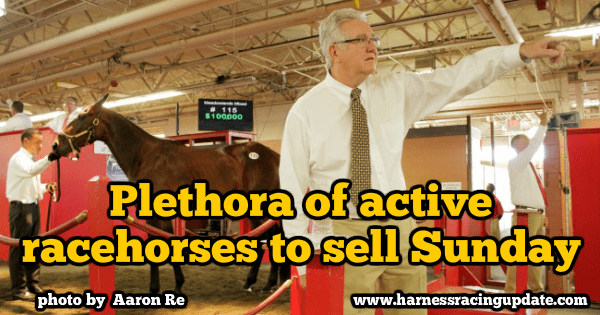 Tattersalls Summer Mixed Sale Preview
Active, proven racehorses on sale Sunday at the Meadowlands.
by Dave Briggs
Of the approximately 140 racehorses catalogued to sell at the Tattersalls Summer Mixed Sale beginning at noon on Sunday (July 15) in the paddock at the Meadowlands Racetrack, sale manager David Reid said 94 (more than two thirds) have raced in the last 10 days and 35 more will race in the days leading up to the sale.
"That includes 15 winners, of which several of those took personal records," Reid said. "Of the 15 winners that won, they won over multiple tracks — Pocono, Woodbine Mohawk Park, Harrahs Philly, Yonkers, Northfield and others. So they are coming from everywhere, really.
"It's a proven racehorse sale and, here again, we have another quality catalogue of horses that are racing recently and winning."
Reid said potential buyers should look at updated past performance lines online. Updated racelines, current through last Sunday, are also available on the Equineline app, at the end of the individual catalog pages, starting on page 192.
The sale will feature 26 2-year-olds, 56 3-year-olds, and 62 4-year-olds and up.
"Obviously, there's a lot of green horses and I just encourage people to go through all the green horses and look for opportunities because there is always somebody that comes out of this sale that goes on to a different jurisdiction and has good luck for the new connections. That's really what we see all of the time and we expect to see it again," Reid said.
Northwood Bloodstock's Bob Boni will sell some 40 horses Sunday.
"I'll say the same thing that I say before every sale… there are people that race in jurisdictions away from the Meadowlands, away from metropolitan areas – they do themselves a disservice by not finding the time to come to these sales to see what's there. Every now and then there are horses that fall through the cracks, horses that don't fit here, but would do well in Saratoga or Plainridge or Buffalo or wherever," Boni said.
Reid will have the largest consignment at the sale through his company Preferred Equine Marketing, which will send some 90 horses through the ring.
"There's a horse, Hip 125, TJ Blast, he's won his last eight straight. We have a nice 3-year-old Muscle Hill filly, that just won her first two starts, Hip 66, Urban Legend," Reid said. "Three-year-old trotting prospect, Hip 37, DBomb, she's a dual eligible to Pennsylvania and Kentucky, which I think is interesting. I think being eligible to the Kentucky Sire Stakes in an added incentive. One of the more talent trotters in the sale is Hip 126, Tuonoblu Rex who is fast and just qualified at the Meadowlands the other day. He's a proven high-level trotter. Then we've got multiple nice aged horses like Hip 111, Fool Me Once and a trotter, Hip 113, HomeN Dry. I think all those are worthy candidates and all quality horses that are racing well."
Boni said he has two Kadabra fillies — Hip 3 Kadabra's Temple and Hip 7 Haveoneforme — with big pedigrees and breeding potential.
"I cannot recall having more inquiries and interest than I have had in Kadabra's Temple (cataloged in error as Dilly Dilly)," Boni said, adding he also has a pair of Muscle Hill colts that were high-priced yearlings — Hip 27 Bautista and Hip 56 Quantum Kemp. "Bautista set a new record of 1:53.1 in his last start and Quantum Kemp is the lightly-raced full brother to Hambletonian winner and impressive young first crop trotting sire Trixton."
Boni also highlighted Hip 61 Sandy's Beach, Hip 45 Konnichiwa and Hip 127 Tyson.
Reid said the sale is, "a good time for people to analyze their racing stables and prepare for the future, whether you're buying yearlings… or if you purchased a lot of yearlings last year and have a lot of horses that are now ready to go on into a different environment."