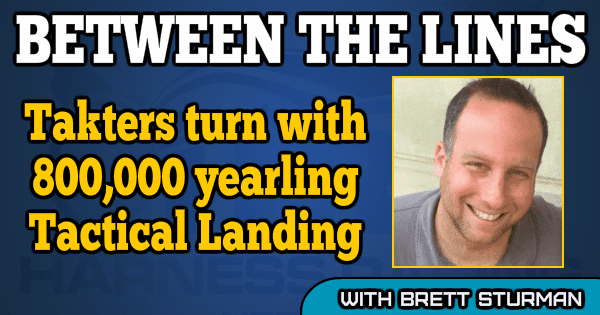 Could maiden make a Takter-cal Landing in Hambletonian?
by Brett Sturman
It doesn't seem conceivable that a horse still yet to win a race in his career could be considered a Hambletonian contender with the race a mere five weeks away, but such could be the case with the rapidly development colt Tactical Landing.
An $800,000 yearling from the 2016 Lexington Selected Yearling Sale, Tactical Landing qualified last week at the Meadowlands in 1:53:1 for new trainer and driver Jimmy Takter. The full brother to the great trotting filly Mission Brief (Muscle Hill–Southwind Serena) has still never trotted a complete race mile without breaking in anything other than a qualifier, but it's hard to rule this one out of Hambletonian consideration based alone on a world of raw talent.
In a brief 2-year-old season, Tactical Landing broke stride in KYSS competition the only two times he raced. The colt was moved to Jimmy Takter a few short weeks ago. Now, a horse that not too long ago looked like a total loss is suddenly coming into his own.
In winning his qualifier from Saturday, Tactical Landing sat an intentionally isolated pocket throughout before outsprinting home rival Met's Hall, a horse who was the second in last year's Breeders Crown final and has Hambletonian hopes of his own. Trainer Takter said "It was nice for him to be in the race and follow another horse. But you know, the horse has no experience. It was really a good confidence builder for him though, he did it really easy."
Takter first qualified Tactical Landing the week prior, but the horse made his characteristic break into the home stretch. Once back on stride, he was trotting his final sixteenth of a mile as fast as any trotter can possibly go. Regarding that break, "I didn't know the horse, I wasn't really ready for him. If I would have known the horse a bit more like I know him now I wouldn't have made the break last week either," said Takter."
Having come so far so fast in such a short amount of time, Takter smiled and shrugged when asked about the horse's Hambletonian prospects. "You know, you've got to play it by ear; see how he develops and go from there. I'm going to race him in an overnight at the Meadowlands not this week but the Friday after (which would be July 6, assuming a race is available). We'll start from there and see what happens. But speed-wise, he can do anything with anyone."
To be clear, even at this point winning the Hambletonian for Tactical Landing seems like it would be a stretch. But it's no longer out of the realm of possibility, and it would make for quite a story if the once lofty yearling could find redemption in time and in the process complete where his full sister Mission Brief left off from her own Hambletonian.
Hambletonian future wager
There's no possible way that Tactical Landing could have thought to be included as one of the 14 individual wagering entities in the first ever Hambletonian future wager pool that took place over last weekend. But had he been included on his own instead of being part of "the field," he probably wouldn't had been much worse than 10-1, if that.
This again would have required a decent amount of foresight, but the other notable omission from the first Hambletonian future wager pool is that of the 3-year-old filly, Atlanta. The Rick Zeron trained filly is easily the fastest 3-year-old trotter this year with a mark of a scintillating 1:50.3, and Zeron's gone on record as much by stating that taking on the boys in the Hambletonian isn't out of the question at this point. Unless Tactical Landing and Atlanta are explicitly ruled out of Hambletonian contention in the next three weeks, they should be listed as their own wagering entities when pool 2 starts on July 20.
Pylon rules come into play again
In a Ben Franklin elimination last week – one of the four sets of Sun Stakes Saturday eliminations contested at Pocono Downs – pylon violation chaos took place once again. I know this one has been discussed ad nauseam, but there is really no other rule that needs consistency across the board more than this one does. Even I – your resident expert in all things harness racing – have no idea what is a violation and punishment anymore.
In the third and final of the Franklin eliminations, heavily backed favorite Sintra was sitting third on the inside into the stretch and went inside two consecutive pylons deep in the passing lane. He finished a nose better than All Bets Off and a half-length better than Filibuster Hanover (a recent pylon violation subject himself). After an inquiry, the judges decided to disqualify Sintra for going inside two pylons in the stretch, but only placed him behind the horses that were within a length of him at the wire, resulting in a third-place finish and allowing him to still qualify for Saturday's $500,000 final
But here's where it makes no sense. If not for going inside the pylons, Sintra would have never gotten through to begin with! If you're going to say that he was guilty of a pylon violation – which he was – how could he not be anything other than disqualified to last.
I caught up with Sintra driver Jody Jamieson briefly after the race who as one would expect, was less than pleased and didn't agree at all with the call. The judges said that two horses can't both be in the passing lane, and Jamieson felt that he was pushed inside the pylons by Gingras' horse Filibuster Hanover who had first right to the passing lane coming into it from the pocket. The head-on replay does show Filibuster Hanover veering inside through the stretch, but Sintra had already been inside the first pylon by then all on his own. Of course, none of this would have occurred if Jamieson pulled the 3-5 favorite off the rail to begin with down the backstretch, but the disqualification to only third place remains baffling.
Sun Stakes Saturday quick thoughts
Simply put, Lather Up is monstrous right now. He lands an outside post 7 in the Max Hempt final in a field that's quite deep with contention, but does it matter when you're five lengths the best? As a potential outsider, Springsteen closed from a far way back last week in his elimination and he could be the beneficiary if they mix it up early on the front.
In the Ben Franklin, McWicked toyed with his elimination competition and couldn't have made a 1:48.3 mile look any easier; I'd expect him to jog at a short price.
I hate to say it, but in her Beal elimination last week Manchego was lucky to hang on and keep her perfect streak intact. Contenders Fourth Dimension and Alarm Detector both broke, Fiftydallarbill broke after being impeded, yet the filly barely held on over a fast closing Crystal Fashion. Six Pack won his Beal elimination although he'll now his most serious competition on the year. Perhaps the most impressive Beal elimination winner was the Ohio champion Mission Accepted who sprinted late up the inside once he found his best gear.
In the James Lynch, Youaremycandygirl held on for her elimination win and I'm still yet to guess right on her this year. Kissin In The Sand was impressive last week but now moves all the way to the far outside. Conversely, Sidewalk Dancer was used hard last week from the outside and now lands the rail; suddenly lands the role of morning line favorite for trainer Chris Oakes.