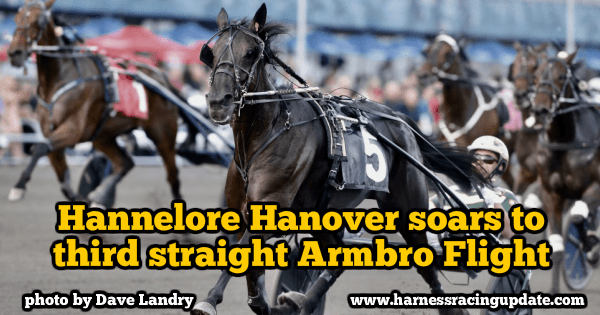 Three cheers and three straight Armbro Flight crowns for Hannelore Hanover
The reigning U.S. and Canadian Horse of the Year was on cruise control as she pushed her undefeated streak to six races.
story by Chris Lomon | quotes by Sandra Snyder
It turns out that winning the Armbro Flight is as easy as 1, 2, 3 for trotting titan Hannelore Hanover.
On a picture-perfect evening at Woodbine Mohawk Park, the hardware-hauling fan favorite added another high-profile trophy to her connections' coffers, taking the $250,000 final of the event for older trotting mares in 1.52.
Driven by regular reinsman Yannick Gingras and trained by Ron Burke, the reigning Horse of the Year in Canada and the United States notched her third consecutive score in the Armbro Flight in style, a polished performance that left her three and three-quarter lengths in front at the wire. Emoticon Hanover was second and Caprice Hill was third.
After seizing control early from Emoticon Hanover, Hannelore Hanover carved out fractions of :27, :56.1 and 1:24.3. From there, Gingras and the future Hall of Famer dashed away from their rivals with ease en route to the three-peat.
She paid $2.20 for the win.
"Right now she couldn't be any better," said Gingras of the horse bred by Hanover Shoe Farms. "She's sound, she's happy, I didn't even kick the plugs the last couple of weeks, she's doing it on her own. The more easy miles we can put on her now, we have some big races later on and maybe even some big plans over the winter."
"They might have to rename it the 'Hannelore Hanover,'" said part-owner Frank Baldachino. "What can you say? She's owned this race the last three years and she's just unreal.
"The North American fans, she has such a following now…even in Europe. My Twitter will be going wild tonight just from all the Europeans that text me and tweet me, trying to get me to bring her over. So, she's got some following. It's just great for the business and great for horse racing. It's really great to have a great horse."
And that's undoubtedly what she is.
Hannelore Hanover came into the final off another thoroughly dominant effort in her Armbro Flight elimination. Sent on her way as the 1-9 favorite, the daughter of Swan For All—High Sobriety took control after a :27 opening quarter and went unchallenged through middle splits of :56.1 and 1:24.2. She drew off at will down the lane to win by five and a half lengths in 1:52.
She's now perfect in four starts this year and came into the Armbro Flight final riding a six-race win streak stretching back to October. Her last defeat was in an Indiana Sires Stakes event last October at Hoosier Park when she finished second to Churita.
The six-year-old, owned by Burke Racing Stable, Weaver Bruscemi, Baldachino and J And T Silva Stables, now has 40 lifetime wins, along with 15 seconds and two thirds, for more than $2.7 million in career earnings.
Last year, Hannelore Hanover produced the fastest mile in history by a female trotter and bested male rivals in both the Breeders Crown and Maple Leaf Trot, received three Dan Patch Awards, including Horse of the Year.
In addition to being named Horse of the Year by the U.S. Harness Writers Association, Hannelore Hanover received trophies for Trotter of the Year and best older female trotter at the Dan Patch Awards banquet.
She also received the O'Brien Award for Canada's Horse of the Year in addition to getting her second consecutive award as best trotting mare.
Retirement plans for Hannelore Hanover are on hold, at least for now.
"Not at this part of the year, but towards the end of the year you never know," said Baldachino. "I think we're leaning towards extending her year a little bit, pick our spots and try to race her lighter and then go to France. Then spend a month in France, over against the European horses and see how she stacks up with the very best in the world."
The Armbro Flight is named after the Canadian Horse Racing Hall of Fame inductee, who was one of North America's most successful trotting mares of the 1960s. She set five world records, was voted Canadian Trotting Association "Horse of the Year" for 1964, 1965 and 1966 and won 51 of 65 lifetime starts from age two to four.
— with files from Woodbine communications