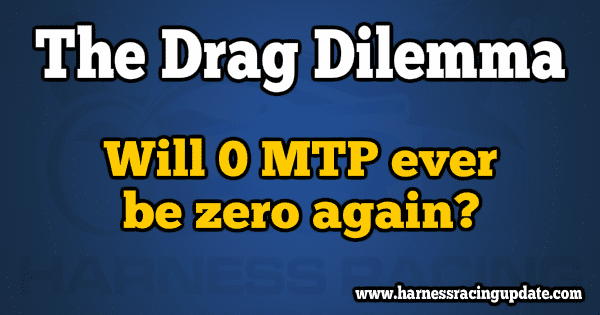 Dragging post times is one of the most disliked parts of harness racing, but when it leads to increased handle — and tracks are unwilling to cede control to a central scheduler — is there anything we can really do to have zero actually mean zero again?
by Dave Briggs
Many grumble about races that don't go off on schedule and cards that increasingly stretch further and further into the night across North America, but Cammie Haughton has more than half-a-million reasons why he believes dragging post times well past "0 minutes to post" is a great thing for harness racing.
In fact, the director of racing for Yonkers Raceway said he disputes the suggestion post-time drag — or not adjusting schedules to accommodate for a drag — is bad for the game or is driving away much-needed customers.
"You can't sit there and say that dragging past zero is chasing the customers away. I don't think so. I went from a $400,000 Saturday night to a million dollars. That's a $600,000 plus," Haughton said of his conscious decision to drag out the start of races at Yonkers many minutes past 0 MTP. "I've doubled our handle by doing this, so I'm not going to bad mouth it."
Further, Haughton said North American customers better get used to it, if they're not already.
"Everybody does it. There's not a track in the United States that doesn't drag past zero now. Not one," Haughton said. "I'm not doing this to hurt the customers. I'm doing this so the money can get in the pools and in order to get the money into the pools, you have to wait that long."
Meadowlands chief operating officer Jason Settlemoir said he strongly dislikes dragging post times, but he simply can't give away the betting dollars he feels are lost when races go off as close as possible to the scheduled time.
"The handle dropped, 10 or 15 per cent when we tried it. I just can't sustain that right now," Settlemoir said of his plant, which unlike much of its competition — including Yonkers — does not have alternative gaming revenue to help the bottom line. "I'm not a fan of the post-time drag. I think that it's counter productive, but, at the same time, we've started down this road as an industry. When Jeff (Gural) first took over at the Meadowlands they were going right on post-time, minus one, and without that drag the handle dropped. I had always told Jeff that the post-time drag would help handle and then we met one of the big bettors and posed the question to him and he said, 'Yeah, the longer that you drag past post-time, the more handle you're going to get.'"
Settlemoir said Yonkers is a clear example that dragging post times works.
"I think it's further evidenced in just talking about Yonkers and their success with the longer they are 'up on the bird', as we like to call it, stretching the races out. Once it's past zero, you see the handle go up and we've obviously experienced that at the Meadowlands. Northfield Park has experienced it and the other racetracks as well," Settlemoir said.
Northfield Park is credited by most as the track that first discovered that dragging post time led to handle growth.
United States Trotting Association CEO Mike Tanner said he's not a fan of dragging post times. When he was overseeing racing at Harrah's Philadelphia prior to working at the USTA, Tanner made sure the races went off as scheduled, "while trying to stay off the two or three signals that most impacted us. I thought it was the professional thing to do, but I've been told by others that I was leaving money on the table. Maybe I was. The drivers loved it, the trainers loved it, and the horseplayers didn't complain, but racetrack executives are under pressure to generate the most revenue for their respective employers."
Haughton said the strategy works at Yonkers because, "90 per cent of our handle comes from off track, so in order for that money to get through the hubs and get into our mutuel end of it, you have to wait. You have to have some time for the bettors or the people who are enthused about harness racing to be able to place a wager on the horses."
He said before he was named director of racing in January of this year, he studied how Yonkers was conducting its races and made notes about what he could improve.
"I watched the horses come out of the ramp at Yonkers, go around the racetrack maybe once, maybe twice. They were out there a total of three minutes, maybe four, and then right to the gate. How can money come from all over everywhere, Delaware, Pennsylvania, Florida… how can that money get into the pools with only two or three minutes of the horses on the track? It's impossible," he said.
Haughton also eliminated the passing lane, adjusted the position of the finish line, improved how the horses were televised to the bettors and encouraged drivers to get out and moving to make races more exciting. All are believed to have helped handle. Still, he said dragging post times has had the greatest positive impact on the betting dollars and his chief rival across the Hudson River agreed. Settlemoir said tracks see handle growth the longer they are simulcasting their races.
"I don't think it's earth-shattering news that if you used to be on the bird from 7 to 10 and now you're on from 7 to 11:30, you're getting more exposure," Settlemoir said.
"I think the downside is that the day or night gets stretched out so far that it's hard to keep people interested," Tanner said. "Also, if the drag is automatic and indiscriminate, it raises the possibility of too many tracks running on top of each other, with no rhyme or reason to it. That hurts everyone."
Rest of the world disagrees
Haughton and Settlemoir and others certainly have the numbers to suggest there may be a correlation between dragging posts and higher handle, but other countries would take issue with the notion that one can't have high handle and stay on schedule.
Some of the world's biggest harness racing jurisdictions — France, Sweden and Australia at the top of the list — strictly adhere to a schedule and still manage to take in bigger handle. For their biggest events, they still draw huge crowds and betting patrons are able to get their bets in on time.
"In Sweden, they say, 'You're going on post-time.' At 60 seconds, they put it on a clock and start dinging a bell. They make a sound over the speakers and then when it's post-time, those horses are at the gate and ready to go," Settlemoir said.
Hambletonian Society president and CEO John Campbell witnessed France's Prix d'Amerique in person this year and told HRU that the French are sticklers on time.
"When they put up post times for the next race, as soon as it's official, and there's a countdown clock right in front of the grandstand and also for the drivers to watch in the infield when they are parading and that's when they go," Campbell said.
He added that "it was a rude awakening for me, when I stopped driving," to watch North American races with his wife. Campbell found the card far too long to enjoy.
"I lasted four races and then I started complaining. She started laughing at me. She said, 'You lasted four, I've watched 40,000,'" Campbell said.
"Australians and some of the Europeans, especially, can't understand why we don't stick to listed post times," Tanner said. "That's always brought up at the World Trotting Conference."
In fact, Haughton said his reluctance to stick to the schedule has led Australia to stop taking Yonkers' signal.
"Australia was taking us and they said, 'We can't take you if you drag or don't go by our schedule.' Well, then don't take us, then. There's nothing we can do. I can't go by a set schedule," Haughton said.
"They jump right on top of you"
Haughton points to the fiercely-competitive nature of North American tracks as the reason sticking to a set schedule would not work in the current climate.
"When there's a set schedule, the Meadowlands, Northfield, Woodbine – they all jump all over you," Haughton said. "I direct these races every night and I'll be sitting in my office and I'll put, let's say, time up on the clock for our fifth race. Then I'm looking at the Meadowlands on the monitor and they go from seven minutes down to two minutes or three minutes and the clock doesn't even tick. They just come and jump right on top of you.
"It's the most amazing thing I've ever since in my life. And Woodbine, they go so fast that I can't even keep up with them. I don't know who's running that operation up there, but why don't they slow down? They'd have more money in their pools."
Haughton said he fares better on nights when Yonkers isn't going head-to-head with the Meadowlands or Woodbine Mohawk Park.
"Northfield and I have a good relationship. They'll go and then I'll go. Of course, we don't have the Meadowlands and Woodbine racing, it's just Northfield and us on a Monday and Tuesday night. (Northfield will) race and then I'll race. They don't jump on top of me. If they have an issue, they text me or call me, which is good. We have a good relationship.
"What I'm saying is that… it's dog-eat-dog. It's amazing."
Settlemoir said the only way the problem gets corrected is if all the tracks have the will to work together to avoid being on top of each other.
"The only way that it gets corrected is if everybody says 'We're going to do this together and go on post-time.' That's really the only way to get it corrected, is an industry-wide effort and initiative," Settlemoir said. "I have put together a few phone calls since the beginning of the year with some racetrack operators in trying to peel this back a bit, to get closer back to zero. There were a few racetracks that participated regularly and there were a few racetracks that were on the initial call, the first time, that were not able to make it on the call again. I don't know, quite honestly, how big of a priority this is for the industry."
Haughton said he was on Settlemoir's initial call, but he said before a cooperative effort would work, the Meadowlands would have to lead by example.
"Jason Settlemoir set up a meeting for all of us to get together for these post-time drags and what have you, but… how could he be organizing a meeting when I'm standing at Yonkers trying to stay away from the Meadowlands and then two races later he's right on top of me?"
The issue is further compounded by the fact harness tracks are trying to stay off handle-sucking thoroughbred tracks on the west coast that are sometimes still going just as standardbred races are starting. At the same time, tracks like the Meadowlands are trying to drag late enough for Cal-Expo to come online so the Big M can benefit from bets from patrons in California.
It's a delicate dance, Settlemoir said.
"When it's 10 o'clock on the east coast it's only seven o'clock on the west coast and if you don't hit that sweet spot, then your on-track people start to leave. I call it 'The Witching Hour' at the Meadowlands, between 10 and 10:30 p.m., when these people on-track start to leave from live racing," Settlemoir said. "You're getting 20 per cent on track and you're getting 3.5 or 4 per cent off track, but your on-track people have all left, so then you have to handle five or six times off track than what you would do on track to recoup that revenue from people that have left. It's a double-edged sword and, to me, it's counter productive. It's not going to change unless the industry gets behind it and says, 'We care about our customers.'
Independent, master scheduler
If staying off each other's races is a benefit to everyone, perhaps putting someone independent in charge of being the master scheduler for all the big handle tracks would help increase handle for all.
The Jockey Club is currently trying to do just that in the thoroughbred game. In 2011, it commissioned McKinsey & Company to do a comprehensive economic study of thoroughbred racing called Driving Sustainable Growth for Racing and Breeding. Jockey Club executives concluded substantial handle could be gained by having a master scheduler coordinating all racing.
Jockey Club President and COO Jim Gagliano is trying to advance the project. He told Charles Hayward of Thoroughbred Racing Commentary (full story here), "Obviously, any advancement of the concepts… discussed requires a degree of cooperation and communication among the principals for this issue — the racetracks. Our role is only to facilitate the process, which we are pleased to do."
In the harness game, the USTA is the logical choice to take on such a role.
"I agree with the theory," Tanner said of having one person coordinating post times to avoid having the big tracks on top of each other, "but it would take a commitment from all the tracks to abide by a commonly-determined schedule, which I don't think is likely. We can talk about it, but in the end, the USTA does not have the autonomy to mandate a schedule. We can bring people together to discuss certain issues, and we do, but our influence is limited."
Campbell, who has done much work on trying to achieve universal rules across jurisdictions, said it is a longshot that everyone would work together on post times now.
"We are at the mercy of the track operators," he said. "I understand with the drag that it's become a culture and it's not going to change. The racetrack operators know if they go back to when the post time really is and it's a hard line, it's going to cost them a lot of money. Nobody is willing to give that up at this point."
Haughton agreed with Campbell on that point, saying a central scheduler, "sounds good, but I don't think that's going to happen because everybody is fighting for their handle. There's a horse shortage and it's not a good thing."
0 MTP, yet no horses on the track
Regular customers have become used to the drag, of course, but what is particularly egregious is when the clock reads 0 minutes to post and horses aren't even on the track.
Haughton said that happens when tracks are, "looking to get in between somebody. You need that time. It's not easy to adjust your time to get in between other racetracks. You have to wait until they are done, then I'm watching Northfield, watching them like, 'Go, go, go', so I can get in between them.
"I beat my brains out every night trying to get in between everybody. It's not easy."
On the other end of the spectrum, when it seems like horses have been on the track for an eternity before going to the gate, Haughton said there is a limit to how long one can realistically drag past post time.
"You can't have those horses out there twirling around at 15 minutes past zero," Haughton said. "That's not good for the horses and you just can't do it. I have a set number that I go by and I don't go past that… the starter, myself and the drivers…. everybody at my facility knows that number and I don't go past it."
That, increasingly, has become the game. At the Meadowlands, one of the infield clocks shows the true minutes to post. Also, many tracks like the Meadowlands have a countdown clock that starts when there is really a hard minute to post. Those in the know adjust accordingly.
A shrinking world and need to find new markets may also help shrink the post time drag in the future.
"The sport is becoming increasingly globalized, so distribution is essential, and anything that gets in the way of that is problematic. As international handle continues to grow, it may have the potential to exert pressure to bring about change," Tanner said, though he cautions readers that full-card simulcasting has been around for some 25 years and for almost that long some people, "have lamented the lack of an industry-wide post time schedule… If I'm running a racetrack today, I have to ask myself if, by giving up control over post times to a third party, am I more likely to realize increased revenue?"
During the Slots at Racetracks Program (SARP) era in Ontario, the Ontario Racing Commission insisted all of the province's tracks go to post at the scheduled time, but when SARP ended and betting handle became essential to the bottom line, the Woodbine Entertainment Group (WEG) led the charge to drag post times to increase handle, rendering the scheduled post times at many Canadian tracks the same as its U.S. counterparts — a vague guide at best and a complete fabrication at worst.
Settlemoir said that if the Meadowlands gets expanded gaming that helps the bottom line, he would try to convince Gural to go back to a post time much closer to the one scheduled.
"If maybe some day we had some additional revenue, to where we're making some money and Jeff is not having to write these purse account checks — because this is one of Jeff's pet peeves as well — I could probably talk Jeff into trying it ourselves," Settlemoir said. "I'd get no greater satisfaction then to be able to go back and do this on our own and come out a winner."
As the industry handle leader, the Meadowlands then might force other tracks to follow suit to avoid them.
"I love the idea, but I'm scared to death because I don't have the revenue right now. I'm scratching for every single dollar we have," Settlemoir said. "It would be a great cause to show that the flagship racetrack in our industry is going to go back to getting these races off on time… but, as I said, if it's not an industry-wide initiative, then we lose."
Tanner then offered a simple, yet somewhat radical, solution.
"The simple solution is to cease betting at one minute to post, but no one does that, because the fear is that handle will go down and that it will be transferred over to another signal that allows betting until the horses leave the gate. And having run a track, I get it. You can't afford to lose market share because the margins already are very thin. So there's risk, and the first one through the wall always gets bloody. But depending on who you talk to, maybe there's more risk in doing nothing."