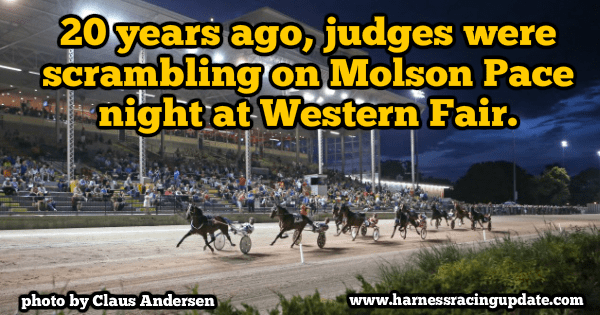 Molson Pace 1998: The worst hour ever in a judges' booth
20 years ago, the judges were scrambling on Molson Pace night at Western Fair Raceway.
by Jerry Connors
Foreword: The author inquired throughout much of Ontario to find the names of the three people featured in this article, but their identities were not forthcoming. Nonetheless, the dedication and hard work of these "Three Unknown Judges" are not diminished.
Western Fair Raceway in London, ON was having a great night through the first five races on May 29, 1998, its biggest night of the year, with its annual Molson Pace and a big Ontario Sire Stakes final still to come.
But then came the most hectic, perhaps most infamous hour in a judges' stand, certainly in modern times, and maybe forever, in terms of the sheer "judging" that had to be done.
The sixth race was a group of very good preferred pacers gathered for a $4,200 purse. Cosmic Cam, who would go on to be a winner of over $288,000 (and, no surprise, was a Cam Fella ridgling), was parked past the :28.2 quarter by the odds-on pole horse Recross, then made the top. Settling in third was Sydney Sue from post three, followed by Spring Fortune from post eight – which, we remind everybody, trails the one-hole at London, since the track scores seven-wide. (That's important info for two upcoming races, too.)
Before the half Spring Fortune came out uncovered, to be trailed by a parked-the-mile Kassa Royale. Second choice Cloud Laag elected to sit in behind them, as did Sydney Sue in front of them, nearing the :58.3 half. Down the back, Spring Fortune continued his grind, while past the 1:27.4 3/4s Kassa Royale faded, which interested both the drivers of Sydney Sue and Cloud Laag, who were straining for room. Entering the lane, Cloud Laag got to the spot just before Sydney Sue – but Sydney Sue continued outward and onward, Cloud Laag getting an "i" after the stretch call.
Through the stretch, Cosmic Cam maintained a length margin over Spring Fortune to win in 1:58.1. And then came the first red neon of this sequence — Sydney Sue photoed out Recross for third, but soon drew the blink of her number on the tote board. The judges were put to work here, and after review they found that Sydney Sue had taken racing room from Cloud Laag, and was placed last.
A very close race among competitive horses, and the judges had to make a call.
Piece of cake compared to what was coming up.
Race seven was a $100,000 Ontario Sire Stakes Championship for the glamour boys, the three-year-old pacing colts, with a pair of $500,000+ career winners, Northern Dynasty and Superstar Killean, drawing the most attention, and in that order. (Third choice, and third finisher, was Seymour Butts.)
It was a nine-horse field on a seven-wide track, and Northern Dynasty drew seven and Superstar Killean drew eight – which was a huge edge for Superstar Killean, because remember the eight hole trailed the pole horse, in this case the speedy High Rent District. Northern Dynasty's "lucky" seven was the extreme outside.
With his big favorite in a terrible spot, driver Paul MacDonell knew he had to gain some kind of early position, and settled for third horse in the outer tier at the :27.2 quarter, with High Rent District giving no quarter to the parked-raw Dex Appeal and Noble Intent in the "one-and-one," as they say Down Under, and Syperstar Killean tight in the pocket behind pacesetter High Rent District.
The battle raged on through the :56.1 half, and when Dex Appeal was finished, Noble Intent moved three-wide – but also stalled. MacDonell didn't hesitate to send his charge four-wide down the backstretch, reaching second by the 1:25.2 3/4s, rocketing right on by, and opening three lengths to the eighth pole.
Superstar Killean, meanwhile, was trapped in the pocket while Northern Dynasty made his giant sweep, and his driver, the colorful Ray Schnittker, was probably inventing new combinations of old Anglo-Saxon words as he sat raging with pace. Finally the "Superstar" could be given his head with clearance, and every step of the London stretch he cut into Northern Dynasty's lead, and at the 1:54.4 wire it was – oh, I don't know, it was too close to call!
Pan again upward, where the judges had to inspect a most important photo, a $100,000 race and all. After deliberation, they decided that those who looked for any degree of separation between Northern Dynasty and Superstar Killean would not find it in the sliver of light crossing the filmstrip, and the red neon DEAD HEAT sign was lit, setting off a round of wildness down below.
Two major events for the judges in consecutive races – they could use a breather. And they got one in the eighth race, where Unique Beauty wired a nw2 field as the 6-5 favorite in 2:02.1. Incident-free.
Then came the ninth race. The OSS race may have been richer, but most local racing fans focused on this race, the Molson Pace, which usually was Western Fair's brightest moment at that time, gathering, as it did, the very top horses from both the local area and all the way to Toronto. (The 1975 edition of the Molson Pace was won by Derby's Gent, the first 2:00 mile ever at London, Derby's Gent was trained and driven by a 19-year-old localite who had fixed the broken bridge of his glasses with masking type – and yes, those maroon and white colors would become a bit better known over the years.)
From the moment the starter said, "Go!", the race was destined for history. Jump Up defended his post one spot to best advantage, as did One Eighty, starting from that trailing post eight. This meant that Ooh's 'N Aah's, starting from post two, could not get over to the rail despite extreme early jet – and that 11-10* Emery Flight (post three), driven by the great master, Keith Waples, found themselves in a spot that Waples may never have seen before, gaining a 1oo call at the 27 quarter.
Things settled for a couple moments, with Emery Flight and Ooh's 'N Aah's finally crossing over to the 1-2 spots on the rail, but it wasn't long before Jump Up, who had pushed the quarter, was back out on a daring challenging move, with One Eighty quickly filling the second-over spot behind him at the :56.4 half, Smile As You Go also moving to the outer tier.
The order hadn't changed much by the 1:25.3 ¾ pole, but it sure as heck changed right quick after that.
Smile As You Go, sensing the weakness of the outside horses in front of him, launched himself three-wide at the 3/4s, and his sweeping momentum was carrying him down to two-wide nearing headstretch – that two-wide spot just off Emery Flight that pocketsitting Ooh's 'N Aah's was quickly covetous of. Just as happened an hour earlier, one horse officially beat the other horse to the spot – in this case Smile As You Go was judged in the right, and Ooh's 'N Aah's eventually in the wrong.
With the half-mile pole two-wide group of Jump Up (tired), One Eighty (blindswitched out of it), and Smile As You Go (bothered) a bit compromised, it seemed like it was going to be a battle between the $1 million winning (and $1 million-producing) mare and the chalk – but nobody gave a copy of that script to railhugging pacers Any Excuse and What A Beach, who were now able to swing for clearance and had a tankful after the wild battle up front.
Ooh's 'N Aah's managed to trip the beam first, by three-quarters of a length, in 1:55.2. Behind her – it was impossible to tell: Emery Flight held gamely, and Any Excuse and What A Beach had super last eighths to be less than a length off on the money.
A judges' booth's worst nightmare: a really-close photo among three horses, and a possible interference judgment in the track's most anticipated race of the year. Those owning stock in the local neon-producing company were having a banner night; thus far there had been photo (for 2nd, 3rd, 4th)-inquiry-official in race 6; photo-dead heat-official in race 7; official in race 8; and photo-inquiry in race 9.
I obviously was not in the Western Fair booth that night, but when I have seen a photo and an inquiry in the same race, usually one judge handles the photo duty, while two review the possible incident over and over. Usually the "inquiry judges" have the tougher job, talking to drivers, and watching videotape from several angles, but this night the "photo" judge must have had it equally bad, because try as she or he might, print after print, the judge was not separating the "2nd, 3rd, and 4th"-place horses. Finally, doubtlessly after consultation with the other judges, a verdict was rendered – a triple dead-heat for second. (More neon!)
But was it for second? No! The staff deciding the alleged interference found reason to take down Ooh's 'N Aah's number, placing her sixth behind Smile As You Go (who despite his problems was beaten only 1 ¾ lengths) – meaning that that "DH2-DH2-DH2" call, a very rare bird indeed, had just become a unique species: "DH2pDH1-DH2pDH1-DH2pDH1"! Western Fair Raceway had just recorded the 19th triple dead heat for win since the first at Freehold Raceway in 1953, but more magically, it had recorded the first-ever, and still unique, "triple DH2 – placed – triple DH1" OFFICIAL (final neon) finish in a harness race!
For the record, the three winners of the 1998 Molson Pace were Emery Flight (11-10, driver Keith Waples), Any Excuse (13-1, Dennis Morrissey), and What A Beach (longest shot at 18-1, Mario Baillargeon – who had been at the heart of the first trouble when it was his horse who was interfered with in race 6!). And perhaps, along with the exhausted judges' booth, a thought should be spared for the tote room, who, after all was finally settled, had to wipe clean a preliminary order of finish and then recalculate on a placing and a triple dead heat.
Eventually … FINALLY … the card would be over, and … I don't know the recreational habits of the three judges … but if they enjoyed a cold adult beverage after a trying day, at least there should have been plenty of Molson beer awaiting them after the races!
Postscript: two years later in the Molson Pace, there was ANOTHER DEAD-HEAT FOR WIN – second-over Windsong Flyer (Ken Duncan) was just up to tie his covergiver Laag Text (there's that Mario Baillargeon again!), with Artistic (Ray McLean), who suffered an "ix" early, just a nose off repeating the triple-dead-heat situation!