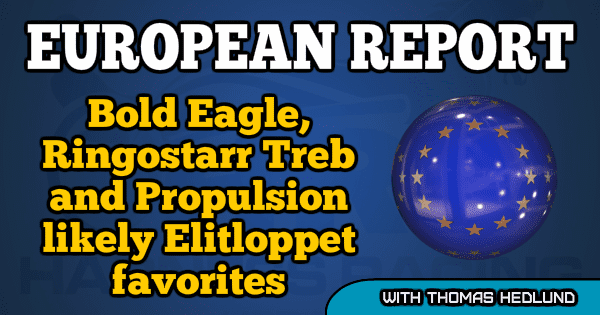 Bold Eagle, Ringostarr Treb and Propulsion likely Elitloppet favorites
Ten countries will be represented at Solvalla in Sweden on Sunday's in the 2018 edition of one of the world's greatest trotting events.
by Thomas Hedlund
The field is set for Sunday's Elitloppet at Solvalla Racetrack near Stockholm. Sixteen horses from 10 countries will chase fame and victory in one of the world's greatest mile races for trotters. The purse for the final is $685,900.
Three horses are named as favorites in this year's Elitloppet — French bred Bold Eagle (Ready Cash), who was outstanding in his Elitloppet elimination last year, has shown great condition during the spring and trainer Sébastien Guarato has made his plans to succeed in this year's event.
Guarato was close to the victory in 2011, when his gelding Rapide Lebel was runner up behind Brioni in the final of Elitloppet. Bold Eagle must be considered the horse to beat on Sunday.
Behind him, Ringostarr Treb (Classic Photo) and Propulsion (Muscle Hill) are the toughest opponents and the two horses will fight each other in the second of two eliminations with the Italian-bred Ringostarr Treb getting the better post position (1).
Ringostarr Treb comes into the Elitlopp off a victory in the Olympiatravet and trainer Jerry Riordan knows how to put the horses in best of shape with big races approaching. In Ringostarr Treb, Riordan has his best chance to win the Elitloppet, so far, and driver Wim Paal has a lot of experience driving in high class races around the world.
Propulsion is the home team's hope in the Elitlopp 2018. The Swedish-based 7-year-old son of Muscle Hill is the fastest trotter in Europe (1:49.2) and after a tough winter in Paris where he finished third in both Prix d'Amérique and Prix de France, trainer Daniel Redén has targeted a more cautious path for his horse. Propulsion looked splendid when he won his last preparation race at Solvalla in 1:52.2 from outside the leader.
The meeting of Elitloppet starts this afternoon (Friday), continues with big races (Sweden Cup, Harper Hanovers race and finals in V75) on Saturday and on early morning Sunday, the party is on for all the harness racing fans who gather around the track in Stockholm.
Post time for the first Elitloppet elimination is scheduled for 9:22 a.m. (EST) Sunday (3:22 p.m. Stockholm time). The second elimination is scheduled for 9:49 a.m. (EST) (3:49 p.m. Stockholm time) and the final is scheduled for 11:38 a.m. (EST) (5:38 p.m. Stockholm time).
Elitloppet

Elimination 1 ($45,700)
Horse – Driver – Trainer – Country
Dreamoko – Björn Goop – Richard Westerink – The Netherlands

Rajesh Face – Lutfi Kolgjini – Lutfi Kolgjini – Sweden
Lionel – Göran Antonsen – Daniel Redén – Norway
Volstead – Stefan Melander – Stefan Melander – Sweden
Bold Eagle – Franck Nivard – Sébastien Guarato – France

Maori Time – Todd McCarthy – Brent Lilley – Australia
Takethem – Steen Juul – Steen Juul – Denmark

Up And Quick – Jorma Kontio – Antoine Lherete – France
Elimination 2 ($45,700)
Horse – Driver – Trainer – Country
Ringostarr Treb – Wim Paal – Jerry Riordan – Italy
Cokstile – Lars Anvar Kolle – Jan Kristian Waaler – Norway

Orlando Jet – Rudolf Haller – Rudolf Haller – Austria
Propulsion – Örjan Kihlström – Daniel Redén – Sweden
Nadal Broline – Ulf Ohlsson – Reijo Liljendahl – Finland

Pastore Bob – Johan Untersteiner – Johan Untersteiner – Sweden

Uza Josselyn – Erik Adielsson – René Aebischer – Switzerland

Amiral Sacha – Gabriele Gelormini – Florent Lamare – France