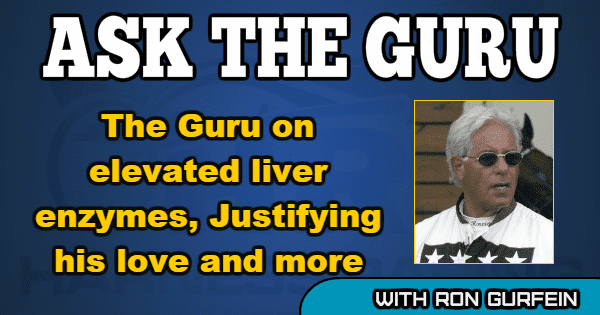 More on the Hall of Fame, thoughts on elevated liver enzyme levels and my take on whether Justify will prevail in the Triple Crown
by Ron Gurfein
Ralph Paul asks: You have had an ongoing banter with Murray Brown about both your suggestions on altering the screening process for new inductees to the Hall of Fame. Can you fill us in on the decisions you have arrived at?
Unfortunately Murray and I are at separate ends of the table. I will say, his latest proposal (full story here) is an improvement over his previous efforts, but in his mind the harness writers are more cognizant of the issues at hand than Gurfein, Lachance, Campbell and Brown.
I will not get into a war over this because to me it's just an opinion and not worthy of fighting over, although I will add that I think his reasoning is a bit weak.
My entry to the Hall was delayed a year because my good friend Carl Allen passed just before the voting and the writers thought it would be a great idea to have a write in and get Carl in immediately and threw me under the bus. I was for Carl's induction but not at my expense. If they were to do it right they should have conjured up a way we both could be enshrined the same day.
I will never forget the look on poor Gordon Waterstone's face when he went to dinner with me and told me this ludicrous story. I really think my friend was more upset than I was. Remember one thing about the Hall of Fame, if you have done enough to be considered than you have created more in your life than most and should be rather comfortable in your own skin and not really care about public opinion. I am not saying I wasn't hurt, but nothing like devastated. Angry at the stupidity of the system was a more realistic way to put it.
The basic difference between the Brown doctrine and mine are the harness writers. My feeling is that they are capable but not capable enough compared to the living Hall members. Doing whatever we did to become a part of this select group was definitely not an easy task. It took hard work, long hours and family sacrifice.
Let's say it is a kind of club like The Young Presidents, we should decide who belongs not a guy in Iowa that has been to the Surrey races a few times.
Look at the voting for Horse of the Year when some inconsequential horse gets votes that don't even come close to reality. These are the people that Murray wants deciding HOF members.
I get a bit crazy on this subject so I will end the rant right now. Murray and I agree that the system is broken and we must fix it one way or the other.
I do want to point out that there are many highly intelligent harness writers, many of which have been my close friends through the years. It's not them that my opinion is directed at, it's the ones that just don't care.
Chuck Foster asks: Could you shed some light on why so many horses these days are having issues with elevated levels of liver enzymes and what do you recommend to do about it?
It's no shock to me that there has been a spike in the elevated levels of liver enzymes. There are more reasons for this to happen than you can imagine, but a few are very obvious to me. The three most logical are blood doping, designer drugs and over training. The new horseman is obsessed with building blood to get more oxygen to the horse's system. The cheapest way to do this is overdoses of iron, which will, unfortunately, raise the equine's levels immediately. Administering drugs of any kind that the body is not accustomed to will overwork the liver and have a similar effect. Over training, which is basically a new method, will also produce the same deleterious effect.
The best way to get the numbers to return to normal is, for one, STOP what you are doing, remove all drugs and additives from the horses regimen and go to light exercise. Along with this switch to a very low protein feed and plain hay. You may also add a supplement of amino acids. Of note is that these high levels are usually insignificant unless the horse displays severe discomfort or other abnormal reactions.
Paul Cosgrove asks: Now that you have successfully picked the winner of the first two legs of the Triple Crown, what are your feelings going forward?
I just read on Facebook that my friend Mr. Brown has determined that Justify has lost too much weight and has no chance at winning the Belmont. As a matter of fact, he is willing to book all the action on him.
Obviously, this ensures the fact that he will win the Triple Crown. Some people are just born negative. After the great race in the Santa Anita Derby, he didn't win by enough off cheap fractions. So he came back and won the Derby — again too slow, should have won by more. Now he wins the Preakness in a quagmire after a stinging first panel in 23 seconds and with a not so bright jockey (Jose Ortiz) pushing him 7⁄8 ths of a mile and still drew clear of the main rival. Did he have a right to be tired? Of course. He is too fast and too talented to lose to any of the nondescript horses that have been chasing him. Barring any unusual occurrence, he will crush the Belmont field in two weeks. And he will pay as much as he did in the Derby.
I received this question a while ago and thought it was appropriate to answer now. Howard Pearce from Ontario asks: TV ads have started for the Kentucky Derby and the thoroughbred Triple Crown which reminds me how difficult it is for harness racing to generate interest in its Triple Crown. Network television has modest interest by showing the Hambletonian, but we took two steps backwards last year by having a poorly produced show and the unfortunate DQ. What can we do to promote our Triple Crown?
First of all you are comparing apples and oranges. Our show is an excellent production created at little cost by amateurs that in my mind are pretty damn good.
On the other hand, the "professionals " that produced the first two legs of the thoroughbred Triple Crown were highly paid and, in my opinion, pathetic. Their show is too long and totally boring. The sad thing is there are some very good thoroughbred announcers that were eliminated from their broadcasts. Tom Hammond and Mike Battaglia are two very erudite guys when it comes to racing and instead of them we get a repetitive group that keep telling us the same thing in different ways.
Our announcers are on the low end of the pay scale. I know all of them and they live eat and sleep our sport, and for you to say it is a poor production is ludicrous.
As for what we can do, the answer is not much until we can find a way to attract sponsors as we had in the '90s with Cadillac. Sponsorship pays for air time and until we get that help we must be happy with cable stations. Two of our Triple Crown events are raced in heats and that means more air time and complicates the situation even more.
Thank you to all my readers for your continued support. Asking me questions on Facebook is fine but I prefer email. Since the Belmont discussion is over I will turn to questions about how the 2-year-olds look as they return to the races. So far, my Hambletonian choice, Wolfgang, and Oaks choice, Manchego, have sparkled.
Please send some more horse related questions. Have a wonderful week.
Have a question for The Guru? Email him at GurfTrot@aol.com.