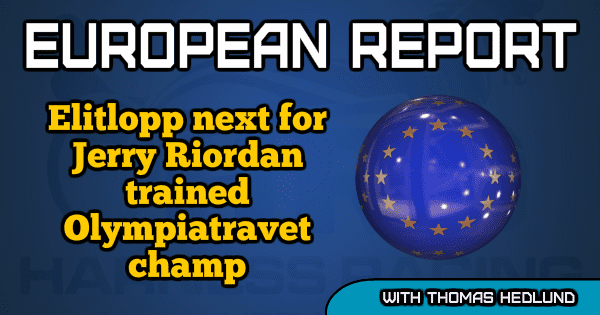 Ringostarr Treb impressive in Olympiatravet
Next stop, the Elitlopp for the Jerry Riordan trainee who won Saturday in a mile rate of 1:52.3.
Jerry Riordan-trained Ringostarr Treb (Classic Photo) got a well-deserved invitation to the Elitloppet shortly after winning the $345,000 final of the Olympiatravet at Åby racetrack in Sweden on Saturday afternoon.
The 8-year-old trotter more or less outclassed his opponents in the race after a quick start for driver Wilhelm Paal. Ringostarr Treb kept the pace at a mile rate of approximately 1:52.3 throughout the whole race and it was the first three horses out from the rail that won the medals in Olympiatravet.
4-year-old Giveitgasandgo (Yankee Glide) sat behind leader Ringostarr Treb with Italian-bred and French-trained Titty Jepson (Varenne) behind him. Cruzado dela Noche left three wide after 5/8ths of a mile and got On Track Piraten and Lionel ahead of him with two quarters to go.
With the fast pace in the race, horses that tried three wide never got really close to the leading trio, except for Lionel, who was placed outside the leader in the last turn.
The winning time over 1.3 miles is an incredible mark, even for elite horses.
"He's just a top class trotter, a horse that everyone should have in their barns. He can leave fast, he can come from behind and the tough meeting in Paris last winter made him strong for this type of race," Riordan said.
Ringostarr Treb hadn't raced since the Prix de France at Vincennes in February. He received an invitation for Olympiatravet early this spring. Last year, Ringostarr Treb finished second in the Hugo Åbergs Memorial and won the Sundsvall Open Trot, both races in Sweden. As it looks for the present season, considering this victory in Olympiatravet, Ringostarr Treb should have a great year on the tracks.
"Probably I will take it easy until the Elitloppet. Of course I had positive thoughts about my horse before the race today and the way he did it impressed me. But as I said, Ringostarr Treb is a top class horse and I'm happy that he is in my barn," Riordan said.
Result Olympiatravet 2018
Horse (Driver/Trainer)
Time – Earnings in dollars
Ringostarr Treb (Wilhelm Paal/Jerry Riordan)
1:52.3 – $172,900
Giveitgasandgo (Erik Adielsson/Frode Hamre)
1:53,2 – $80,695
Titty Jepson (Örjan Kihlström/Vincent Lacroix)
1:53,3 – $37,465
Ultra Bright wins Lovely Godvias Minne
In the $69,000 Lovely Godivas Minne for 5-year-old mares at Åby racetrack, Ultra Bright (Zola Boko) and Fredrik Persson controlled the field in front and won in a mile rate of 1:56.2 over 1.3 miles despite being seriously challenged by Double Exposure (Donato Hanover), who was parked outside during the race's last 5/8ths of a mile.
Ultra Bright won one of the biggest races for 4-year-old mares, the Stochampionatet, last year and it seems like the Zola Boko mare has improved and developed the necessary requirements needed to take on the elite trotters in Europe..
Other results at Åby
Åby racetrack had a great meeting with two racing days containing several top horses. On Friday (April 27), the eliminations for Kungapokalen and Drottningpokalen were held for the 4-year-old trotters and Hambletonian winner Perfect Spirit was one of the winners.
Örjan Kihlström drove the Daniel Redén-trained Andover Hall son and placed him in front after a bit more than a quarter into the race. Enterprise (Chapter Seven) followed behind the leader and held to place third and advance to the final later next month.
The two Pokal-races are scheduled at Åby on May 12 and Perfect Spirit will the begin from post 1 behind the gate over 1.3 miles.
Three eliminations were held last Friday and Breeders Crown winner Lucifer Lane (Infinitif) and Italian-bred Velvet Gio (Nad Al Sheba) won the other two races.
Among the mares, Roger Walmann-trained Dibaba (Ready Cash) impressed a lot when she won her elimination in mile rate 1:57.3 for Örjan Kihlström.
Up And Quick wins in France
Up And Quick (Buvetier d'Aunou), the Prix d'Amérique winner from 2015, won the Criterium de Vitesse de Basse Normandie in Argentan, France on Saturday afternoon in 1:53.4 over one mile.
Franck Nivard drove the 10-year-old stallion, but the duo weren't first at the wire. Romanesque and Dominik Locqueneux won by a nose, but the judges at Argentan were not to pleased by the gait of Romanesque and decided to disqualify the 8-year-old son of Love You.