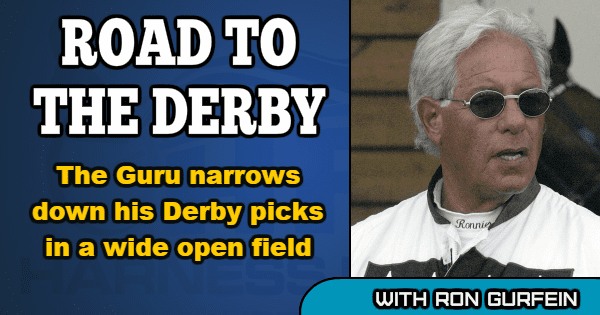 Road to the Kentucky Derby
Narrowing down my picks in what appears to be a wide-open Derby field.
by Ron Gurfein
This may be the most interesting Kentucky Derby in years. On the first Saturday in May we will see two undefeated colts and a world traveler compete at 1 1⁄4 miles with 17 others for the most coveted prize in racing. I personally can make a case for 14 of the top 20. What an amazing betting race this will be.
Todd Pletcher leads the entry pack with four in the eligible 20-horse field — Magnum Moon, a more than impressive winner of the Arkansas Derby; undefeated Audible, the dream trip winner of the Florida Derby; Noble Indy, the Louisiana Derby champ and Vino Rosso, the Wood Memorial Victor.
Bob Baffert has undefeated Justify, who was victorious in the Santa Anita Derby and Solomini, a colt that hasn't returned to his fine two-year-old form.
Dale Romans also has two in Promises Fullfilled and Free Drop Billy.
Other horses that could end up in the winner's circle, obviously some more likely than others, include: Chad Brown's Good Magic, Mick Ruis' Bolt d'Oro, Aidan O'Brien's Mendelssohn — who was more than impressive in the UAE Derby — Rodolphe Brisset's Quip, Keith Desormeaux's My Boy Jack and Bill Mott's Hofburg.
One interesting note: the two undefeated colts, and two that of this writing I like the most — Justify and Magnum Moon — are bucking a very old hex. No colt since Apollo in 1882 has ever won the Kentucky Derby without having raced at two.
We still have two weeks to go and it's a long wait for the connections as so many unexpected pitfalls await. These horses are much less rugged than our standardbreds and it seems like every year a contender has something go awry during the last few days before post time.
Thoroughbred trainer and restaurateur Carlo Vaccarezza and I had a long discussion about our thoughts on the best Derby horses and to say we differ would not be erroneous.
Vaccarezza likes Vino Rosso, but to me the only worthy point he makes is he is bred to go the distance and that John Velasquez took off Audible, a colt I liked till Johnny V bolted and asked to ride Vino Rosso.
Vaccarezza is good friends with Vino Rosso's owners, Vinnie Viola and Mike Repole, and the colt has a Italian name. That means nothing to me. He also noted that he liked Mendelssohn a lot but didn't think he could beat Vino Rosso because he traveled way too much at this point in his career. Mendelssohn raced at Del Mar in California, Dundack in Ireland, and then Dubai and back to the U.S. for the Derby.
I, on the other hand, love Justify. I love his presence, his gait and his manners. Vaccarezza said, "Justify will not hit the board."
Interesting note how much the Derby this year reminds me of the Hambletonian. Muscle Hill and Chapter Seven will represent half of the top 10 entrants as Scat Daddy and Curlin have sired five of my top 11 contenders and 30 per cent of all 20 eligible colts.
As most of the colts have recently raced, there have only been a handful of workouts. They are listed below, however none will knock your socks off.
Promises Fulfilled 4/14 4f 49b 13/36
Audible 4/20 5f 101.4b 1⁄4
Hofburg 4/15 4f 49b 2/11 Noble Indy 4/20 6f 115b 1⁄2
I will give you all the workouts as well as jockey, trainer and owner quotes next week when there will be a lot more action.
To all my Ask The Guru readers, please keep the questions coming in. I would like some questions you have on the Derby, Oaks, Hambletonian, Meadowlands Pace, and the North America Cup.
Have a wonderful week.
Have a question for The Guru? Email him at GurfTrot@aol.com.