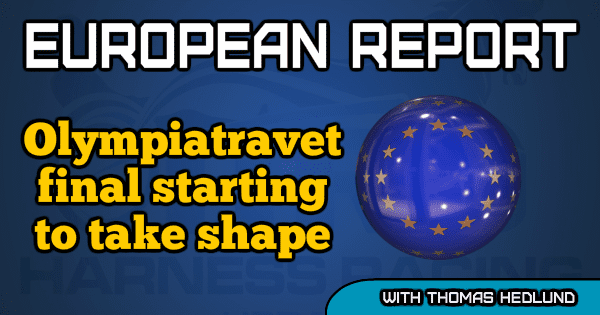 Two new horses ready for Olympiatravet
by Thomas Hedlund
The third elimination for Olympiatravet was held at Jägersro racetrack in Malmö, Sweden on Saturday afternoon and while the race was rolling, a wild card was announced.
Johan Untersteiner won with his Day Or Night In (Muscle Hill) in Malmö, while Jerry Riordan-trained Ringostarr Treb, winner of the Sundsvall Open Trot in 2017 and a participant in the Prix d'Amérique this year, got his invitation for Olympiatravet.
Norwegian born Lionel, trained in Sweden by Daniel Redén, won the 2017 Olympiatravet with owner Göran Antonsen in the bike. Earlier this year, the duo received a wild card for the 2017 Olympiatravet.
In Malmö, Day Or Night In opened quickly for the lead and got early company from Dante Boko on the outside. The two favourites fought side by side in the race's last 5/8ths of a mile, but it was Day Or Night In who had most of the power in the home stretch and won in a 1:55.2 mile rate over 1.3 miles. The 6-year-old son of Muscle Hill came to Jägersro after a brilliant performance in Halmstad on April 2. That day, Day Or Night In won in 1:52 (fastest time in Sweden so far 2018) and Untersteiner now have to focus on the final of Olympiatravet at Åby Racetrack in two weeks.
On Track Piraten, Zenit Brick, Day Or Night In, Lionel, Takethem and Ringostarr Treb are all in the race at Åby on April 28.
Enterprise wins in Sweden
Enterprise (Chapter Seven) raced for the second time in Sweden last Wednesday and came out a winner. At Bergsåker racetrack, the 4-year-old kept the lead from post one behind the gate and with strong opponent Transcendence on the outside throughout the whole race, the battle became a spectacular scene, with two horses struggling far ahead of the rest of the field. The mile rate over 1.3 miles was 1:58.1. The Kungapokalen for 4-year-olds at Åby is the next big target for the American-born Enterprise.
Another interesting American-bred horse will make his debut in Sweden next Tuesday. Hambletonian winner Perfect Spirit (Andover Hall) left Åke Svanstedt's stable in the end of 2017 and the 4-year-old Andover Hall son race at Solvalla, where only four antagonists are called. An exciting part of this particular race is that Perfect Spirit starts 20 meters behind three of the opponents in Swedish voltstart (no gate). Redén trains and Örjan Kihlström will drive Perfect Spirit.
French stars Bold Eagle (Ready Cash) and Bird Parker (Ready Cash) will both race the €200,000 Prix de l'Atlantique at Enghien, Paris, France next weekend.