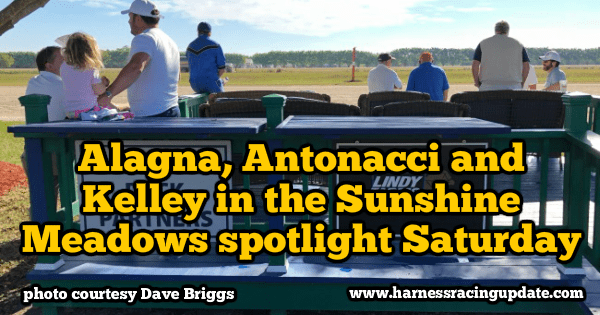 Despite thinning numbers, some impressive performances at Sunshine Meadows
by Ron Gurfein
This will most likely be the next to last episode as the numbers are thinning as the colts head north. Yannick Gingras and Doug McNair will make a return performance on Friday and go some fast miles with the Alagna babies. They were here on Tuesday and it wasn't long until another track record fell as Captain Deo and Stay Hungry both were overhauled at the wire by Gingras and American History. They broke the track record, but to be politically correct, sorrowfully I cannot disclose the final time. All three colts should make Alagna's 2018 a pleasurable experience. All the Captaintreacherous kids were at it again Saturday morning but all going slow miles in the 2:30 range in preparation for the coming week. However, there was no lack of action on the track, starting with the Fred Grant barn.
Bosch, named after the famed private detective created by best selling novelist Michael Connelly, and Explosivebreakaway, both sons of Explosive Matter went a great mile in 2:21/:34. The pair of nice colts are owned in partnership by Grant, Murray Brown, Steve Katz and Janice Rubin.
Have A Habit, Crowned Eagle, Seaside Bliss and Hat Trick Marleau — a Conway Hall, two Cantab Halls and a Crazed — went a good mile in 2:21/:29. They are all from the Paul Kelley barn.
Frank M. Antonacci from Lindy Farms was in town and piloted my favorite colt, Kings County (Muscle Hill), to a 2:18/:32 mile under severe restraint.
That mile was immediately bested in 2:17/:33 by Lindys Crazy Hall. (Cantab Hall), Mischief Managed (Muscle Hill) and Magic Joe Lindy (American Ideal).
Antonacci had some nice 3-year-olds on display. Hat Trick Habit and Night Rhythm went a mile in 2:09/:30 and in the older category French Moni and Lovely Lindy, were clocked in 2:02/:30.
Road to the Kentucky Derby
I thought I would give you an idea of things to come with my Road To The Derby today because it's getting exciting with some major action last week and some more later Saturday. However, it will be too late for my deadline.
As of now, Mendelsohn (son of Scat Daddy—Leslie's Lady) steps to the head of the class off a crushing 18-length performance in the UAE Derby. Although the competition was less than formidable, the way he did it along with the fact he won the Breeders Cup Juvenile Turf last year makes him a very enticing choice. Add to that the connections. Aidan O'Brien trainer (as good as it gets) and owners Tabor, Magnier, and Smith all have been here before.
A few hours later, Audible Todd Pletcher youngster and winner of the Holy Bull at Gulfstream the previous month romped in the Florida Derby after a dream trip. Audible truly punched his ticket to the spectacle on the first Saturday in May.
Hoberg, a lightly-raced colt from The Billy Mott barn put in a creditable race finishing second but couldn't menace the winner. I felt bad for Dale Romans and Mark Hennig when their colts Strike Power and Promises Fulfilled battled to a 21-second suicidal first quarter that all but clinched the race for a late runner.
The results from Saturday afternoon will add more drama to the story. If the horses run true to form I don't see a Derby contender coming out of the Wood or the Bluegrass. Enticed 6-5 in the Wood Memorial at Aqueduct was beaten by 14 lengths in the Holy Bull by Audible in the Bluegrass at Keeneland. Chad Brown's Good Magic, the 2-1 choice, was beaten badly by Promises Fulfilled in the Fountain Of Youth at Gulfstream.
That said the Santa Anita Derby could well come up with some new blood to add to the mix. I love Justify. Trained by Bob Baffert he is 2-for-2 but never won a stake. His wins were astounding and his early morning works incredible — how about :46.2. for four furlongs. Bolt D'oro won two Grade 1's at two and is 4-for-5 lifetime. Nice races and also fast works add him to consideration as well. It should be a race too see.
Next week I will get more in depth. Have a wonderful week and keep your questions coming to HRU for Ask The Guru (GurfTrot@aol.com).