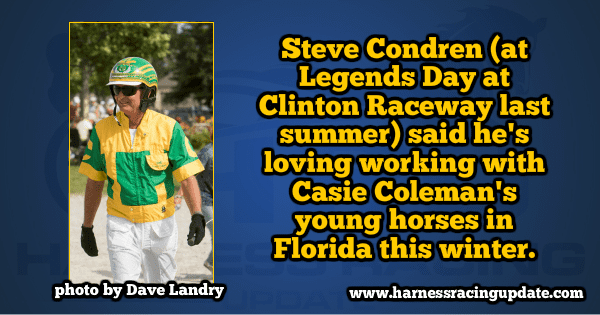 Condren has found his nirvana
Working with young horses for Casie Coleman in the warm Florida winter weather has been good for the health and soul of the Hall of Fame driver who is a cancer survivor.
by Dave Briggs
Over his Canadian Hall of Fame career, driver Steve Condren crafted a reputation for being particularly adept at working with young horses. Naturally, he can't imagine a better way to spend the winter than working with babies for Casie Coleman in Florida.
"It gets me up in the morning… Well, it really doesn't because I'm up anyway, but it gives me something to do," Condren said last Friday at Sunshine Meadows Training Center where Coleman has based her winter operation for the first time. "I really, really enjoy the young horses. I mean, it's kind of neat to go from three minutes to (2):14 or (2):15 when we leave here. Trying to get their attitudes good and all that stuff, it's kind of neat and I really, really enjoy it.
"The good thing about it is that (Coleman) keeps asking if I'm coming back. I enjoy it and she knows I enjoy it. She does a good job here running the show. I don't have to say much about her credentials."
Condren, who has won nearly 6,900 races and purse earnings exceeding $106 million in his career, said he's been coming to Florida for 15 years and has worked for Coleman for the last four.
"With my health scare, I'm glad I (started coming to Florida) before I got sick… we're a long time dead," he said.
In 2011, Condren was diagnosed with colon cancer.
Seven years later, he said he's "99 per cent" sure he's beaten cancer.
"They've released me from Princess Margaret (Cancer Centre) and now I just see a surgeon. The oncologist released me, too, so I just see my surgeon now," Condren said.
Apart from excellent health care at one of Canada's premier cancer centers, Condren credits his active winter routine, the work of a personal trainer and his summer program of playing golf almost every day and walking and carrying his own bag as key to his recovery.
"I walk and carry 99 per cent of the time. That keeps me in shape. I'm going to be 61 this year," he said with a grin.
He doesn't look it.
The four months in Florida every year looks to be particularly good for his soul.
"I have a place down by the water. It's 20 or 25 minutes to get here. It's a little longer to get back, but I'm staring at ocean. It's just a nice way to be for four or five months in the winter," he said. "On days like today when there's no wind – go to the beach, enjoy yourself. That's why you come to Florida. I'll walk up and down that beach sometimes for a couple of hours."