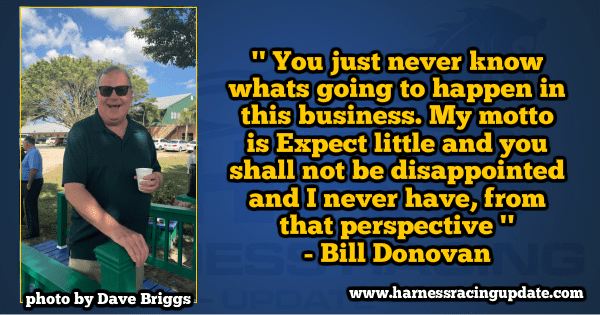 Donovan in a sweet spot with Youaremycandygirl
The reining 2-year-old Pacing Filly of the Year is just one of 41 horses the owner from Florida has in training this year with 10 trainers.
by Dave Briggs
Even on St. Patrick's Day, with talk of Irish luck being in abundance, Bill Donovan wasn't about to tempt fate when it came to speaking about the 2018 sophomore return of his Dan Patch-winning pacing filly Youaremycandygirl.
"You just never know what's going to happen in this business. My motto is 'Expect little and you shall not be disappointed' and I never have, from that perspective," Donovan said last Saturday at The Deck at Sunshine Meadows Training Center in Florida. "If she stays healthy, she will make a good accounting of herself."
In 2017, the daughter of American Ideal out of Sweet Lady Jane earned $895,615, had a mark of 1:50 and a record of 9-0-0 in 11 starts that included victories in the Shes A Great Lady, Breeders Crown, Matron and Three Diamonds en route to being voted 2-year-old Pacing Filly of the Year.
Donovan owns Youaremycandygirl solo. He acquired her at the Standardbred Horse Sales Company's 2016 yearling auction in Harrisburg, PA for $150,000. Youaremycandygirl is trained by Ron Burke.
Donovan said he hasn't seen Youaremycandygirl yet this winter, but the reports are positive.
"She came back from Chris Coyle's in North Carolina and she put some weight on and settled down a bit. She is back in training and doing everything that she needs to do at this point. The plan is to start her in May, so we'll probably qualify around the first of May," Donovan said.
Donovan said he has circled "the big races" on Youaremycandygirl's calendar, "right to the Breeders Crown and through the Jugette. She's paced a half and she's good over a half. She's got a full schedule."
Donovan said he has 21 two-year-olds and 41 horses training in all split among 10 different trainers.
"Ronnie (Burke) is my primary trainer. Ciaran Morrison has six for me in Ontario. I went deep in Ontario this year… The Ontario program is so reasonable in their staking fees that they make it very easy for the money they race for. That's an easy check to write, for the Ontario-breds.
"George (Ducharme) has a few New York-bred trotters. He's a great trotting trainer. Obviously, if you win the Hambletonian, you've got to have some talent."
Donovan said he also has a few offspring from first-crop sires. "I have a Trixton filly with Linda Toscano. So far she's done everything right. She's trained in :30 and doesn't even wear a boot at this point. She's a perfectly-gaited filly," Donovan said. "Up in Canada with Ciaran Morrison, I have an E L Titan gelding.
"I have a Captaintreacherous filly with Brian Brown. She's showing some potential."
Donovan said he may even have his own rival to Youaremycandygirl with Firestorm (Shadow Play—Hallie Gallie), a sophomore pacing filly trained by Morrison. Firestorm earned nearly $85,000 as a two-year-old in 2017 racing mostly in Ontario.
"Firestorm finished fourth in the Breeders Crown," Donovan said. "She was kind of under the radar screen last year. I'm really looking forward to her coming back. She raced against Percy Bluechip three times and finished ahead of her two of the three times. Percy was the two-year-old pacing filly of the year in Canada, so Firestorm's got some talent. She was lightly-raced last year, but got sick and that delayed her. We'll see how she comes along."
He's also hoping younger siblings to both Youaremycandygirl and Firestorm will have similar success this year at two.
"We've got the Sportswriter half-brother to Youaremycandygirl with Ciaran Morrison. So this year, Ciaran has Candygirl's brother and Ronnie (Burke) has Firestorm's sister and she's an A Rocknroll Dance filly. It's kind of flip-flopped there. We'll see how it goes."
Despite being rich in pacing fillies, Donovan said there's still one race he covets most.
"I'm still looking for that trotting colt," he said. "The Hambletonian is the ultimate, the absolute ultimate in the sport. That's my mission when I go to the sales this year."