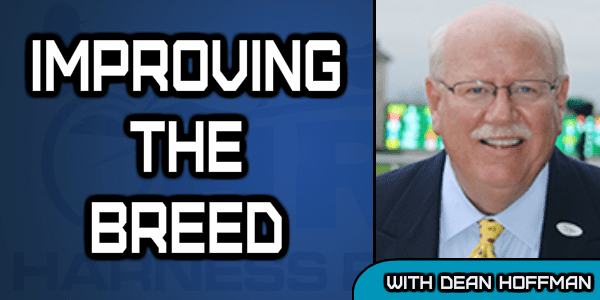 Evaluating the first crop sires of 2017
by Dean A. Hoffman
In the minutes after the post parade for the 2012 Adios Stake, I watched driver Yannick Gingras closely with A Rocknroll Dance as the other starters milled around.
Gingras jogged his colt clockwise down the backstretch, then turned him and fired A Rocknroll Dance away from the starting pole. The colt paced around the first turn at a sensational speed, then Gingras eased him up.
I saw it as a preview of coming attractions.
"Yep, he's leaving with that colt," I said to myself.
And leave Gingras did. A Rocknroll Dance had post 7 in the bulky field and he fired all cylinders getting away at the start. The colt actually took a few rough steps but recovered quickly and cleared Bolt The Duer and eased to the inside.
At the quarter, the timer flashed :25.1.
"Oh, God, no horse can take that and still be alive at the finish," I thought.
I was correct. A Rocknroll Dance led to the half in :52.4 and then the three-quarters in 1:19.2 before the pocket sitter bolted up the inside to win in 1:47.4, the fastest mile ever on a 5/8-mile track.
A Rocknroll Dance held for second in one of the most impressive performances I've ever witnessed. Bolt The Duer got the coveted Adios trophy, but the best horse did not win the Adios that day.
I was a fan of A Rocknroll Dance before the Adios and his performance there only solidified my support. So I am not surprised that his first crop of 2-year-olds in 2017 included the standout colt Lost In Time.
Lost In Time earned $608,112 and he was joined by a trio of frosh pacers by A Rocknroll Dance that banked six-figure sums: Band Stand, Grant Teton and Scuola Hanover.
It was the depth of excellence by A Rocknroll Dance's first crop that impressed me. He ranked second to the late Somebeachsomewhere in average earnings for 2-year-old pacers last year.
I always place greater credence in a sire's average earnings per foal than in the earnings of one or two superstars. A breeder is wise to see the big picture instead of being swayed by a single headliner.
A Rocknroll Dance also checked another box that I like to see in a young pacing sire because six of his top 10 earners were fillies. That bodes well.
Also ranking high on the average earnings for freshman pacers last year is Betterthancheddar, whose first crop of 42 foals was eligible to the rich New York program. His top two were Betterthangraduate p, 2, 1:55 ($121,557) and All On Top Hanover p, 2,1:52.3 ($61,913).
Betterthancheddar has stood in Ontario the last three seasons and his book of mares has essentially doubled from his first crop, so you're likely to see a lot of them in Ontario Sires Stakes events in coming year. Betterthancheddar is a son of Bettors Delight from the Camtastic mare Lady Ashlee Ann.
Pet Rock, like A Rocknroll Dance, is a son of Rocknroll Hanover and he has consistently bred large books of mares in the Buckeye State. Last year, his offspring averaged $10,566. His top money-winners in 2017 were: Rockathon ($119,962), Rock On Creek ($112,323) and Letsallrock ($77,642).
So Surreal (Somebeachsomewhere) sent his first crop to the races last year and his 61 foals collectively earned $502,646 while Will Will See had 42 foals at the races and they brought in $201,117.
TROTTERS
Wishing Stone, a pint-sized son of Conway Hall, sent his first crop to the racing wars last year and they were impressive in events for New Jersey-sired freshman trotters. He only had 16 foals, but they averaged $24,688, ranking him fifth among all stallions in average earnings. He followed Chapter Seven, Muscle Hill, Cantab Hall, and Muscle Mass. That's impressive.
Wishing Stone was a terror when he raced at The Red Mile, winning stakes there as a freshman and the Kentucky Futurity as a 3-year-old. He'd finished third in the Hambletonian and then danced around Europe and other locales as an older horse.
Wishing Stone had only 16 foals in his first crop and 12 of them raced. Eight of the 10 richest from his first crop were fillies, but the top earners were both colts. They were Shoshie Deo ($92,330) and U Need Stones ($89,750).
Shoshie Deo would have had a considerably larger bankroll because he won a division of a Grand Circuit stake at The Red Mile, but was taken down for interference on the backstretch.
After his first season in New Jersey, Wishing Stone moved to Ohio and has stood in the Buckeye State in recent season, averaging around 50 mares per season. I suspect that he will have a larger book in 2018 after the performance of his first crop.
The Cantab Hall stallion My MVP sent forth an Ohio superstar in his first crop in Wolfgang 2, 1:54.2 ($316,275). Among the other headliners in his first crop were Rising MVP and the filly Bugs MVP.
Guccio, a millionaire son of Yankee Glide, gave notice that he's a filly sire last year as his four richest freshman were all distaffers. They were headed by the Indiana standouts Pinecraft Nellie ($70,0730) and Topville Martini ($58,330).
Again, I think that total earnings by a young stallion's performers are not nearly as important as average earnings. The information is available, so use it to your advantage.