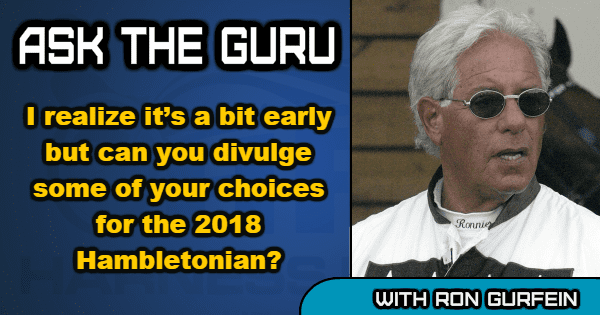 Promising babies, early Hambletonian favorites and thoughts on shoeing and half-mile racing
by Ron Gurfein
I am still awaiting the official publication of the new version of the WEG/Gural rule. Therefore, the questions pertaining to the revised edition will once again be delayed until we have the final product. There have been way too many posts on this subject, and I feel they are, without question, premature to say the least. I agree the first draft of rules was a bit over the top, but the powers behind the idea were more than gracious about their mistakes and we should all wait to hear what they have to say before condemnation begins. I have been in contact with Clay Horner via email and am more than satisfied that the new rule will be a step in the right direction for our business. For certain it will have a positive effect, if the proposal is viable. So let's hope for the best and discuss the matter when the facts become available.
As a bolt of lightning, the Ronnie Burke blood gas positive comes, almost as a divine intervention into the middle of all this chaos. The timing is almost unbelievable, and, somehow, I think this will bring to light one of the major obstacles of the rules. I am not saying that there is any guilt involved, but that is not in my field of expertise. I know Ronnie very well and I doubt this was from any action on his part.
Blair Burgess, to me one of the most intelligent horseman I ever met, said on Facebook regarding sodium bicarbonate "the substance in question this time is grossly mishandled by the commissions right now and is a therapeutic med when used correctly. False positives are way more likely than the powers that be would lead you to believe. Sick, dehydrated horses always have a high number. Most horses that test high get beaten multiple lengths."
For all of you that asked questions on this subject please have patience. I will answer all your questions when the new rule is complete. The Burke positive will undoubtedly lengthen the time frame but more likely than not have a very positive effect on the decision-making process.
Paul Arthur asks: I know you live near Sunshine Meadows. Have you been to the track at all or has retirement kept you away from the barns? If you have been have you seen any babies that you like.
To be honest, I have not been there as much as I would like, partially because I like to write in the mornings and also the weather has not been as wonderful as a typical south Florida winter. Although, as WC Fields said, "Better here than in Philadelphia."
I have seen a few colts that have caught my eye. Kings County a big brown colt by Muscle Hill out of the Conway Hall mare Brooklyn, looks like a man amongst boys. He is a full brother to Brooklyn Hill who attained a two-year-old record of 1:53.1,from the family of Creamy Mimi and Pizza Dolce. He was purchased by Lindy Farm for $210,000 in the Concord Stud consignment at Harrisburg. Another colt I like is also a Lindy Farm purchase for $60,000 from the Kentuckiana Farm, agent, in the Lexington Selected Sale. Gobi Bandit is a smallish bay colt by Chapter Seven out of the Muscles Yankee mare Blazing Musclegirl. He didn't get the greatest drive, but showed good speed to get into the thick of things. He is from the immediate family of Emile Cas El the dam of Hambletonian winner Trixton. Chin Chin Hall, a Peter Wrenn pupil owned by David MacDuffee and Gene Olford looks like his pedigree. He is a very big bay Cash Hall brother to Cantab Hall, thus a foal of the Garland Lobell mare Canland Hall. He was a $50,000 purchase at the Ohio Select Sale from the consignment of Walnut Hall Limited sold by Winterwood Farm as agent. He is dual eligible Kentucky and Ohio and truly looks the part. Although he is the 12th foal of the mare, she was not exactly bred to the sport's leading sires. Far be it for me to question AJL (Alan Leavitt) in his breeding choices, but in my humble opinion he could have done a far better job selecting matings for the dam of one of the finest horses in the sport, now enshrined in the Harness Racing Hall of Fame.
Switching to the pacing side, US Captain looks like he was well worth the price of admission, $180,000, for the beautiful big bay son of Captain Treacherous out of the world champion mare America Jewel purchased at the Lexington Selected Sale by Tony Alagna agent for the Captains Court. He was consigned by Brittany Farms of Versailles, Kentucky and is also dual eligible, Pennsylvania and Kentucky.
Joel Kravet asks: Why has half-mile track racing fallen out of favor with so many trainers?
It's not so much that half-mile track racing has fallen out of favor, its that there are so many other viable choices. When I started in the business, you raced at Yonkers, Roosevelt, Saratoga, Monticello, or Freehold. Pocono or Vernon were the nearest larger tracks, but their paddocks were like a swamp when it rained. Liberty Bell and Brandywine were available but that was a long way to ship.
I personally hate half-mile track racing. My first training mile on the Meadowlands mile was like a dream come true. I loved training trotters and they all found the bigger oval to their liking. Thoroughbred people refer to horses switching leads and I am not convinced that standardbreds don't do it also. You definitely feel a horse change his gait going into and out of every turn on a half-mile track, especially. Now think of the increased centrifugal force on the tight turns that a horse must negotiate eight times on the half, six times on the five eighths and only four times on the mile. The pressure on the joints is significantly greater on the smaller tracks. Where would you like to race?
Arthur Brown asks: I realize it's a bit early but can you divulge some of your choices for the 2018 Hambletonian?
Arthur it's never to early to talk about my favorite subject and by chance I have spoken to one of the trainers over the weekend. I will probably be hung for this quote but I love it. Bob Stewart said, "If Tactical Landing doesn't win the Hambletonian I will be terribly disappointed." This is coming from a fine horseman that has knocked on this door before. We have been friends for quite a while and our friendship was truly tested when Self Possessed raced Angus Hall in all the classic three-year-old races and one day standing on the rail watching one of those events he looked down at me, sneered and said, "Do you always have to win?" Bobby maybe it's your turn. Tactical Landing may not be my first choice but he is truly a viable candidate. He was an $800,000 yearling being a full-brother to the fast, but ill-fated, Mission Brief by Muscle Hill out of the Varenne mare Southwind Serena a fast filly in her own right. I watched all of his starts and to be he seemed too big and immature to handle the extreme speed that he had inside. He is a great-gaited and sound colt that definitely displayed talent on the track last year. I wish Bobby, Linda and all the connections the very best.
My pick for the 2018 Hambletonian would be another one you may scratch your head about, but to anyone who thinks this choice is crazy please ask Yannick Gingras about him. I am referring to the son of MVP out of the Mr. Vic mare Summer Savory, Wolfgang. Maybe I am a bit prejudiced because the owners and breeders are close friends, but this colt is really something special. To begin with, I trained the dam and she was a big, beautiful, great-gaited mare, but had limited opportunities on the racetrack as her owners were more apt to breed than race. Her first two foals were by Master Glide and Mr Cantab. Neither has produced a Hambletonian winner as of this writing. Her third of four foals was Chef Lee a son of Cantab Hall and a winner of a third of a million dollars. Last year, the colt had some awful racing luck but righted the ship at the end of the year winning the Matron and finishing second in the Valley Victory. He is a very big colt that will most definitely improve at three. Best of luck to trainer Jimmy Takter and the proud owners, my friends the Zubrods of Fair Island Farm, the Hatfields, and the other connections for a great 2018.
Stephane Beaudoin asks: My trotting filly hits both hind ankles. I tried aluminum in front, tried 5⁄8" half round, nothing worked. Behind she has a half round half swedge, I tried a egg bar that didn't work either. What should I do?
First you have to understand that the more weight a horse carries on the bottom of his foot the bigger his gait and the more chance for interference. Horses legs are like pendulums the heavier they are at the bottom the further they swing. Therefore, adding a 5/8th shoe would do more harm than good. My first suggestion is to try the filly barefoot for a few days to get her to wear her foot naturally, then without changing the level of the foot put on a wide web flat aluminum shoe. Go to a full swedge aluminum behind and try brace bandages instead of boots. To be honest, Chuck Sylvester is the only trainer I have seen have success with half rounds behind and he certainly has had success. On the other hand, they just don't work for me. Sometimes, these problems are impossible to fix. Continentalvictory, hit her right hind ankle her entire career and never took a bad step. The great one overcome everything.
Once again, I want to thank the readers for the comments and kind words. Preferred's David Reid was in town visiting and told me that some guy on Facebook called me an idiot. That's to be expected. No one is perfect. However, David's partner in Ice Wine Stable Frank "the elder" Antonacci, taught me a long time ago it's better to be feared than loved.
Hopefully the new rule will be available for next week's writing and I can answer some of your queries on the subject. Have a wonderful week.
Have a question for The Guru? Email him at GurfTrot@aol.com.